We use affiliate links. If you buy something through the links on this page, we may earn a commission at no cost to you. Learn more.
Are you the type of guy (or even a gal for that matter…) that
carries an over stuffed wallet in their pocket (or purse)? Do you
cram your wallet full of receipts, money, business cards, credit
cards, scraps of paper, etc? If you answered YES to either of these
questions, then it just might be time for you to simplify your life
and downsize to a wallet that isn't like any wallet that you may
have seen before. The Jimi Wallet
is made in the USA of 100% recycled Polypropylene. Yes, it's
plastic!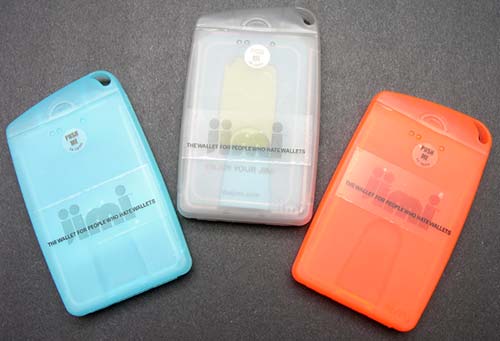 This wallet is compact, water resistant, and is available in 8
different translucent colors.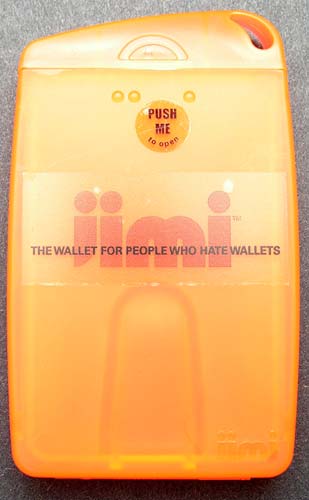 The Jimi is 4.250 x 2.625 x .5625 inches in size. Yes, it's
small. You're not going to be able to carry 'everything' in it.
What you will be able to carry is just the stuff you really
need.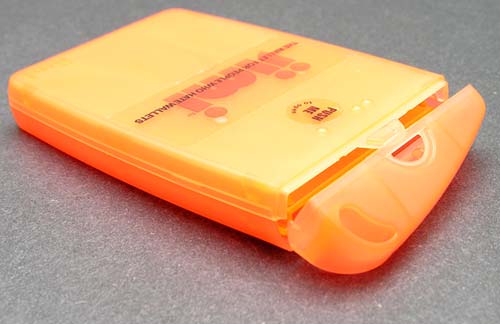 When closed nothing will fall out of the Jimi. To open, you just
squeeze the designated spot near the top clasp. If you do it right,
the top will pop open allowing you to fold open the wallet.

The left side of the wallet has a removable money clip that can
hold one credit card and 3-4 folded bills. The right side is the
card holder, which can accommodate a maximum of 4 standard sized
plastic credit cards.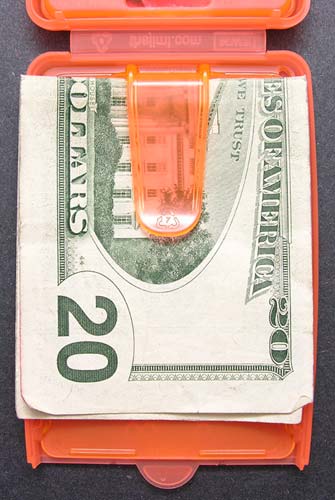 Before reading the directions, I tried putting my double folded
bills as shown above. That's how I thought a money clip worked. As
you can see though, the Jimi is not quite wide enough for this to
work. When you close the wallet, the edges of the bills stick out.
Too bad…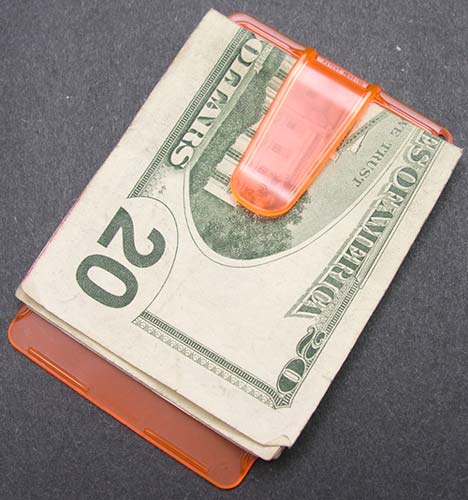 You can remove the clip and use it alone if desired. Works great
when you're in super minimalist mode. They also sell a money clip
with built in SD card holders.
The Jimi being made of a plastic material had me a little
concerned about the longevity of the hinges. I asked the designer
of the Jimi about this issue and he replied:
"One of the few plastics you can hinge – industry
jargon is living hinge, of which the Jimi™ wallet has three.
They should hinge at least a million times. I've not counted
myself, but someone has. See here for ref: http://www.efunda.com/DesignStandards/plastic_design/hinge.cfm.
So while it looks delicate it's actually really strong – think
Sasha Cohen! The inner parts are polycarbonate which is a first
cousin to bullet-proof glass. It's possible to break both – if you
twist the hinges the wrong way on the outer case or really want to
smash the money clip you could, but in normal use they're really
hard-wearing, and we've had very, very few breakages."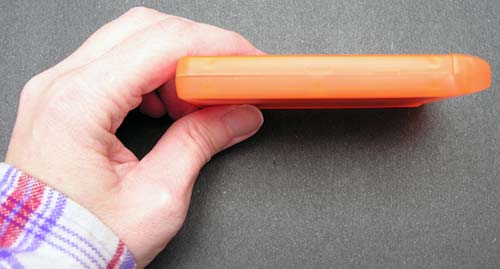 You can't beat the Jimi Wallet for its size. It should fit into
even the tightest back jeans pocket. I don't like to keep a wallet
in my pocket all day, I'll keep it in my gear bag. But if I go out
for lunch, this wallet doesn't weigh me down at all which I love.
It looks great, is easy to use and should last a long long time.
It's also good to know that 1% of their sales revenue is invested
back into the environment. Currently it will be for Katrina aid.
Product Information
Price:
15.75
Manufacturer:
Jimi
Requirements:
Pros:

Compact
Water resistant
Contents won't fall out

Cons:

Have to triple fold dollar bills to fit in money clip