We use affiliate links. If you buy something through the links on this page, we may earn a commission at no cost to you. Learn more.
When I think of well-designed, stylish laptop bags that are made from quality materials, there are a couple of names which always come to mind: Tom Bihn, RoadWired and Waterfield. Well, now I can add Crumpler to that list.
Crumpler bags should be somewhat familiar to Gadgeteer readers because Julie and I did a joint review on two of their larger messenger bags back in 2002, William Ray reviewed one of their camera bags (the Karachi Outpost Backpack )last year, and I recently reviewed their Status Belly which was really more of a daily gear bag. Even with my prior exposure to their bags, it wasn't until I received their Breakfast Buffet Laptop Bag that it really struck me how much I like the Crumpler sense of style.
Crumpler bags are fun; even though they are made of the same quality materials as some of the more stodgy brands, their playful mix of colors and functional style puts them in a class of their own. Does that mean that I have found the perfect midsize laptop bag? Read on and see…
The Breakfast Buffet is available in three color combinations; olive trimmed with pale olive, blue trimmed with light blue and black trimmed with mid gray. I was sent the olive and pale olive combination. It's no secret that I love the color green in its various incarnations, so right away this bag had an edge over others I have tried. Measuring approximately 13″ tall x 11″ wide x 3.5″ deep, the Breakfast Buffet is sized to fit up to a 12″ wide laptop.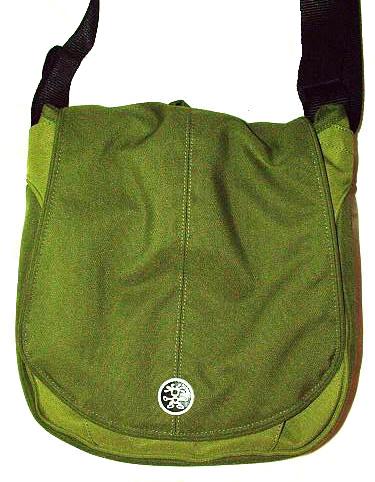 Composed of a water resistant 1000 Denier Nylon shell, the bag is both protective to its contents and easy to keep clean. I really like the subtle two tone green, as well as the messenger styling with its large flap.
The back of the bag has a convenient handle which has been built into the curved seam of the flap's base. Extra stitching reinforces the handles stress points; and while the handle isn't quite as substantial as I usually prefer, I am glad that it was included. Noticeably absent however, is an external pocket on the rear of the bag. It seems like a waste of space that there is no open patch pocket which could have held airline tickets, a magazine, or other items that the owner would want to keep easily accessible.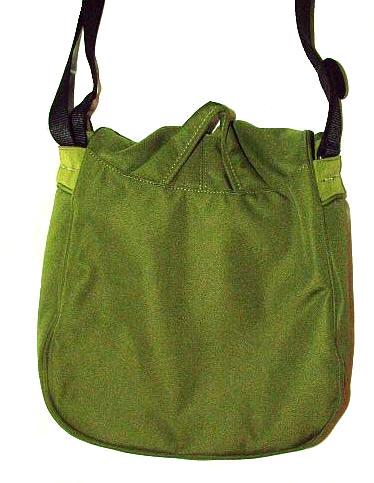 The adjustable-length shoulder strap is 2″ wide, and it is composed of nylon webbing similar to that of an automobile's seatbelt. A two-tone 9.5″ long x 3.75″ wide shoulder pad adds a substantial bit of padding to help cushion a full bag's load. The two tone motif is carried over to the straps flaps which fold over each other and are secured with an oblong patch of Velcro. The underside of the strap has a mesh surface, similar to that found in a pair of gum shorts. I wouldn't necessarily call it non-slip, but it is comfortable.
Never miss one of our posts again. Sent MON, WED, and FRI with the latest gadget reviews and news!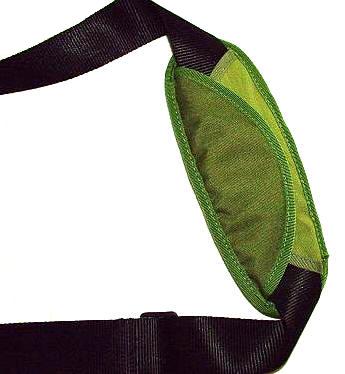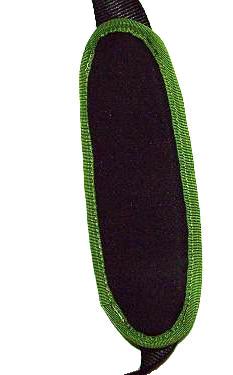 The strap on the bag can be adjusted to allow the owner to wear it either as a shoulder bag or across the chest bandolier style.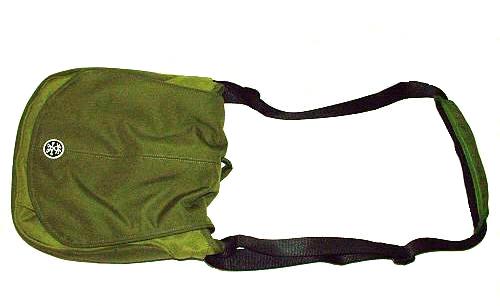 Opening the bag reveals the 5.5″ wide by 2.25″ patch of Velcro which is used to keep everything secure. While it is no secret that I am not a fan of Velcro, I do appreciate the fact that the patches Crumpler uses look nice – even if they still sound terrible when ripped open. I like that their Velcro is a symmetrical oblong that has been finished with a black fabric frame. Does it make me like the Velcro any more? Definitely not. But I do appreciate the gesture by Crumpler of not slapping a generic rectangular strip on an otherwise stylish bag.
Built into the flap of the bag is a 13″ long x 10.5″ wide mesh pocket accessible via a 7″ wide zipper. The zipper features a 1.5″ long x 0.5″ wide black metal pull that is branded with a white Crumpler man. This zipper pull is so nice that it's almost a shame for it to be hidden inside the bag. The mesh pocket is a great place to carry smaller items which might otherwise be easily misplaced in the larger sections of the bag.
The interior is composed of bright orange 420 Denier Ripstop Nylon lining. This lightly colored lining is great because it allows you to see everything that is inside the bag – even when it is all the way on the bottom.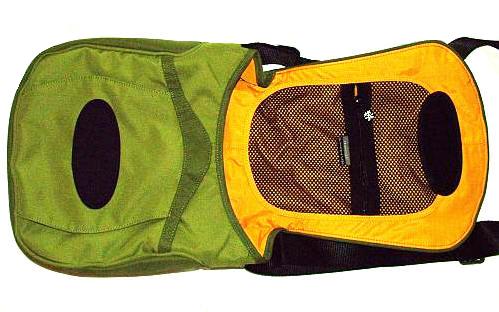 The front of the bag, directly under the Velcro which fastens the flap, has a built in pocket which measures 11′ wide x 10″ tall and through the use of a gusset on either side, can expand to about 3″ deep. The pocket is great for carrying oddly shaped items such as power cables and converters, PDAs in their cases or even magazines or books; it is kept secure by a 3″ wide x 1.5″ thick oval of Velcro. I really think a zipper would have been a better choice here, as the Velcro is its usual obnoxious self when opened.
Inside the bag are two sections. In the rear is a built-in padded laptop compartment measuring approximately 13″ tall x 10″ wide x 2.5″ deep which is secured with a Velcro (natch!) flap. In front of the laptop pocket is a 13″ tall x 10″ wide open area which will expand or retract depth-wise depending on whether or not there is a laptop inserted.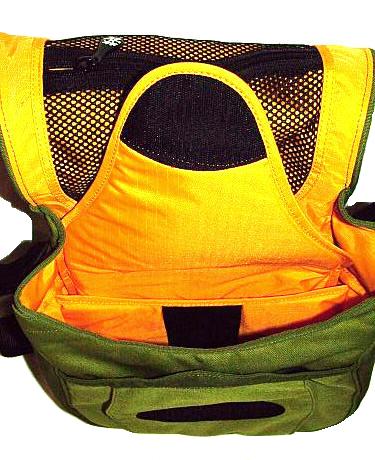 Do you see the size of that patch of Velcro? Nothing is falling out of that laptop holder!
Here is the much photographed Fujitsu P2110. Those that have larger notebooks should look at the similarly styled Luncheon Bag, which will hold up to a 15″ laptop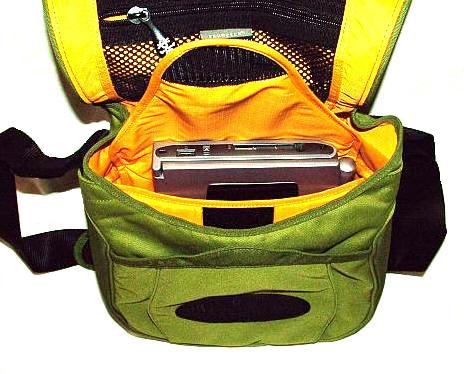 The size of the Breakfast Buffet is just about perfect for carrying a smaller laptop and all of its peripherals. If it had an open pocket on the rear, then I would almost be ready to deem it one of the best looking and most functional bags that I have tried. But then…I have to consider the Velcro factor.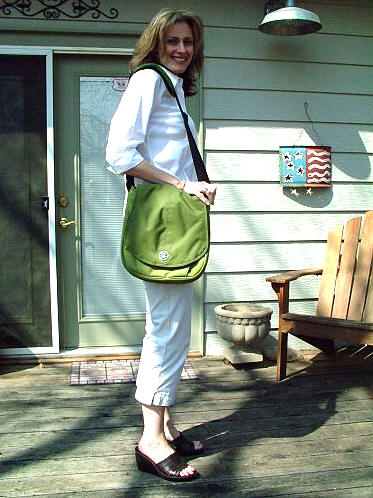 For reference, I am 5'10"
There are basically three major patches of Velcro in this bag – and each one is in a section that needs regular and preferably quiet access. If the Velcro on the front could be replaced with a latch or clip system, if the Velcro leading into the front gusseted pocket could be replaced with a zipper, and if the Velcro holding the laptop section closed could be replaced with a clip or a latch, then I would be ready to say that the Breakfast Buffet is now my favorite light duty laptop bag. Unfortunately, the Velcro is present and it bothers me enough that I can't get past it. If you are not one that minds Velcro, then you will find the Breakfast Buffet to be one of the best looking, hardest working, and multi-functional laptop bags available.
Product Information
Price:
85.0
Manufacturer:
Crumpler
Requirements:

A tolerance for the sound of Velcro ripping.

Pros:

Extremely well made
Holds up to a 12" laptop
Fashionable color combinations
Multiple pockets allow a large amount of gear to be stowed

Cons: