We use affiliate links. If you buy something through the links on this page, we may earn a commission at no cost to you. Learn more.
A couple of years ago I was flipping through one of the catalogs I regularly
receive, and I saw a backpack that was made out of an Asian-motif silk brocade.
The bag was pretty, feminine, had lots of pockets – and had it not actually been
a diaper bag complete with changing pad, I might
have been tempted to give it a try. From then on, every time I would receive
that catalog I found myself looking for "the bag" – even though I knew it would
not meet my needs.
Since then, I have seen other silk brocade bags in various catalogs, but it
wasn't until I was told to take a look at Chums'
line of 

Sherpa Contoured Carry-All Bags that I found a gear bag available in
this pretty fabric.
Two of the Sherpa's available colors, the jalapeño green and lake blue,
appear to be made of a cotton duck-cloth which looks great when carried by
either a male or a female.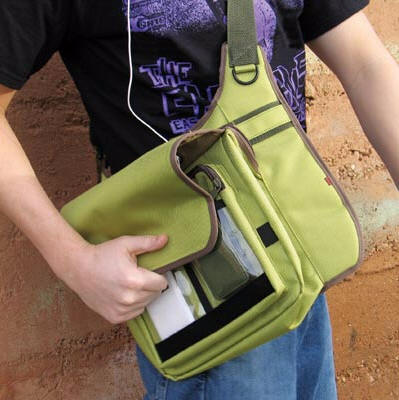 photo courtesy of the Chums site
But the other two available colors are gorgeous and decidedly feminine Asian
brocades – plum and sky; I was sent the plum version.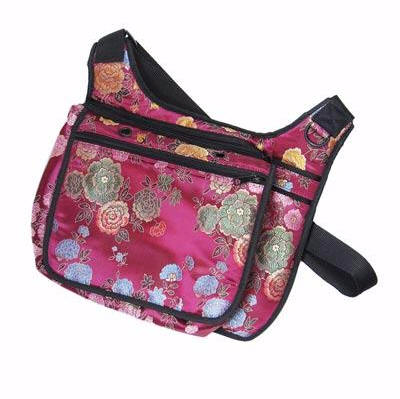 photo courtesy of the Chums site
I should probably mention that the solid color versions might be the better
choice if this will be the only gear bag that the purchaser owns. Silky brocades
are notorious for getting "snags" and for being a lot more delicate than
Cordura, ballistic nylon, duck-cloth and the like. The trade-off when using a
more delicate fabric is that instead of getting a typical unisex gear bag, the
bag is immediately dressier and more feminine. So just as one wouldn't wear a
pair of satin shoes to an out-door barbeque, it would be better not to carry the
brocade Sherpa bag in situations where it will be roughly treated. That's not to
say that this bag is poorly made or that it will not hold up for long term use.
The brocade Sherpa is very nicely constructed of quality materials; it
just needs to be a bit more pampered than the typical bag.
The back side of the Sherpa measures about 13" wide x 10" tall. But the
actual usable portion of the bag measures approximately 10" wide x 9" tall x 5"
deep, as there is a 3" wide flap of padded fabric which helps the bag to contour
to the wearer's body.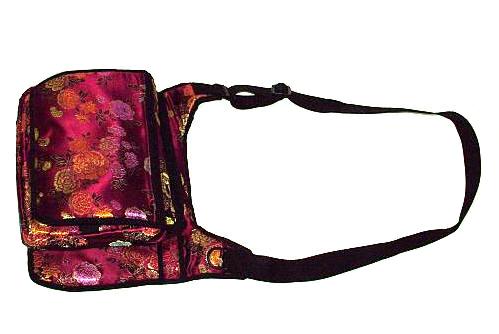 The front exterior of the bag is composed of a gorgeous satiny plum brocade
which has iridescent purple, orange, red, green and blue flowers trimmed with
brown and gold leaves. The bag's hardware and trim are a contrasting black.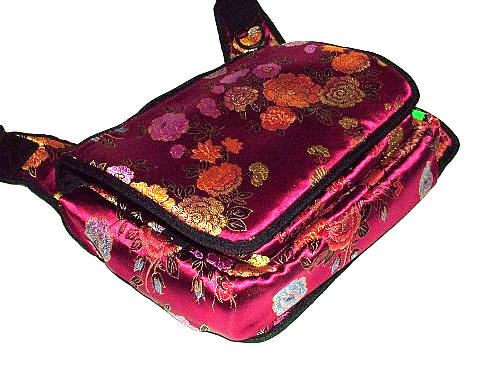 Black grosgrain binding finishes the edges of the bag, and the zippers are
framed with a black cotton cloth.
The back of the bag is composed of a black material which looks like it may
be a rip-stop fabric, due to its small squares. The entire back panel is padded,
and should offer a buffer between the contents of the bag and the wearer's body.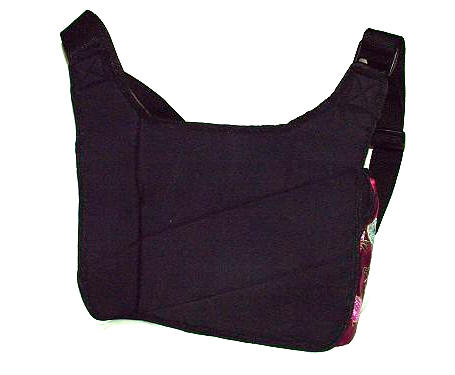 The adjustable black shoulder strap is made of thick webbing, and it is
securely stitched to the upper corners of the padded back panel. The strap is
long enough that it can be adjusted to comfortably fit across the body
bandolier-style, or it can be worn on the shoulder. The right strap end features
a plastic D-ring which can accommodate a clip-on key ring or mobile phone case. Directly under the D-ring is a 3" wide x 1.5" tall reinforced strip of fabric
which could hold a clip on mobile phone or digital music player case. On either
side of the bag, barely noticeable, are two 1" x 0.75" strips of black elastic
which can each secure a pen or stylus.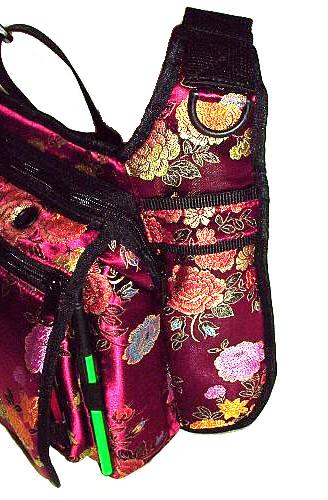 The Sherpa bag is composed of several compartments, the first being located
on the front flap. A 10" zipper leads into a 10" wide x 7.5" tall black cotton
lined pocket. This pocket is great for small loose items which need to kept
secure. Slightly above the zipper, on the bend of the flap, are two 1/2"
grommets which will allow headphone wires from portable audio devices in the
interior pockets to run to the exterior of the bag.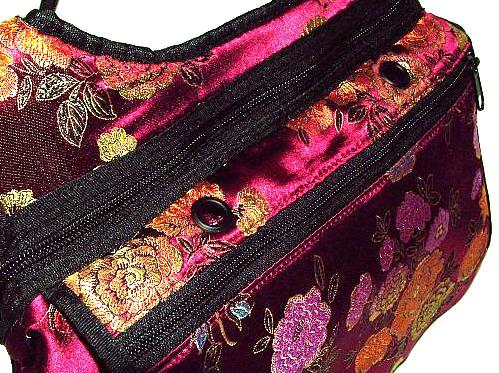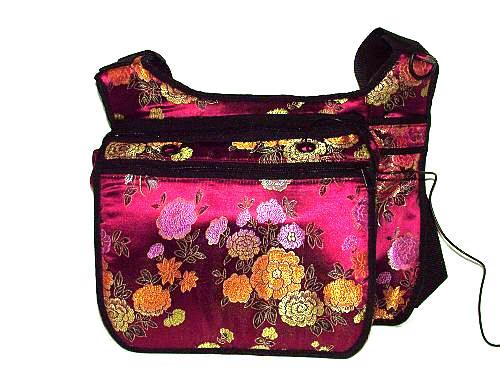 Lifting the flap reveals – both visually and audibly – a 6" wide strip
of Velcro…bummer.
I understand that Velcro is secure and I know that it is easy to use, but in
my opinion it immediately cheapens a bag when it is used as the means of
securing the main compartment of a bag. Surely there are other fastening
alternatives which could be used. Anyway, where was I?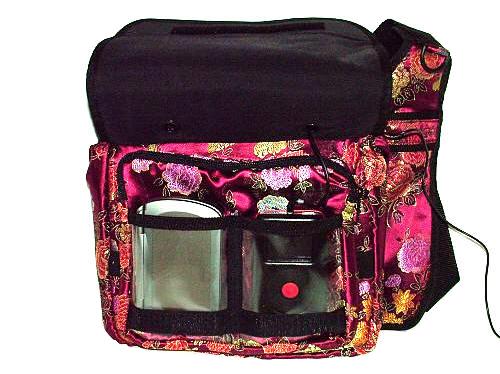 Lifting the flap reveals two 5" tall x 4" wide clear vinyl pockets that have
been finished in grosgrain. These pockets are suitable for holding PDAs, digital
music players, mobile phones, or even a smaller portable keyboard.
Directly behind this area is a zippered 9" wide x 7.5" tall x 0.75" deep
compartment. This is a secure area in which items such as a thin book, CDs, a
wallet, or other similarly flat items may be carried.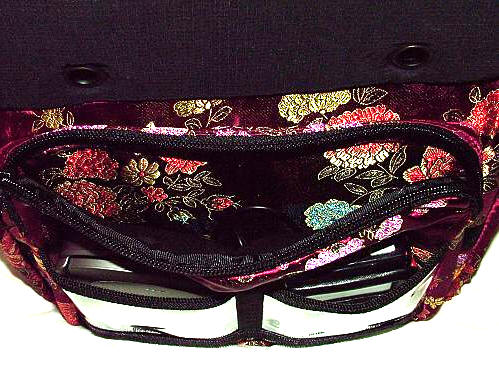 The largest compartment of the bag is located along the back wall of the bag,
behind the base of its flap. A 15" zipper winds across the top of the pocket and
down about an inch on each side to allow easy access to the approximately 11"
wide x 10" tall x 3" deep compartment. I know that my measurements may seem off,
but due to the soft sides of the bag, there is a bit of give. This
large area is lined in black fabric, and it is lightly padded on every wall.
As seen here, my 10.5" wide x 8.5" tall x 1.5" thick Fujitsu P2110 will
just fit in this pocket.
Because of the light padding all around, I feel that it is safe from typical
jostling and bumps. It would not be sufficient protection from a shoulder-height
drop, but I have never had that happen while my laptop was in any bag – knock
on wood!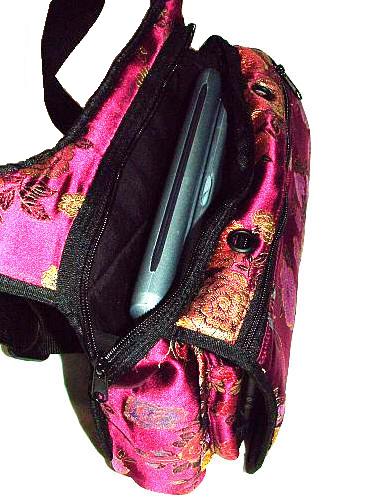 The Chums Sherpa is a surprising workhorse that can hold quite a bit more
than the average smaller gear bag. Being able to order it in one of  two
Asian brocades offers a feminine option that I really appreciate. My only
complaint is the Velcro under the flap, however this may not be an issue for
everyone. I like that the bag is a splash of color and that it gives a bit of
panache to even the simplest outfit. If you have been looking for a feminine bag
that can manage your gear, then you might want to take a look at the Chums
Sherpa.

Product Information
Price:
44.95
Manufacturer:
Chums
Pros:

Quality materials and construction
Pretty, feminine bag
Can hold several devices, peripherals and a small laptop

Cons:

Brocade fabric is a bit more delicate thn typical gear bag materials