We use affiliate links. If you buy something through the links on this page, we may earn a commission at no cost to you. Learn more.
Every time I travel somewhere on an airplane, I have to make the decision
about what gets checked and what will be carried through one or more
connections. There are certain things that I must have with me at all times,
items like my wallet, PDA, mobile phone, some snacks, various charging cables,
my camera and its charger, memory cards and a few magazines. If the trip will be
more than just a couple of days, I will also pack a laptop and charging cables.
Unfortunately, bringing along a laptop can be a bit of a hassle. Laptops add
extra weight and bulk to any carry-on bag, which usually means extra strain on
my shoulder. Depending upon the bag's design and how much other "stuff" I have
crammed in there, my laptop may or may not be easily removed during security
checks.
Usually when it is time to return home from a trip, I am to the point where
all I can think about is streamlining my carry-on so that it is as easy to
manage as I can possibly make it. This means that the magazines I previously
packed and read will get left at the hotel or they will go into my checked
luggage. Most of the charging cables will get checked, and every now and then, I
will commit a cardinal sin. With the goal of making my load easier to manage, I
have been guilty of packing my laptop inside my checked luggage.
Oh please! Don't act like you haven't done it or thought about doing it!
So far I have been triply lucky, because every time my luggage has been lost,
my laptop was not checked. My luggage has also only been lost on return flights,
meaning I was able to wait for my bag's eventual return from the comfort of my
home. My luggage has also always eventually been returned to me intact, even if
days later.
However, I know that I have not been traveling smart. It is only a matter of
time before my luggage is lost en route to my destination, and I'll have nothing
to wear upon my arrival. Even worse, one of these days my luck will completely
run out and the bag that isn't returned will be the bag carrying my laptop. What
I need is a larger carry-on bag that can easily hold my laptop, at least
one change of clothing, my toiletries and all of my other necessary carry-on
items – without killing my shoulder. I don't necessarily want to be one of those
people blocking the plane's aisle while they stow their gigantic carry-on in the
overhead compartment, but sometimes I secretly admire their foresight.
When I was contacted by Slappa about
reviewing their new Bulkhead
PRO 4.1 Laptop/Travel Bag with Trolley, I knew that this was my wake-up
call.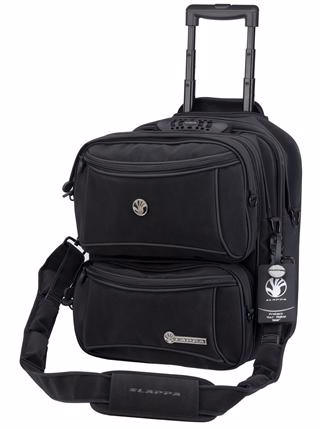 Photo courtesy of the Slappa site
The BulkHead Pro measures approximately 17" tall x 14" wide x 12" deep, or a
total of 43" all together. This number is important, because it is well within
the carry-on luggage allowance of both

American Airlines (45") and

Continental Airlines (51"), the two carriers that service San Angelo. This
handy

table shows the allowances for most US carriers.
What makes the Bulkhead PRO 4.1 unique, other than the fact that it is
designed to hold up to two full-size laptops, is that it is actually
four bags in one. What starts as one large carry-on can be separated into
four individual bags. These bags can be attached or detached as needed, giving
this bag a multitude of uses even on the shortest of trips. The larger bags are
perfect for carrying just a laptop or other larger items, and the smaller bags
will work well for daytrips and short excursions.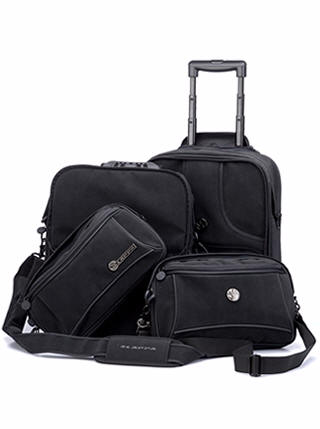 Photo courtesy of the Slappa site
Each of the four bags is composed of Slappa's "BuckBlast suede", a fabric
which feels like a cross between neoprene and Cordura; it's like an even tougher
wetsuit. According to Slappa, this fabric is "rainproof and very durable," and I
agree with that assessment, further adding that the fabric seems like it would
be very hard to puncture or rip. Being black, this fabric shouldn't show the
ugly streaks and marks that other luggage always seems to pick up. To break up
the otherwise solid lines of the bags, there is a contrasting black rubber
piping around their major seams. Each bag has heavy-duty zippers with a 0.75"
rubber logo pull. Except for the zippered front pockets on the two smaller bags,
all main compartment have double pull zippers. All zippers leading to the bags'
main compartments have a rain flap to prevent the entrance of unwanted water.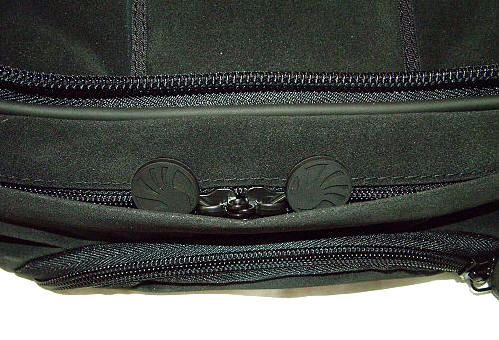 Each bag has metal loops on either side for attaching a shoulder strap. The
size of the loops corresponds with the size and weight load of the bag. There
are two shoulder straps included. The first is a lighter duty version, made of
1.5′ wide black nylon webbing with a metal length adjuster and metal clips on
each end. This strap is perfect for attaching to either of the smaller bags when
it is being carried separately.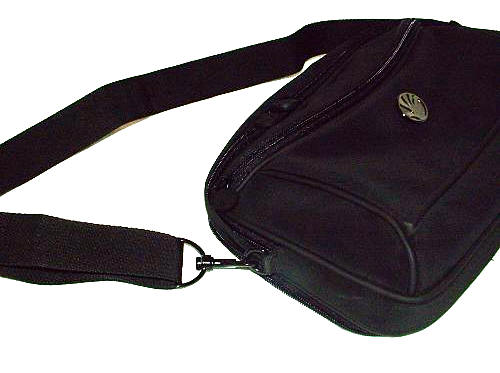 The larger strap measures 2" wide and is composed of the same BuckBlast suede
of the bags. It has a 9′ long x 3.5" wide shoulder pad which will help keep the
strap from slipping and will protect the shoulder that is carrying either one of
the larger bags or the entire BulkHead PRO system.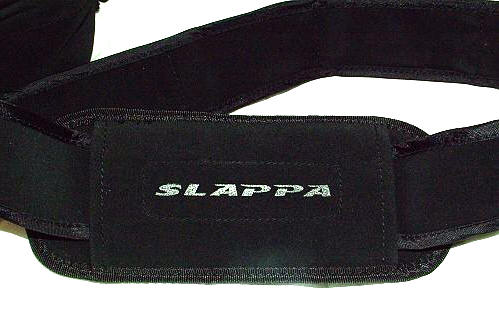 Each side of the strap has three stages of rubbery fabric protected clips
which will allow the strap to be drawn in or let out to the most comfortable
length.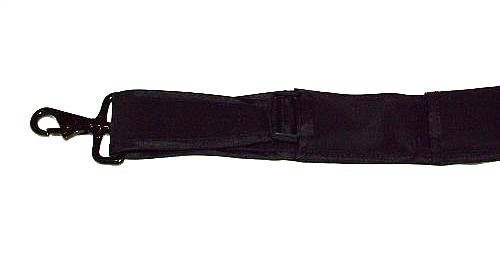 Notice the strap extended with the bottom clip in use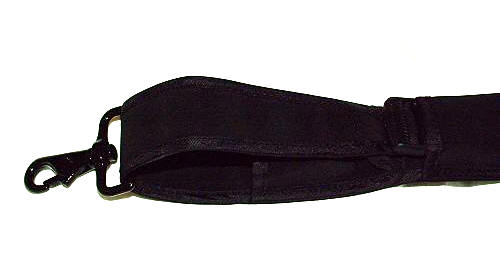 Now notice that the first clip has been bypassed, and the
second clip has been used
Of course, in its full configuration the BulkHead PRO has the possibility of
becoming quite heavy and a bit much for anyone to carry on their
shoulder. That's where the trolley system comes in, which leads us to the bag
which serves as the base for all the others. This approximately 17" tall x 13.5"
wide x 4" deep bag has a built-in five-stage handle which can be let out to a
comfortable length.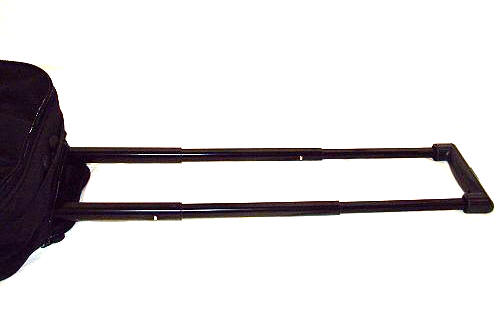 A button in the middle of the handle retracts the lock to allow the trolley
to be stored when it is not needed. The compartment which stores the trolley can
be zipped shut, keeping everything tidy.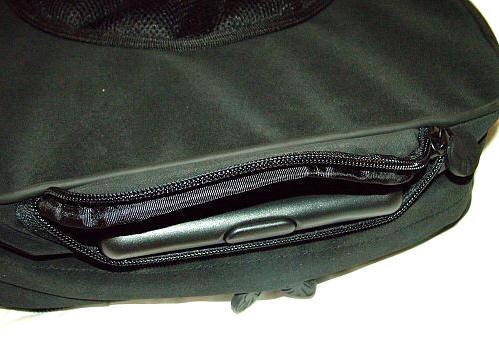 To move the bag smoothly along almost any surface, there are two in-line
skate wheels placed 10" apart on the bag's rear bottom side.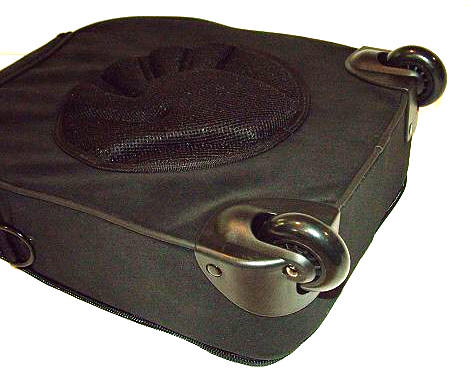 The interior compartment is accessed by double heavy-duty zippers which start
6" down on either side of the bag. This allows plenty of access to the laptop or
whatever other items are inside. In a perfect world, this bag would unzip fully
on three sides to allow complete access to the interior. It is a bit tricky to
get a change of clothes inside without wrinkling, but it is manageable.
The interior of the trolley bag is thickly padded on its front, bottom and
back sides. This padding makes the interior measurements of the bag
approximately 15" tall x 12" wide x 3" deep. I am being conservative with my
measurements, so a 15.5" or even 16" tall item would probably fit without a
problem. The sides of the bag are reinforced, but they are not padded. Although
it would probably be perfectly safe to put a laptop in this compartment
without additional protection, my recommendation would be to also use a thin
padded storage sleeve – just for peace of mind.
In addition to the padding in the walls, there is padding on the exterior of
the bag. The rear of the bag features a raised and padded Slappa hand logo…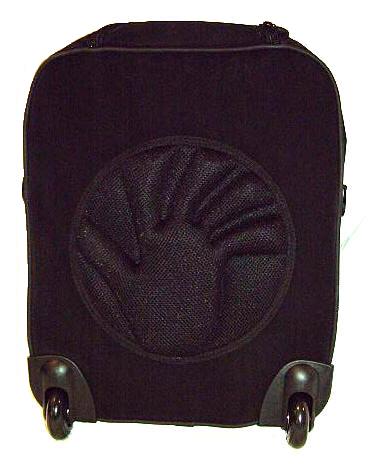 …and the front has an additional padded panel on its upper half. Notice the
half zipper surrounding the front of the bag, as that is what is used to attach
the next full sized bag.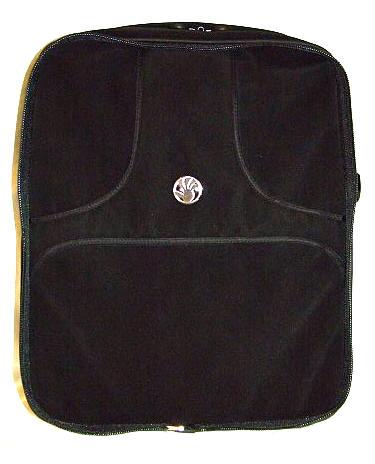 This is the compartment that I would use to carry a change of clothes and a
toiletry bag.
The middle bag has roughly the same exterior measurements as the trolley bag,
it is approximately 17" tall x 13.5" wide x 4". However, this bag is much
lighter and easy to carry with the shoulder strap, since it does not have the
added weight of the trolley system. This is the bag I would use to carry my
laptop, as its interior has complete padding. The interior of this bag measures
approximately 15" tall x 12" wide x 3.5" thick, but once again I am being
conservative with my measurements so a slightly larger laptop may fit. There is
a heavy duty rubber and webbed strap handle on the top of this bag which is
quite comfortable when needed.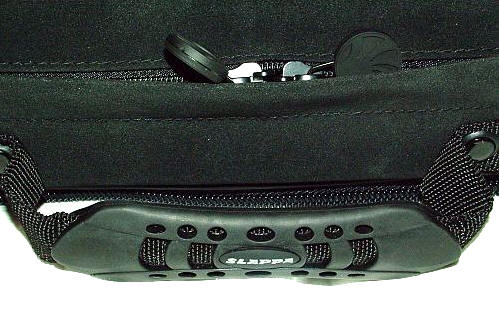 The rear of this bag has the padded Slappa hand logo, which works with the
interior padding as an additional buffer between the packed bags when they are
attached to each other. The rear of this bag also has the half zipper
surrounding it, which allows it to be attached to the previously discussed
trolley bag.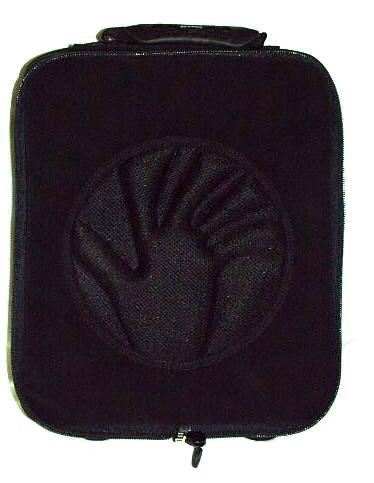 The front of this bag has two half zippers, for attaching the two smaller
"gadget day packs", as I have begun to call them.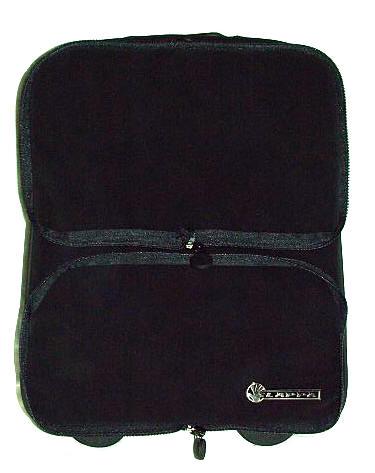 The bottom of this bag also has two feet to protect it when it is being used.
These feet also act to stabilize things when it is attached to the trolley bag.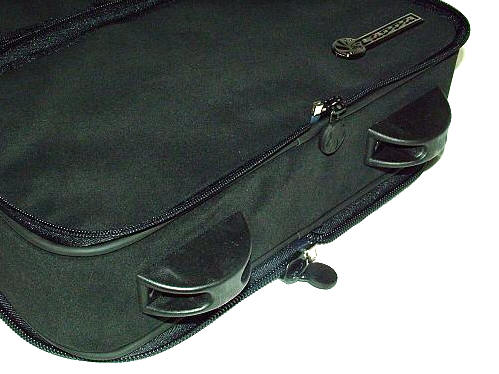 The first of these bags measures approximately 13" wide x 8" tall x 1.5"
deep. On it's front is a zippered compartment which measures 13" wide x 6.5′
tall and can expand to about 2" deep. Every portion of this bag is padded, and
although it does not have smaller pockets or separators in it's interior, I
would feel quite safe using it to carry a camera, PDA, mobile phone and various
other items.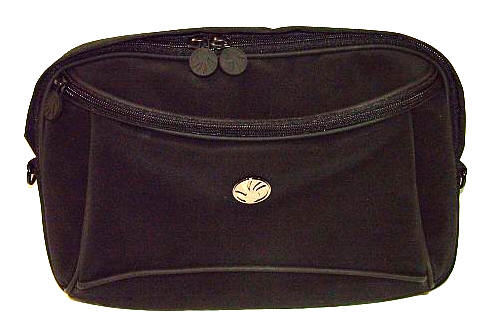 The second bag is essentially the same, but slightly smaller. It measures 13′
wide x 7" tall x 1.5" deep. The pocket on the front is 13" wide x 6" tall and
can expand to about 2" deep. Once again, the entire bag is padded and it would
be great for carrying smaller items such as a GPS unit, digital music player and
the like.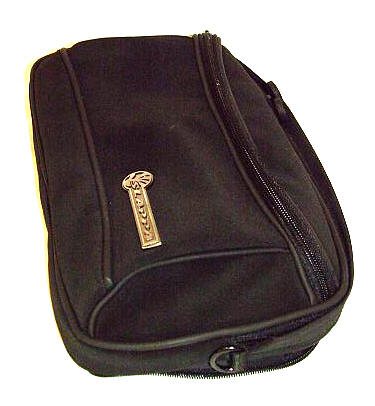 Both of these bags are a good size to use as day bags when sight seeing. The
zippers which attach them to the larger bag are located on their rear sides and
do not show.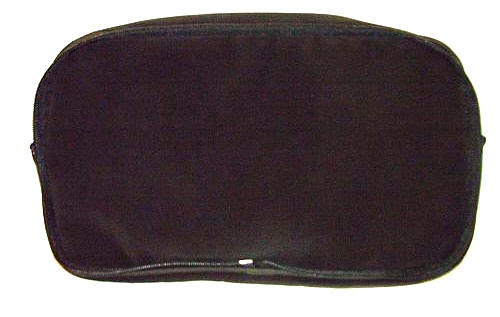 Slappa also includes several extras. There are two combinations locks – one
for each main compartment…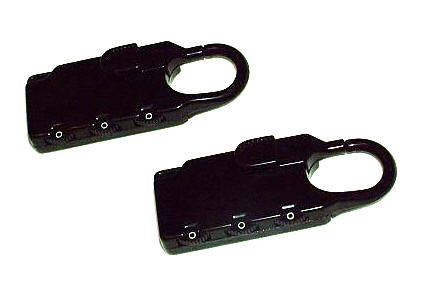 …as well as a cell phone or digital music case, made of matching BuckBlast
suede with a metal spring-clip for attaching to a shoulder strap or pocket. The
interior of this case is lined in soft loopy fabric.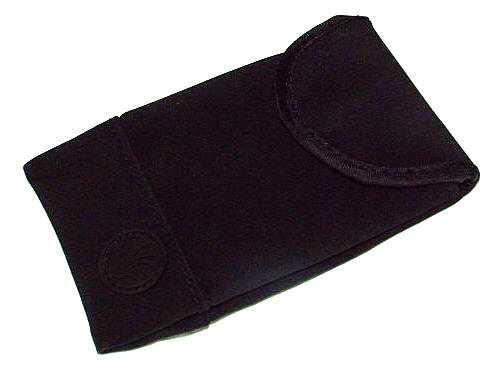 The case front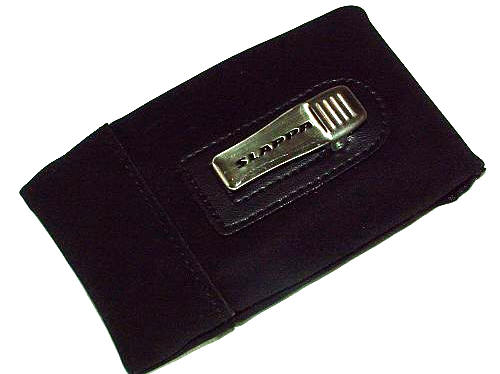 The case back
Lastly, there is a heavy duty rubber luggage tag which can hold a business
card.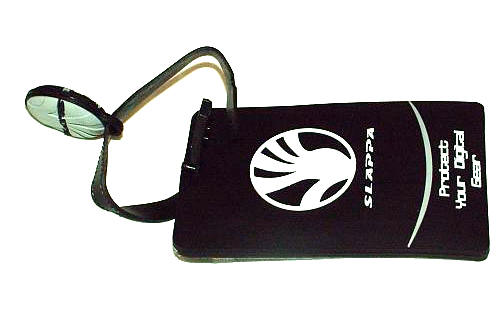 Overall, I think that the BulkHead PRO 4.1 system is pretty amazing. The next
time I get on a plane, I'll not only have a bag which can easily hold all of my
travel gear, as well as a change of clothing just in case. I'll be able to wheel
my bag along, saving strain on my shoulders, and for the first time I will hold
up the line of boarders for a moment as I stow my bag in the overhead bin. Of
course, now that I am completely prepared, I bet my luggage will never get lost
again. :0P
Product Information
Price:
179.99
Manufacturer:
SLAPPA
Pros:

Extremely well made of quality materials
Can carry up to two larger sized laptops
Can be separated from one large carry-on bag into four day-bags

Cons:

It's expensive...but then, so is any quality luggage