We use affiliate links. If you buy something through the links on this page, we may earn a commission at no cost to you. Learn more.
Yeah, yeah, another gear bag review. Well, every gadgeteer must also be a bagateer as well! How else do we carry those wondrous bits of technology around with us on a daily basis?
I have gone through an amazing number of bags in the search for the perfect bag to take my gadgets storm-chasing with me. My requirements are that it must not be too large, it must have adequate padding and it must be adaptable to both waist-pack and shoulder-pack use. Standing outside the van watching a mesocyclone spin up is an outstanding experience, and being able to do that with my gear right in front of me, at the ready, is an absolute must.
The essential pieces of equipment I bring storm-chasing include my Sony DCR-TRV22 digital camcorder with 8-hour battery pack installed, my Canon S400 digital camera, Kestrel 4000 weather meter, Treo 650 omniphone, Pentax 7X20 pocket monocular, spare battery for each camera, spare DV tapes and a pen for labeling purposes. I also like to carry a pocket cassette recorder for making notes and this year I will be bringing along a Gameboy SP for those long rides back to the hotel after a late-day chase. I have tried a combination of my Pod and CityWalker pack, but two packs is not as efficient as one. I tried the Maxpedition Jumbo and it was a total flop. I tried the RoadWired Photo-Video Convertible Bag, but it was way too bulky for use as a convenient waist-carried pack. I even tried a shoulder bag from Infusion Threads, but it won't fit the camcorder. I do use the IT bag as my daily bag for work, it's amazing. By the way, in the picture below, I am including a scale sized mockup of the OQO Model 01+, just in case I end up buying one to take on this trip.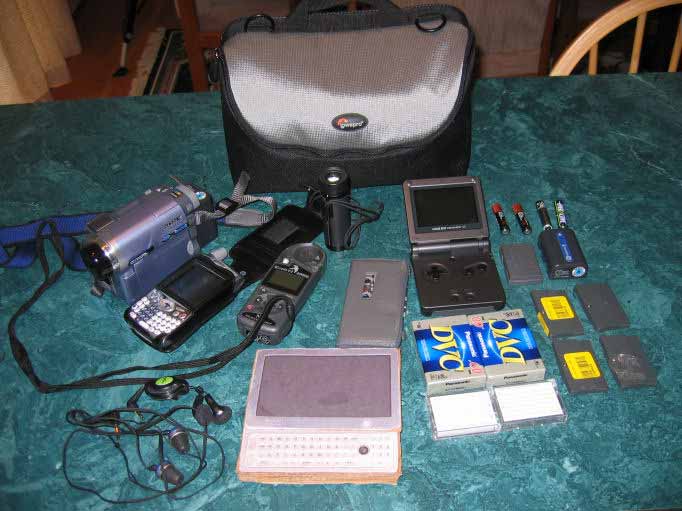 Then I came upon the Lowepro D-Res 240AW.
It was touted as being a bag that could fit all of your camera stuff in the front padded section and a mini-notebook (like my Fujitsu P-1120) in the rear padded section. While my Fujitsu fits great in the back section, I need the extra space for a little more gear. I keep the Fujitsu in a separate bag with all the cords and adapters, and both bags fit into a "personal item" sized Eddie Bauer bag that will give me more room in my carryon bag for clothing. I do not check luggage!!!!! This Lowepro bag has been tested, accepted, rejected, accepted again, rejected again and then finally, decisively accepted as THE gadget bag for this summer's storm-chasing expedition. Anyone want a Maxpedition Jumbo?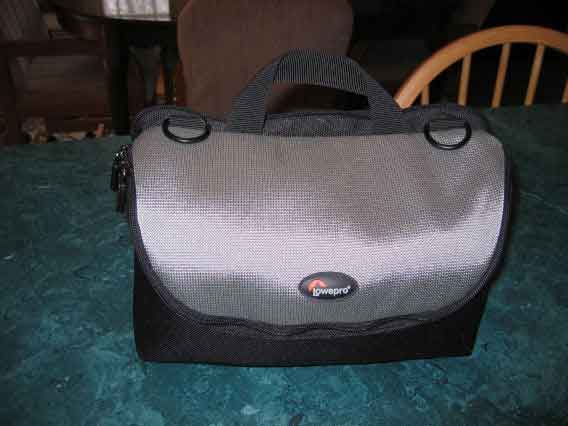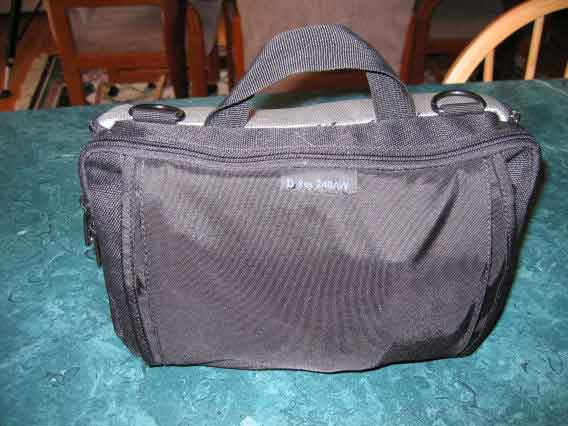 This bag has a main front compartment with a semicircular zipper covering it. This flap does not contain any pockets or pouches, but it is padded. Flip it up to reveal several sections. The three velcroed padded dividers can be rearranged into any number of configurations. On the left side (looking at the bag from the front) has a little loop pouch for two pens. Next to that I keep my Sony camcorder. Next to that goes the Treo. Next to that goes the Canon camera (not pictured, for obvious reasons). Finally, on the right side, is my Kestrel 4000. There are also three pockets in front of the padded compartments. The leftmost one contains the spare battery for my camcorder (in case eight hours is not enough). The center one contains (for now) four Gameboy Advance cartridges. The rightmost one holds my Pentax monocular. There is further room in front of those pockets to shove AA or AAA sized batteries!!!!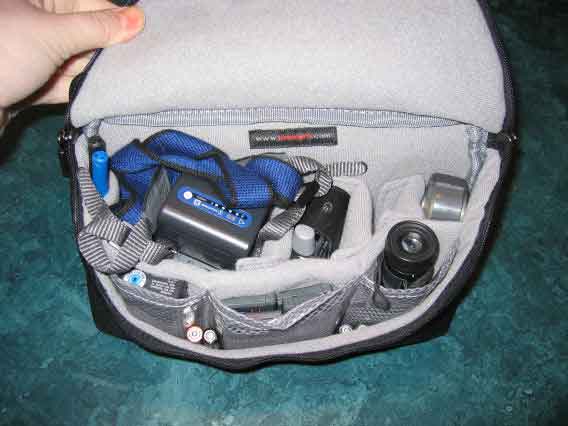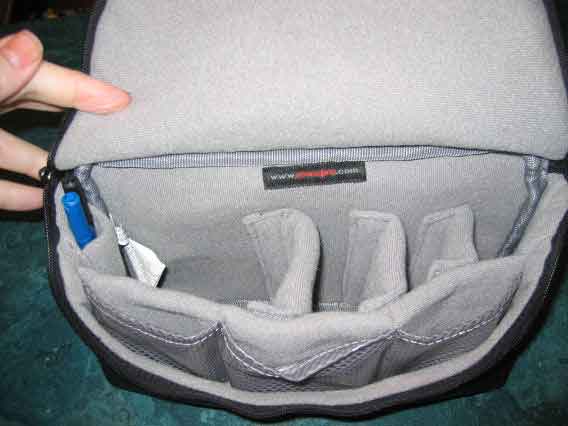 The rear compartment of the bag has a flat pocket along the front of the compartment, and I store my spare DV tapes here, as well as the spare battery for the camera. Behind this is my Gameboy DS and my two sets of earbuds. I find I still have room to fit stuff in this compartment, which is why I am considering the purchase of an OQO Model 01+. It would fit perfectly in the rear compartment, as demonstrated by the cardboard mockup I made to test this out. Like I said earlier, my Fujitsu P-1120 fits perfectly in here, so this might be an ideal bag if you have this tiny laptop, or one of similar size. My P-1120 would not allow room for the other accessories, so into a separate bag it goes!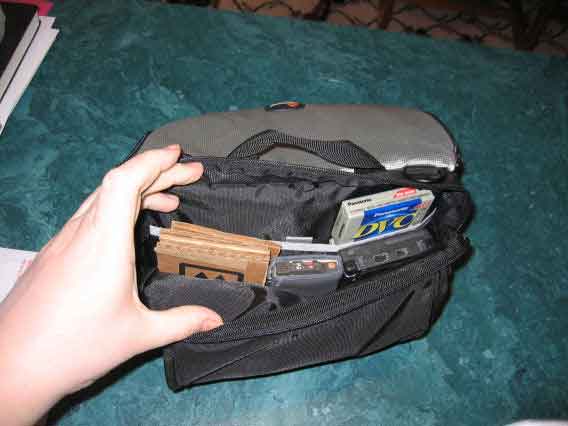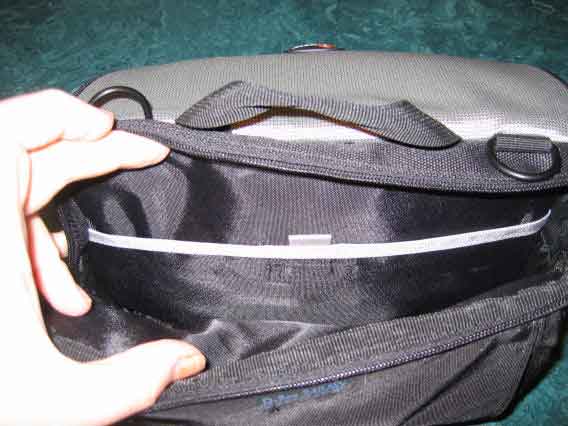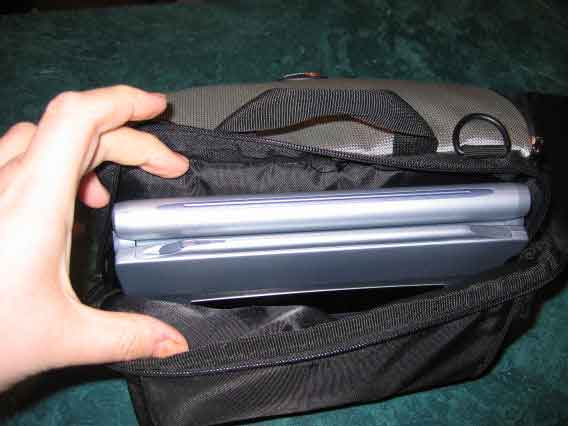 The shoulder strap that came with the bag I immediately discarded with the rest of my ineffectual straps, and replaced it with my Roadwired strap. It is, bar none, absolutely the best strap I have ever used. It attaches to two metal loops on the top of the bag, between the front and rear compartments.
The waist-pack is adequately thick and comfortable, with one "Sliplock" loop on either side to attach other small pouches to that have a snap or Velcro belt-loop. I intend to hold my pocket tripod through one of these loops. I might get another pouch to attach to the other loop, but I am not sure yet. The buckle is connected through a typical pinch-clamp, nothing particularly special about it. I think more companies should adopt the locking pinch-clamp design featured on the Maxpedition Jumbo front flap buckle, but it serves. The top seems to flop forwards a little when I strap it on, but that could just be my gut. The belt strap tucks into a rear open compartment when you want to use it as a shoulder bag only.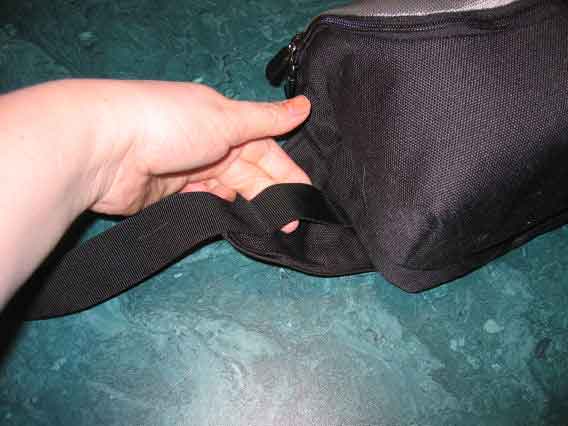 If all that wasn't enough, it even comes with an integrated raincoat! Stashed in the bottom of the bag, between the front and rear compartments, this "All Weather Cover" can be pulled out and snugly fit over the bag! When it gets nice and dry, it stashes back between the compartments.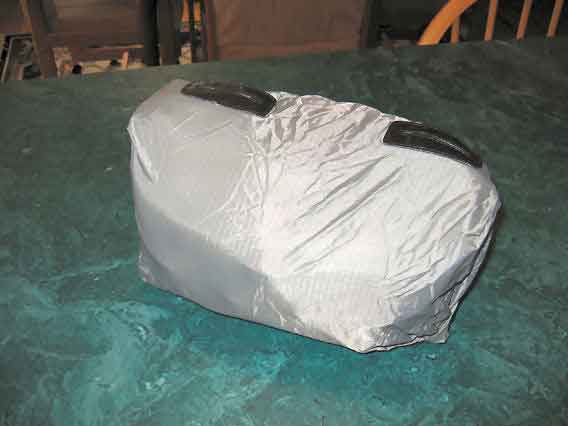 According to the Lowepro site, the case is made of water-resistant 420D nylon/TXP™ crossweave and 1200D ballistic TXP™. It feels nice and durable, and should hold up in the long run. I would have liked two small side pockets as well, but the fact that you can attach extra pouches via the SlipLock system should help make up for that. The Lowepro D-Res 240AW measures 10" long by 7" high by 5.5" deep when stuffed with gear. I have given it many, many dry runs, and I have determined that THIS is the bag that I want strapped to my waist as I ride along through the High Plains in search of supercell thunderstorms. This is the bag I want in front of me as I grab my weather meter to measure the wind speed of rear-flank-downdrafts or cold outflows, take incredible stills of beautiful shelf clouds and videos of twisting and turning mesocyclones and lightning. This is the bag that I will dip into to look up the latest radar on the Treo. May any tornado that forms (haven't seen one yet) be out in the open country, damage no one's property, threaten no one's life and be gorgeous to behold! The Lowepro D-Res 240AW will be there with me all the way!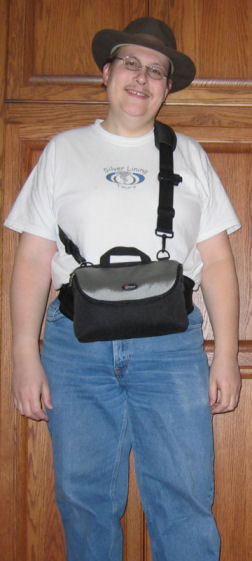 For more information about storm-chasing, check out a Silver Lining Tours. They are the group I have been chasing with since 2003. I am not in any way affiliated with Lowepro or SLT, Inc, I just like what they have to offer!
Product Information
Price:
45.95
Manufacturer:
LowePro
Pros:

Compact size with lots of storage
Plenty of dividers and compartments
Raincoat
Slip-lock loop system
Good waistbelt
Not too pricey
Durable material

Cons:

Could have a better shoulder strap