We use affiliate links. If you buy something through the links on this page, we may earn a commission at no cost to you. Learn more.
Updated on 02/20/07. See updates at bottom of review in Red…
SCOTTeVEST has been the king of high tech gadget clothing for several years now. We should know, here at The Gadgeteer, we've reviewed almost every product they've put on the market. But now there's a new kid on the block: Kenpo of Los Angeles, California. Kenpo's jackets don't have 5 billion pockets like SCOTTeVEST jackets, they have something else. Their jackets have a built-in iPod controller sewn directly into the sleeve.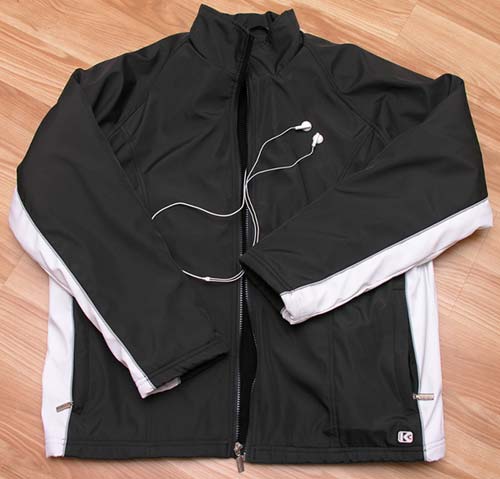 Styled for guys, these mid-weight jackets are available in sizes Small through XX Large and in come in Black or Silver, with or without hoods. The exterior of the jacket is made of a satin-like polyester that looks to be somewhat water repellent. The interior of the jacket is also made of 100% polyester, and is fuzzy and warm.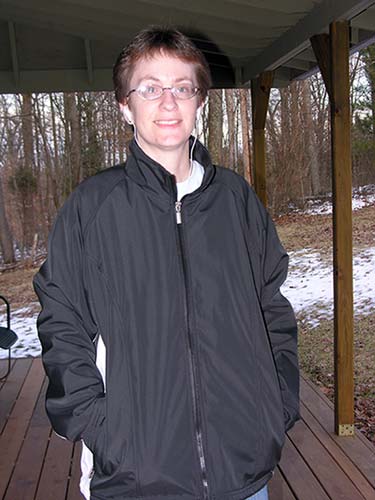 In the picture above, I'm wearing their men's size Small, which is too big for me. I wish they had a women's size Small! (update below) The jacket I was sent has a 3 inch tall stand up collar, zippered front, 2 zippered slash hand pockets and 1 large zippered pocket on the back (similar to the ones that SCOTTeVEST jackets have). All of the zippers are heavy duty and have chunky metal pulls.
It is important to note that the Kenpo website shows 2 styles, but that the style I was sent doesn't match either of them. I was told that there are 4 styles available in select Macy's, Dillards, and Comp-USA stores, that don't show up on their official website. I guess my review jacket is one of them.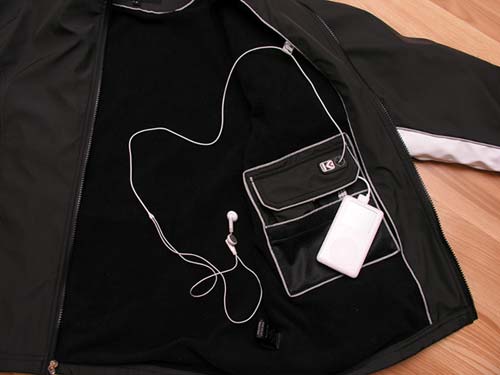 On the inside of the jacket, there is one open square pocket on the right breast, and the iPod pockets are opposite on the right breast. The iPod compartments are comprised of two vertical pockets with a large Velcro flap, and then an open horizontal pocket on top.
Never miss one of our posts again. Sent MON, WED, and FRI with the latest gadget reviews and news!
The main feature of the Kenpo jacket is the built in iPod controller. This controller is sewn right into the fabric of the jacket. Here's how it works… There is a small black plastic module that is included with the jacket. This module connects to the Kenpo by way of a ribbon cable. The module has a regular earphone jacket connector (3.5mm) on one side, and a short iPod remote / earphone combo cable is connected to the other side. The best thing about this module is the fact that it does not require any batteries to power it. The jacket can be machine washed or dry cleaned too (don't forget to remove the controller first though!) Yay!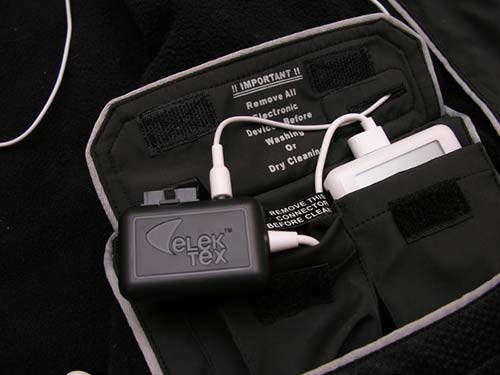 The combo cable plugs into the top of your iPod, and then your iPod's earbuds (or whatever headphones you prefer to use) plug into the 3.5mm jack. If you don't own an older iPod with the remote / earphone jack combo plug, Kenpo will exchange the controller module for one that will work with the iPod nano. I'm not sure if this same controller is compatible with all 5th gen iPods though…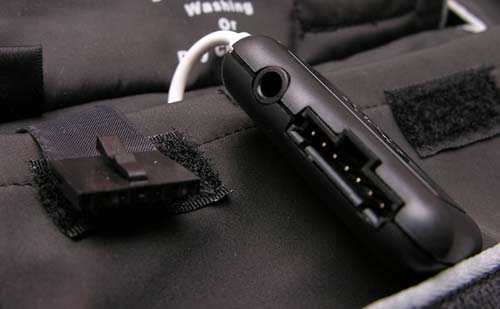 You slide the module into one of vertical pockets, and your iPod into the other. An opening between the pockets allow you to route the short cable between them.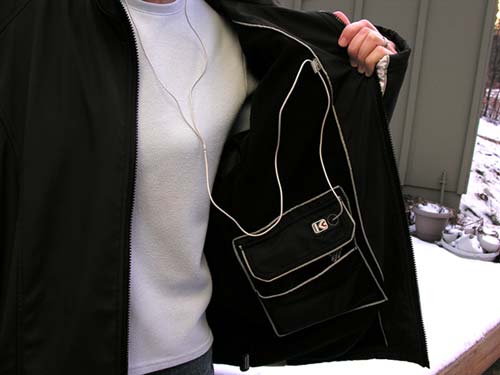 Your earphone cable then routes through another opening in the Velcro flap. You can also route the earphone cable through a fabric loop sewn into the left lapel. Once you have your iPod, earbuds and module all wired together, you're good to go.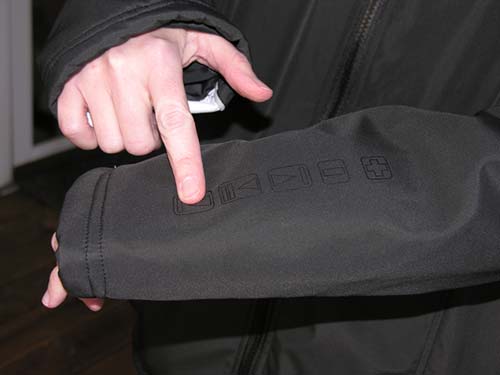 Now you can control your iPod through your left sleeve. Near the wrist there is a 5 button keypad. It's almost not even noticeable. From wrist to elbow, the buttons map to Track Forward, Play/Pause, Track Previous, Volume down and Volume up.
The first thing you have to do is to hold down the Track Forward button for about 3 seconds. This will unlock the module so that it will accept your other button presses. This is the only feature of the jacket that I wish you could deactivate… The jacket goes into lock mode after 7 seconds of inactivity. That means that almost anytime you want to change the volume, or navigate through tracks, you'll have to first press and hold the Track Forward button first.
The buttons in the sleeve have absolutely no tactile or audio feedback to them. This may or may not bother you. The only reason why it bothers me is that if you're in the dark or a dimly lit area, you probably won't be able to see the outlines for the buttons, and you won't know where or what you're pressing.
I really like the Kenpo jacket. It's comfortable, warm, and gets major gadgeteer points for having a controller sewn directly into the fabric. There are just 2 issues that keep me from totally loving it. #1 is the price. $245 for a non-leather jacket is pretty spendy in my opinion. Then there is that annoying 7 second lock feature. I can live with that issue. I'm just wondering how many people can live with the price.
Updated on 02/20/07

I'm happy to report that Kenpo now has jackets available in women's styles and sizes. They sent me the Chamarra in Black (also available in Olive). This jacket is a poofy ski jacket style coat with a removable faux fur trimmed hood, zipper & snap front and front snap pockets.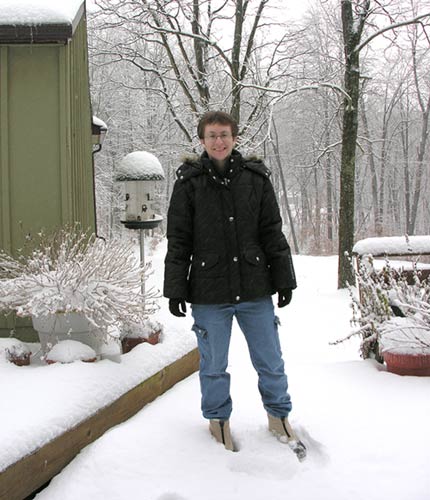 I had asked them for size SMALL, but they mistakenly sent me LARGE. When I read the label, I was disappointed because I knew the jacket would probably swallow me. Guess what? It fits perfect! Let that be a lesson though as I am 5 foot 5.75 inches tall, weigh 123 lbs, and normally wear size 4. Anyone much bigger than me, will probably want an Extra Large.
This jacket has a nice length and princess seams, which are more flattering to women.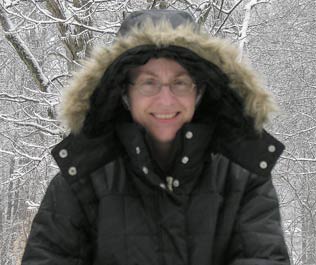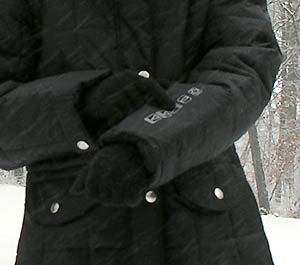 The hood is removable and also has a removable fur trim. The sleeve has the familiar iPod touch controls like their previous jackets. The module that you use to connect to your iPod looks almost identical to the one shown above, except that this one is compatible with all 30 pin dock connector iPods.
The jacket looks like it might be bulky or heavy, but it isn't. It is light weight while still providing great warmth. As you can see in these pictures, it's winter here in Indiana. I took these pictures when it was snowing and only 25 degrees outside. After the pictures were snapped, I proceeded to shovel my driveway for almost an hour out in the cold and was wonderfully comfortable the entire time.
The only thing that keeps this jacket from being the perfect winter coat for me personally, is that it lacks side hand-warmer slash pockets. Yes, it does have front pockets, but I prefer side pockets.
It's nice to finally see that someone has stepped up to create tech-enabled clothing for those of us that are of the female persuasion. Thanks Kenpo!
Product Information
Price:
275.0
Manufacturer:
Kenpo
Requirements:

iPod with dock (3rd generation models)
iPod with click wheel (20GB, 40GB & U2)
iPod color & photo (20GB, 30GB, 40GB & 60GB)
iPod mini

Pros:

Controller does not require batteries
Unique
Machine washable (must remove module first)

Cons:

Expensive
Controller goes into lock mode after 7 seconds of inactivity