We use affiliate links. If you buy something through the links on this page, we may earn a commission at no cost to you. Learn more.
It was about a year ago when I reviewed the

Future Sonics Ears Model EM3 Universal Fit Professional Earphones
and found that although they didn't "look like much", they definitely had a
great sound. Well, as I have found with other products which I have reviewed in
the past, a year can sometimes make a huge difference.
Future Sonics, "the first
company in the world to produce personal monitors and systems" and
XtremeMac, "one of the very first
manufacturers of iPod accessories" have joined together and are now offering

FS1 High Definition Universal Earphones. What that means in a nutshell is
that these are a pair of Future Sonics earphones that look pretty darn good.
When I was asked if I would like to review the FS1s, I have to admit that my
first thought was how much better they looked and that I liked the inclusion of
multiple sleeves – other than just the springy foam ones, which I never really
liked using.
Of course, the question was whether or not the new FS1 earphones could
deliver the "extremely rich, clear and surprisingly bassy" sound that I
had enjoyed from the EM3s. Before I delve into their performance, let's first
take a look at the actual item.
The FS1 High Definition Earphones come packaged in an easy to open box.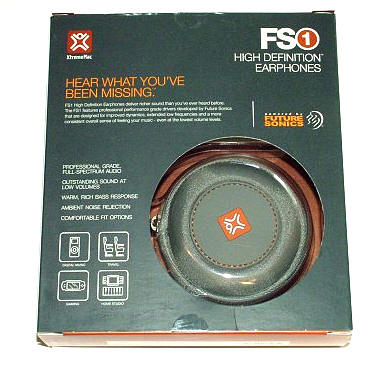 Inside are the FS1 High Definition Earphones, two sets of ComfortFit foam
sleeves (small & large), three sets of bullet-style sleeves (small, medium &
large), one set of flanged sleeves, a nicer than usual zippered travel/ carry
case, a cleaning tool, instruction manual and a one year limited warranty.
Available in back or white, I was sent the black version.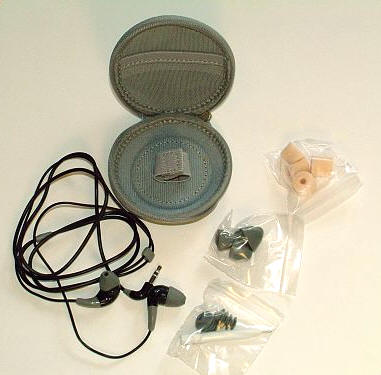 Specifications:
Transducer – 10mm, Future Sonics MG5 Proprietary Miniature Dynamic
Input Sensitivity – +/-112dB @ 30Hx/1mW
Cable Length – 43.3" (110cm)
Connector – 3.5mm (1/8") standard stereo mini-plug; 90 degree angle
Noise Isolation – +/-25dB (when using the foam sleeves)
Impedance – 32 ohms
Frequency Response – 20Hz-20KHz
As the EM3 earphones did, the FS1 Earphones also have a very small post on
which various included sleeves may be placed. These earphones are considered
"universal" because they come with enough sleeve options that everyone should be
able to find a comfortable and correct fit. Speaking of fit, as with any
professional earphones, proper fit is imperative so that the best sound may be enjoyed. Future
Sonics suggests that users start with the large foam sleeves, and move on from
there as they figure out which sleeves will work best for their particular ears.
While I am not a big fan of the foam sleeves, mainly because they just seem
dirty to me, they do have rather decent noise cancelling properties.
After a little bit of trial and error, I opted for the medium bullet-style
sleeves. The actual earbud measures approximately 1" long from it's bulbous
black plastic top to the end of its flexible gray stem. At the fullest part of
the bulb, the width is approximately 0.5". In ear, each speaker is light and its
small size helps to keep it from being bumped or easily displaced. Each earphone
is marked with either an L or an R on the gray portion of its lower stem.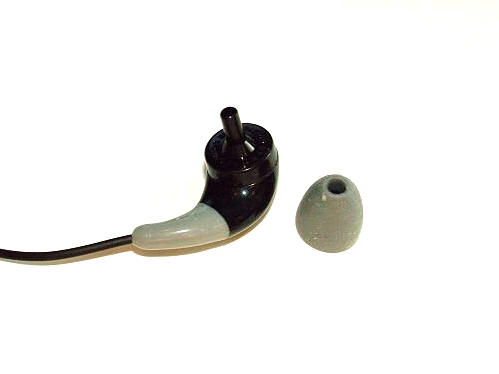 Insertion is definitely key when trying to get the proper fit with any set of
professional earphones. I have found that the best way to get the ear tip in properly
is to hold it firmly by the bulb and then once the sleeve connects with my inner
ear, begin rocking the earphone slightly back and forth until I feel a seal
develop. The seal is important because without it, there will seem to be hardly
any bass – even though the music will otherwise sound fine. One the earphones
are properly seated their sound is quite rich, clear…and full of bass. Mission
accomplished: the FS1s not only look good, they sound very good!
One of the things I like about the FS1 Earphones is that they kept the
styling consistent. The 90 degree angle on the jack connection is decked out in
matching black and gray, and the handy adjustable slider on the black cables is
the same contrasting gray, as is its resting stop. I really appreciate aesthetic
touches like these.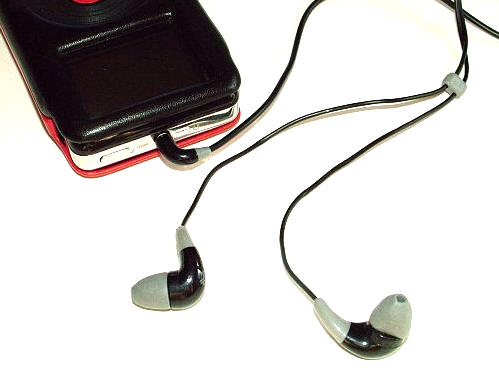 Just as the Future Sonic EM3 Earphones I previously reviewed were not
specifically touted as being "noise reducing" or "isolating", but they still had
such properties, the FS1 Earphones are much the same. This seems to just be a
built-in benefit of in-ear design. As when I reviewed the For example, when
applying the same test that I gave the EM3s, I can sit here typing while
listening to music on a medium volume setting, As before, I can't hear the
normal clacking of my keyboard and I can't hear myself snapping my fingers. But
when the music is turned off, I can hear pretty well, even though there is some
slight muffling, without having to physically remove the earphones. So in other
words, these are not earphones that will get you in major trouble with your kids
or significant other for not answering. In other words, they will not think that
you are ignoring them unless your back is to them and the music is really
blaring.
Included in the kit is a handy cleaning tool that I shall never need because
my perfect ears produce zero earwax. Ha, okay – maybe not. Earwax is a fact of
life, and this cleaning tool will help you deal with it. The flexible rubber
sleeves can be cleaned with a mild detergent and water or replaced if they
become damaged, but when something "funky" gets inside the earphone's hollow
post, this tool will do the trick.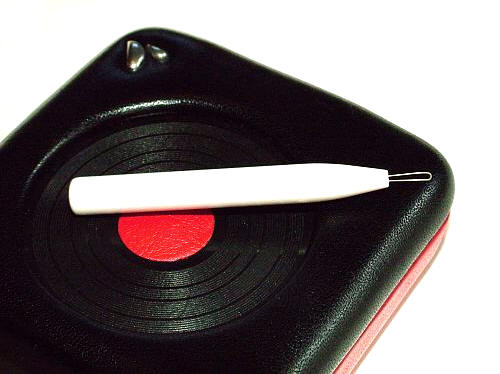 Overall, I would have to say that I have been very pleased with the
Future Sonics FS1 Earphones. I feel like the girl that kissed a frog and got the
prince in a way, because I liked them a lot when they were "ugly", but I
really like them now. Not only do they look great, they sound great too.
They are just about permanently attached to my iPod these days. :0)
Future Sonic FS1 High Definition Earphones are available from
XtremeMac.
Product Information
Price:
149.95
Manufacturer:
Future Sonics
Requirements:

An audio/video device with a 3.5mm jack

Pros:

Many tips allow user to customize the fit
Small profile
Rich sound
Attractive style

Cons: