We use affiliate links. If you buy something through the links on this page, we may earn a commission at no cost to you. Learn more.
How many of your mobile phone plan's minutes have you already used this
month? How many do you have left? If you are like me, then you never really
think about it – unless your bill runs higher than expected.
If you are using a Pocket PC Phone Edition, then you might appreciate an
application I've been enjoying for the last couple of weeks:
Omega One
Phone Dashboard.
This program allows users to keep track of just about everything related to
their mobile phone usage, and it is accessible from the Today Screen.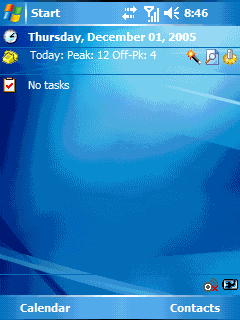 Phone Dashboard allows users to track their
minutes by the day, month and billing period; project their monthly usage based
on analysis from recent calling patterns; monitor their cellular network while
displaying both signal strength and current connected operator, and that's just
for starters.
Using Phone Dashboard's customizable
template for my phone
plan's details allows the tracking of what I've used and what's left to use.
Alerts can be set once I hit a certain percentage of my plan's use, so that I
never get another surprising bill. There is a statistical call log which
displays the date, time, number called and length of my calls for the defined
period. Info can be exported to a CSV file, so that I can keep track of business
versus personal calls.
As it is, Phone Dashboard is a FAB
application that is helping me to manage my minutes. You can try it for a week
free by clicking here: