We use affiliate links. If you buy something through the links on this page, we may earn a commission at no cost to you. Learn more.
It's nice when you can diss a company for having a goofy product, and they don't hold it against you. Case in point: SpeckProducts. For a long time now, I'll find products in my mailbox from them that I have not requested for reviews. Some I will end up reviewing and some I won't. When they sent me the iGuy, Evil Julie came out to play. I wrote a review AND made a movie. All in the name of fun, but after the review I sent them an email letting them know about it and never heard anything back. I figured that was the end of my relationship with them. I was wrong though… A couple weeks ago I received an email asking if I was interested in seeing some of their new products. I responded saying I was surprised to hear from them and thought they were 'mad' at my iGuy review. They said they definitely weren't, and just last week I received a nice sized package with several Video iPod cases.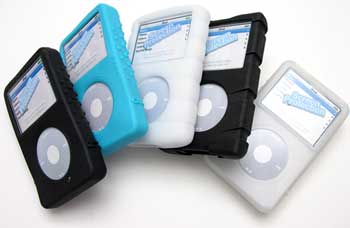 They sent a White Cloud Fun Skin, a Black Tough Skin and a 3pk Skin Tight pack. The Fun and Tough cases come with a belt clip. The Skin Tight 3 pack does not.