We use affiliate links. If you buy something through the links on this page, we may earn a commission at no cost to you. Learn more.
We all a small group of people on our holiday lists that we need to give
gifts, but for whom we haven't a clue as to what to buy. Whether they be
co-workers, hosts and hostesses, or friends who already have everything,
there is always a need for a thoughtful gift that doesn't look like a last
minute purchase – even if it was.
Recently I was sent a sampling of items from
The Troy Store, the newest venture by
Jim Myers of Stylus Central fame. The
Troy Store features "Art That Works", namely the practical yet beautiful designs
of artists Didi Suydam and
Peter Diepenbrock. So without
further ado, let's begin…
The Dinobite
The Dinobite is a solid bronze bottle opener designed by artist Peter
Diepenbrock. It measures 4" long x 1.5" tall x 1" wide and he looks at home
resting on any flat surface – simply as a cool little dinosaur / dragon. His
trick is that he can open bottles with his mouth.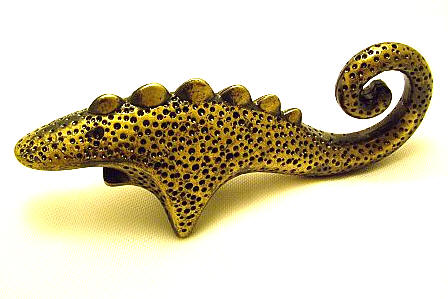 He is a hefty little beast, weighing six ounces; his stippled body has a
pleasing look and texture. This is a great gift for any boss, especially if you
want to make sure that you aren't giving them something they might already be
receiving.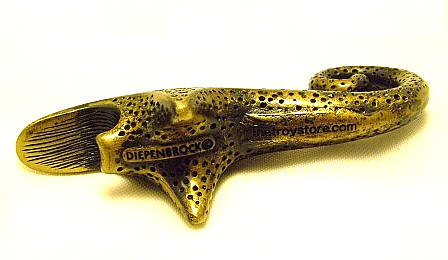 The fact that his bottom is signed by the artist will make even the most
label conscious boss happy. I see a future promotion…
The Dinobite is priced at $29.95
The Dinobaby Keychain Bottle Opener
What do you get a friend that still drinks Dr. Pepper in the bottle? The
Dinobaby Keychain of course! Measuring 2 5/8" long x 7/8" tall x 3/8" wide, the
Dinobaby is a cuter little free-form dinosaur with a spring ring held by his
curled tail. The Dinobaby has the same stippled finish as the Dinobite, and is
also made of solid bronze.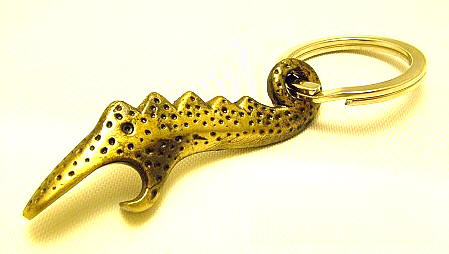 This little guy makes a great surprise for those friends which still drink
their sodas from a bottle – as well as those friends who enjoy an occasional
bottle of beer.
The Dinobaby Keychain Bottle opener is priced at $14.95
The Dinobite and the Dinobaby Keychain Bottle Opener may be purchased
together for $39.95
The Hedgehog Stamp Dispenser
This item is my favorite – even more so than the Dinobite, and one which
would make a great gift for anyone that buys rolled stamps. Cast in solid
pewter, this Hedgehog, whom I have named "Harley" after our old pet hedgehog,
sits on any flat surface and dispenses stamps through her grinning mouth.
Measuring 2" tall x 2" wide x 2 3/8 deep, she weighs a satisfying 6.6 ounces.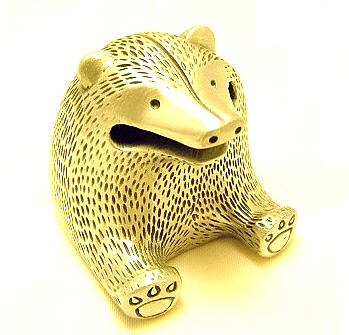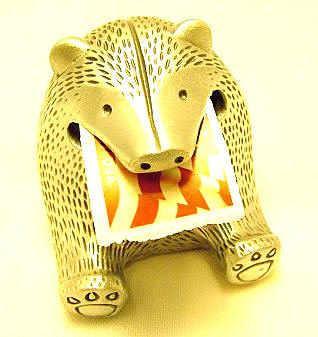 Her three little toes on each foot are endearing, but the texture of all of
the individual pricks made to create her "fur" really stands out.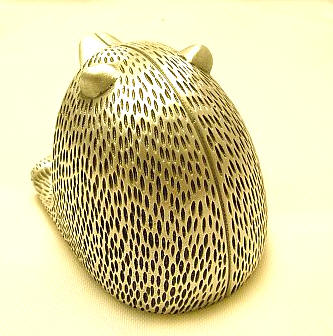 This is the sort of art I would create if I were a sculptor…<sigh>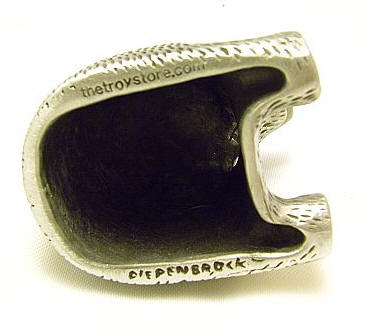 "Harley" is also signed on her rump by the artist.
The Hedgehog Stamp Dispenser is priced at $39.95
The Elf Booty Candle Holders
Perhaps the most "Christmassy" item in the roundup, the Elfin Booty candle
holders are a traditional item in a new interpretation. cast in solid pewter,
each measures 3" long x 1" tall x 3/4" wide.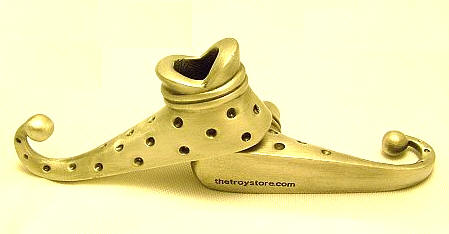 Each ball-tipped booty has festive dots decorating its surface, and they come
with two old-fashioned 1/2" x 6" candles with their wicks still connected. This
would be the perfect holiday hostess gift.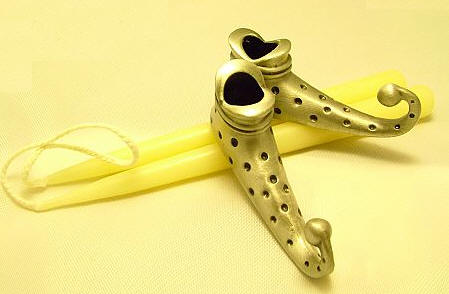 The Elf Bootie Candle Holders sell as a set and are priced at $39.95
Every one of the gifts from the Troy Store is ready to be popped in a snazzy
gift bag and given to the delighted recipient. Happy Holidays!
Product Information
Price:
Manufacturer:
The Troy Store
Pros:

Great gifts to keep on hand for those who are hard-to-buy for
Items which are visually appealing, yet also serve a function

Cons: