We use affiliate links. If you buy something through the links on this page, we may earn a commission at no cost to you. Learn more.
What kind of watch does your typical Gadgeteer wear? A no frills $7 Walmart special? Ummmmm, probably not. We tend to want our watches to do more than just tell time. A few of the more gadget worthy watches that we've reviewed in the past include the Microsoft SPOT watches, the NHJ VTV-101 watch and the FitSense Speedometer watch. Although these watches are packed with an abundance of unique features, they aren't the type of watch that you would probably wear on a day to day basis. Sometimes you just want a good old fashioned analog watch that doesn't have a dozen buttons and 3 dials on the front. Enter the iBEAM optical timepiece. Here's a watch that doesn't look like something Inspector Gadget would wear, but hidden behind a veil of ordinary are 2 features that give it real gadgeteer appeal.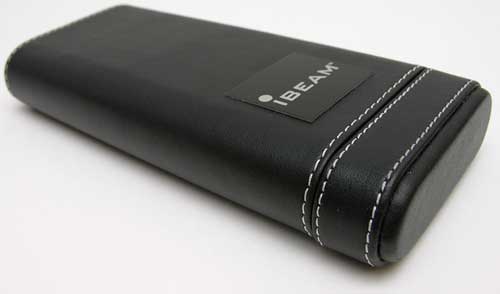 Available in styles for both men and women, I was sent the men's deluxe version. It came housed in a very nice presentation box lined in suede and covered in black leather.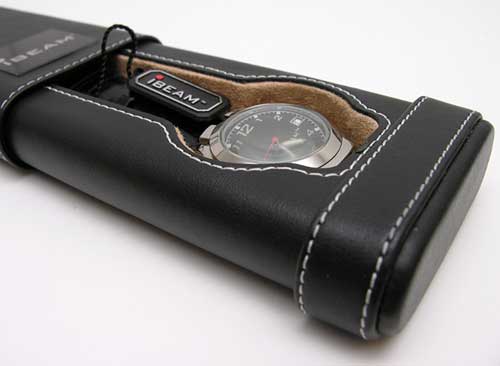 Upon opening the box, you are greeted with a watch that is definitely not a $7 Walmart special.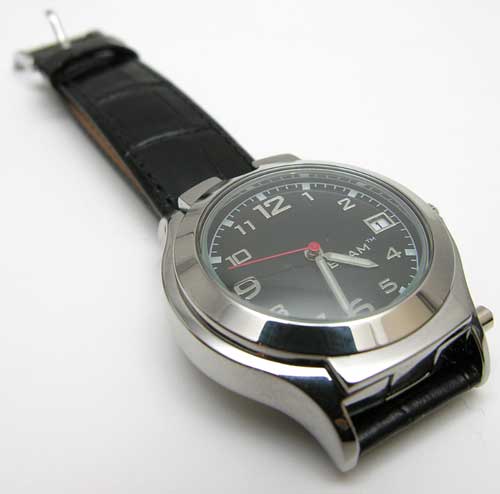 The men's deluxe iBEAM watch is a large chunky analog watch with a black face, chrome numerals, a red sweep second hand, luminous minute and hour hands, and a date indicator. Available in a silver or gold body, with either a black, brown croc style strap, or a silver or gold bracelet strap, I was sent the silver watch with black croc style strap to review.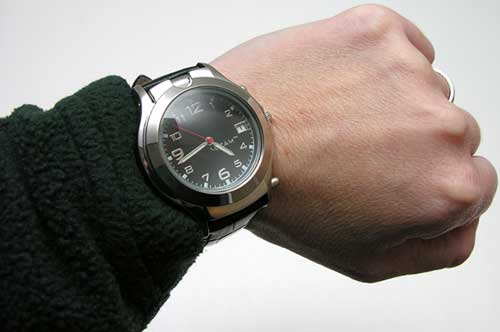 The diameter of the entire watchcase is 40 mm (1.625 in), the diameter of the visible dial area is 27 mm (1.25 in), and it takes a 20 mm strap. This isn't a small watch. On my wrist it looks quite large, but I don't mind because I like chunky watches. It just looks like an ordinary analog timepiece at first glance doesn't it?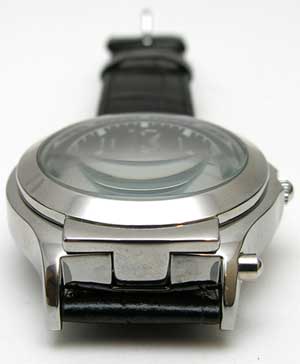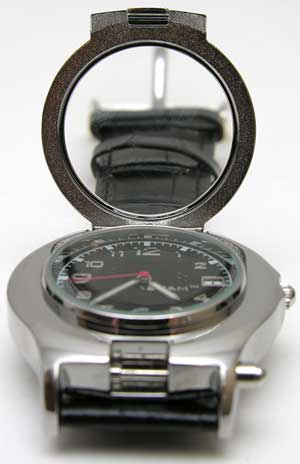 When you press the spring loaded button on the bottom right side, the face pops open to reveal a 5x magnifying lens.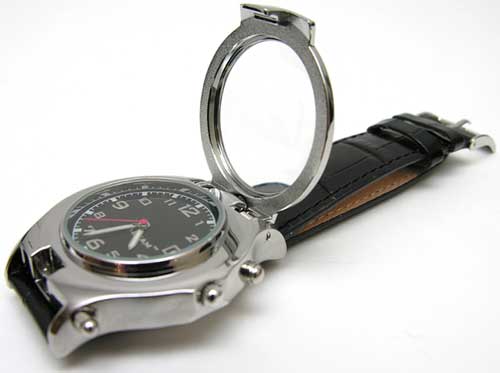 The force at which the magnifying lens flips open is pretty impressive. When a friend at work (Hi Ryan) saw the watch, he couldn't stop flipping, closing, flipping, closing. That was until he discovered that you could use the watch as a catapult. Then he had fun flipping pennies and red-hots at me using the watch. Yes, Ryan is older than 12. ;o)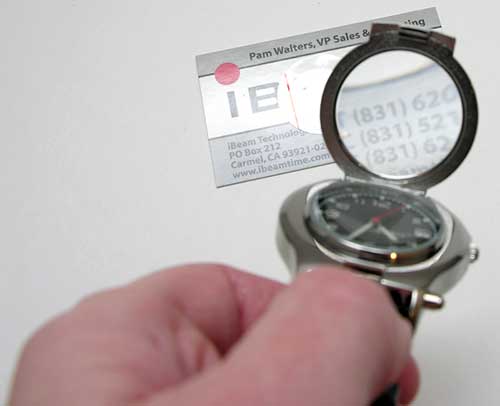 The quality of the magnifying lens is quite good. The maximum distance away from a item that you are magnifying is approximately 4 inches. Any farther away than that, and the item will appear blurry. You don't need to remove the watch from your wrist in order to use it for magnifying things. I did so in the image above, just for ease of photographing it.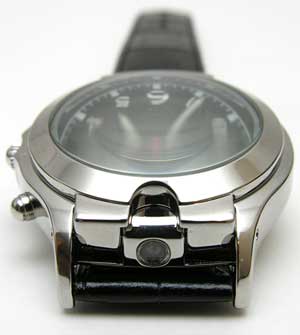 Another button is located at the top right side of the watch. Pressing this button will cause high-intensity LED incandescent flashlight to activate. Pressing the button a 2nd time will turn off the beam. Don't worry, if you forget to turn off the light, it will automatically shut off after 30 seconds.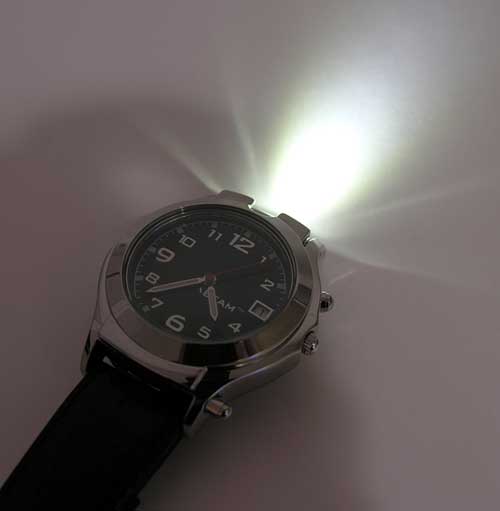 I wouldn't want to rely on this flashlight as my only light source in a cave, but it's surprisingly bright for one bulb. It's great for finding the keyhole on your car door or house door in the dark and equally handy for shining on the back of your desktop computer to aid in cable hookups.
The LED is rated for 70,000 hours and has its own battery which is rated for 2yrs at 5 minutes a day of usage.
The battery for the watch is rated for 5yrs. A regular watch technician or jewelry store can replace the battery when required. You can also send it back to iBEAM and they will do it for you. They charge $5.00 per battery (the watch uses 1 and the LED uses 2) and $6.50 for shipping and handling.
The iBEAM watch is a nice looking watch that looks great with a suit or jeans. Its Swiss parts movement means you can trust that it will accurately report the time. It's water resistant to 90 feet and the Sapphire coated scratch resistant lens means you don't have to baby it. This watch makes a great present for men and women that appreciate a nice looking watch that has a few hidden features up its sleeve.
Product Information
Price:
99.99
Manufacturer:
iBEAM
Pros:

Built in LED flashlight with automatic turn off
Built in 5x magnifying glass

Cons:

Luminous hands aren't luminous