We use affiliate links. If you buy something through the links on this page, we may earn a commission at no cost to you. Learn more.
It's not often that a product brings out the total Scrooge in me, but somehow
or another this one certainly did. Perhaps it was the incessant noise produced
when going to this product's webpage, or perhaps it was because the noise
actually produced by this USB driven toy was even worse in person…I don't
know. In any case, I am talking about the USB
Geek Drumming
Santa, a product which I think should only be given to someone that you
don't like very much, or that you don't like at all.
At first glance, this item is cute enough. A three inch tall plastic molded
Santa in full regalia with articulated arms stands on his 1.5" white plastic
snow mound with a pair of drums. When the USB cable is plugged in, blue LEDs
appear under each drum, which is kinda sesonal and harmless enough.
But when the start / stop button is pressed, a loud clanging begins as
"Jingle Bells" is belted out and Santa begins banging on the two drums
with his fists...really! As he bangs, the LEDs flash on and off…and
yes, he is banging away in time. Banging away, people!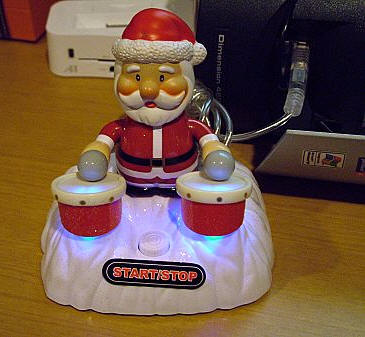 The start / stop sticker is totally removable – the better to
torture office workers
So not only do you have the worlds most annoying version of "Jingle Bells"
playing on your desk, you also have Santa thumping in tune. I think the Grinch
thought this toy up. Oh wait, now I know why this item was created…it was to
sell even more over the counter headache medicines during the holidays!
He is also supposed to play four other tunes, but I could not even make it all the way through the first. :0P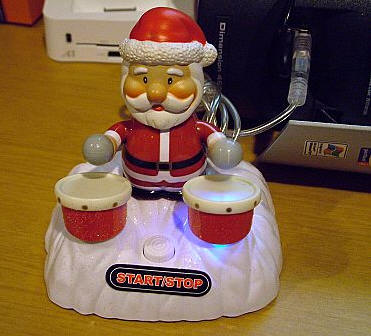 You think I am kidding?
Just visit the
webpage. Make sure you have your speakers turned on, and don't say that I
didn't warn you. Sorry guys, this is one of those items that I just don't get at
all…Bah humbug!
Product Information
Price:
20.0
Manufacturer:
USB Geek
Requirements:
Pros:
Cons:

Kitsch at its worst
Bah Humbug