We use affiliate links. If you buy something through the links on this page, we may earn a commission at no cost to you. Learn more.
I am not going to be able to get their review done
before Christmas, but I wanted to let you all know that I have received a pair
of the new SCOTTeVEST

Ultimate Cargo Pants, and I love them! Actually, I received two pair – one
for me and one for Steve. I wasn't sure who would be best to model them in the
review, so I asked for both sizes…and we both love them!
Here is what the SeV site says about them: "SeV Ultimate Cargo Pants give
you 2 products in 1–simply zip off the legs and your Ultimate Cargo Pants
convert into Ultimate Cargo Shorts! The pants offer 18 pockets,
our patented Personal Area Network (PAN), a key holder, magnetic closures,
adjustable waist, change pockets, battery holders and much, much more! Available
in a versatile Sand color, the Ultimate Cargo Pants are a linen/cotton blend."
The description does not do these pants justice…!
These cargos have a a flat-front and flattering cut. Here are a couple of
pictures of Steve wearing them, and I'll include pictures of me once I actually post
the review (a couple of days after Christmas).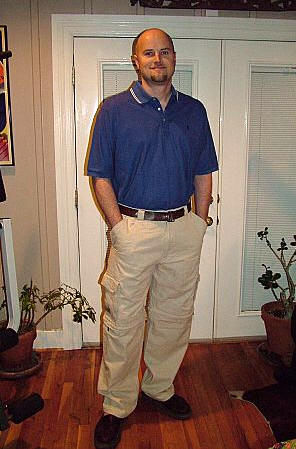 The pants have a great linen weave that breathes. I think the pants
will be perfect year-round for those that live in warmer climates, and they will
be great in the Spring / Summer / Fall for those who live in colder climates.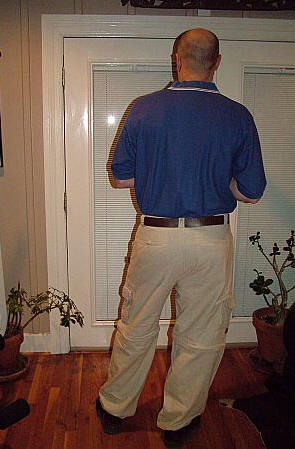 These pants are awesome, no joke. They'll be in stock on December 15th and
you should get your pre-order in now. If you are looking for a tech gift for
yourself or someone you love, get these.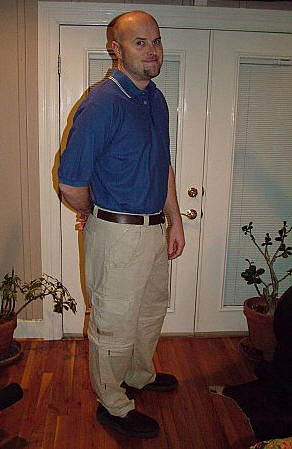 Be sure to check out the other SeV reviews that Julie & I have done recently:

Ultimate Hoodie,
237 D
Jacket,
Rodeo
Jacket,

Tactical 4.0 Jacket,
Lounge
Pants,
Sport
Tec Jacket,
Tec Hat,

Microfleece Pullover,
T-Shirt,
and my absolute favorite –

the Milan Leather Jacket.