We use affiliate links. If you buy something through the links on this page, we may earn a commission at no cost to you. Learn more.
It's the sound that most of us dread to hear. That bleep bleeep bleeeeeep that jars us out of our peaceful dreaming slumber into the stark reality that is school, our job, etc. It's a resolute individual who can bound out of bed to face the new day without cursing the alarm and pressing the snooze button. I used to be a person that was able to do that. The alarm would go off at 5:30am, and I would immediately throw back the covers, get out of bed and head to the shower. That was at least 10yrs. ago, before I started The Gadgeteer, back when late nights were not the norm… These days, the alarm goes off at 5:00am and I'm lucky if I can drag my groggy body out of the bed by 6:15am so that I can get to work by 7:00am. Monday through Friday, day in, day out. It's torture. I live for the Saturday and Sunday mornings when I can sleep until I'm ready to get up, not when the alarm is ready for me to get up.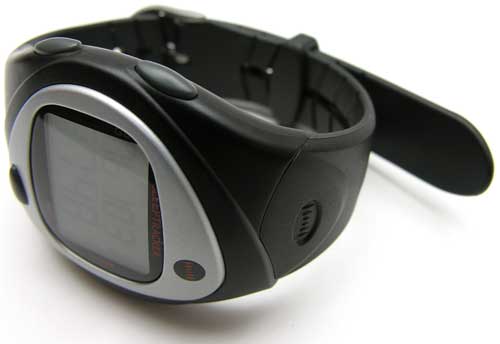 When the folks at Innovative Sleep Solutions LLC. asked if I was interested in reviewing their Sleeptracker watch, I was intrigued. I'm up for anything that helps ease the pain of getting up in the morning, so I agreed.
So what does the Sleeptracker do for you that a regular watch with an alarm can't do? This watch monitors your sleep cycle and can detect when you're almost awake and then wake you at the most opportune time. Doing so will allow you to wake up when you're already almost awake, so that you won't feel groggy.
The following is an exerpt about sleep cycles from the FAQ on the Sleeptracker website:

When you sleep,your body goes through a series of sleep cycles. The average adult experiences 4-5 full sleep cycles over an 8-hour period. Each cycle lasts about 90-110 minutes and comprises five different stages, as illustrated by this chart.
No two people have the same sleep cycles, and nobody has the same cycle twice. Many factors can influence sleep cycles,including diet,exercise,medications,drugs or alcohol,stress,sleep disorders,and sleep deprivation. Age and gender can play a role, too:women tend to sleep more soundly than men, and as we age,we sleep more restlessly.
A typical sleep cycle has five stages and takes 90-110 minutes. During Stage 1 of your sleep cycle, you sleep lightly. At Stage 2, your sleep gets progressively deeper. At Stages 3 and 4, also known as "Delta sleep," you sleep most heavily; this is when your body rebuilds itself.
Never miss one of our posts again. Sent MON, WED, and FRI with the latest gadget reviews and news!
Stage 5 of sleep, also known as REM (rapid eye movement) sleep, is marked by extensive physiological changes, such as accelerated respiration, increased brain activity, rapid eye movement, and muscle relaxation. People dream during REM sleep.
In the first third of the night, Delta sleep stages last longer than REM stages. As the night progresses, Delta sleep diminishes in length. By the last third of the night, Delta sleep usually ceases, while REM stages lengthen.
Using a built in accelerometer, the watch knows when you're in an almost awake state by monitoring for brief periods of movement lasting typically 30 seconds or less. It is smart enough to know when you're sleeping as opposed to getting up to get a drink of water or use the bathroom.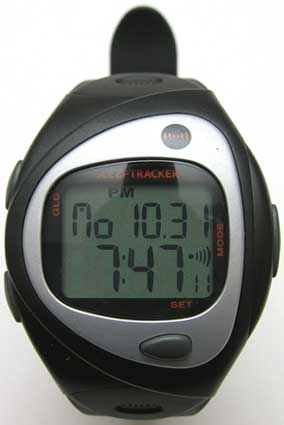 Looking at the watch, it doesn't seem much different than an inexpensive watch that you might purchase at Walmart. It is a large-ish black plastic digital watch with 4 buttons and a flexible rubber strap.
On the right side of the watch face is the large oval mode button. Pressing this button will cycle through the different watch modes: Time, Alarm, Window, To Bed and Sleep Data. On the face of the watch is the Set button. Pressing and holding this button for a few seconds will allow you to change settings in the current mode. The two buttons on the left side of the watch allow you to move up and down through settings and the recorded sleep data. The top button on the left also doubles as the backlight button.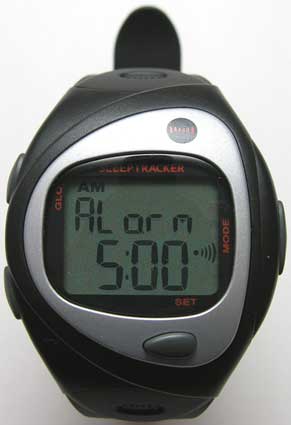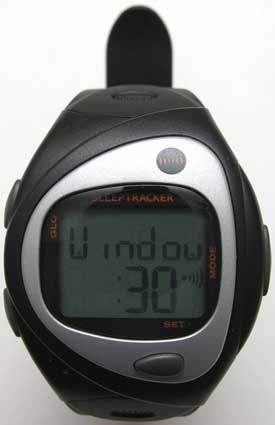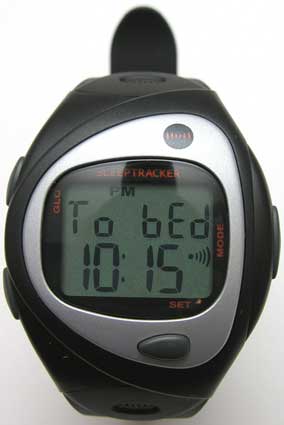 Changing the settings for the different modes is easy and didn't require any explanation or user guide reading for myself. You set the alarm time as the time that you must get up by. Then the Window time can be set to 0, 10, 20 or 30 minutes. Setting it to 0 just means that the alarm will go off exactly at the set alarm time; totally defeating the purpose of the watch. Setting the Window time to 10, 20 or 30 means that the alarm may go off up to 10, 20 or 30 minutes BEFORE the set alarm time. The time the alarm fires is dependant on when the Sleeptracker thinks that you're at an almost awake time.
The To Bed time is set to 30 minutes after you think you'll be asleep. This is the time where the watch will start monitoring for almost awake times while you are alseep.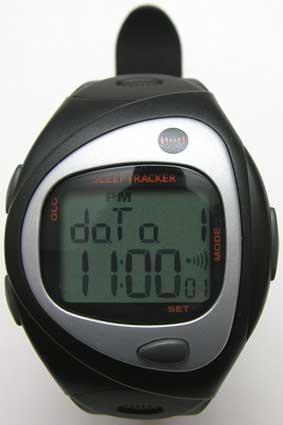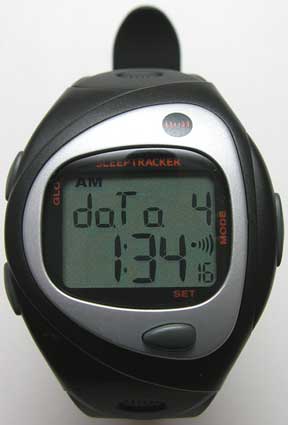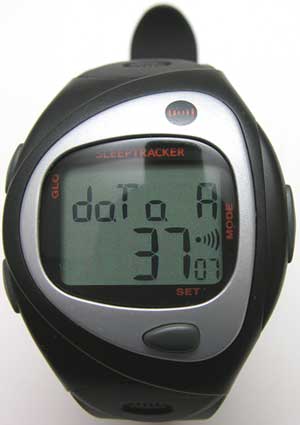 The Sleeptracker will keep track of all the almost awake times during the night and record them as data1, 2, 3, etc. It will then calculate your average time between almost awake times and store that as data A. This data is only stored for the previous night's sleep cycle. The next night is overwritten. A nice feature would be the ability to offload this data via a mini USB cable or Infrared to your computer or PDA for future analysis. As is, you'll need to write it down if you want to save it.
I've been using the Sleeptracker every night for the past 15 nights. Wearing a watch to bed felt a little uncomfortable in the beginning, and only just in the past couple of nights have I gotten used it that fact. It's actually been kind of nice to have the watch on my wrist as I can easily find out the time during the night by pressing the backlight button. I wear glasses and can't even see the clock next to my bed during the night…
During this review period, I have to say that the watch hasn't really helped me to wake up easier at all. Out of the 15 days, there have only been 2-3 days when the alarm didn't go off at the exact alarm time that I had set. And on the days where it went off at time inside the Window, I didn't feel any more awake than on any other morning. I would actually fall right back asleep after the alarm fired and then end up crawling out of bed at my regular 6am time just as tired as ever.
As an example, here is the data from the last 2 nights:
Night 1

Went to bed @ 11:30pm
To bed set time 12:15am
Alarm set time 7:30am
Data 1 12:35am
Data 2 1:28am
Data 3 3:12am
Data 4 4:37am
Data 5 5:11am
Data 6 6:29am
Data 7 7:07am
Data A 58 minutes
Alarm time: 7:07am

Night 2

Went to bed @ 9:30pm
To bed set time 10:15am
Alarm set time 5:00am
Data 1 11:00pm
Data 2 11:12pm
Data 3 12:03am
Data 4 1:34am
Data 5 2:38am
Data 6 2:55am
Data 7 3:17am
Data 8 3:35am
Data 9 4:05am
Data10 4:36am
Data A 37 minutes
Alarm time: 5:00am
I'm not going to say that this watch doesn't work, I'm going to say that I don't think it works for me. Everyone is different, and everyone's sleeping patterns are different. This could also be the fact that I'm somewhat sleep deprived. I tend to stay up until 11-11:30pm most week nights and then the alarm goes off 5am the next morning. No 8hrs of sleep for me…
There are a couple of things that might make this watch better. One would be the ability to totally customize the Wake Up Window time. For me 30mins might not be a long enough period. Then there's the alarm itself; it's not nearly loud enough in my opinion, and only beeps for 30 seconds. The best solution would be a vibrating alarm, or maybe even an alarm that increases in volume.
Because I'm not willing to totally dismiss this product (I've read that others are finding it useful…), I'm going to hold off on my final verdict and give the Sleeptracker another full week and then report back on my experiences. After that, I'm going to send it to a friend of mine who has probably the worst sleeping patterns of anyone I know, and let him give it a try for a month and see what his findings are.
In the mean time, I'd like to hear from other people out there that have had good or bad experiences with this product. Go to the forum linked in this review and let us know what you think.
Product Information
Price:
149.0
Manufacturer:
Innovative Sleep Solutions LLC.
Pros:

Easy to set
Displays previous night's sleep data

Cons:

Alarm may not be loud enough to wake you
May not work for everyone