We use affiliate links. If you buy something through the links on this page, we may earn a commission at no cost to you. Learn more.
I love my Apple iPod nano because it's teeny tiny and sexy. Problem is, it scratches if you even look at it cross eyed. Mine developed light scratches all over the face within the first day of light use. :o( Since Apple failed to include a case of any kind with the player, I resorted to keeping it in an old Vaja leather pouch (they used to ship their PDA cases in little drawstring pouches years ago), then I moved up to the WaterField nano case. The WaterField was fine for transporting my nano to and fro, but not so fine for interacting with the player while in a car, etc. As a result, I've been on the lookout for something better and I think I have found it in the Pivot iPod nano silicone case.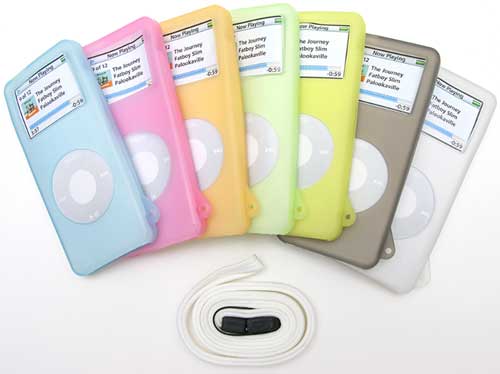 Available in 9 different colors: Black, Blue, Deep Blue, Green, Grey, Orange, Pink, Purple, and White, this product is more like a skin than a case. If you have never had a silicone case for your PDA, music player, or phone, they are thin, soft, elastic, rubber-like covers that provide your device with protection from everyday abuse.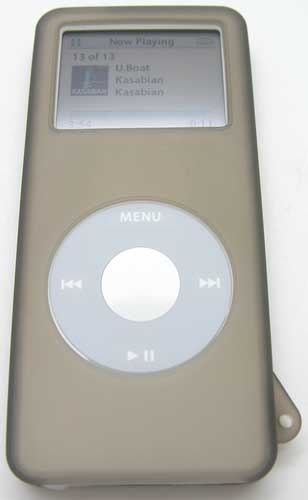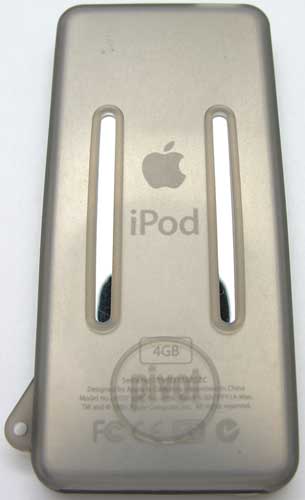 The nano easily slides into the case by inserting the bottom into the display area cutout. Once inside, the nano is totally enclosed except for the display cutout, click wheel cutout, hold switch cutout and dock connector / earphone cutout. I can understand all of these cutouts, but wish the display had some type of protection since it is very easily scratched.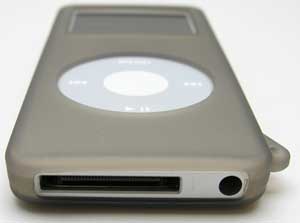 In the old days of silicone cases, dust, dirt and lint seemed to magically fly out of the air and take root on the outside of these cases. Not so with this skin, as it has been created using Organic Anti-dust Technology. Not sure exactly what that might be, but it seems to be true as far as I can tell.
There are only two other notable features of this product. One is an eyelet for an included white cotton handstrap. The other feature is a belt loop on the back of the case. It's actually just two narrow cutouts that you can thread a belt or arm band through.
I like this case / skin because it is play through and it adds very little to the overall size weight of the nano. You get 2 skins for $22. One is white and you can choose the other color. The only thing that would make this product perfect would be a covering over the display. As is, this Pivot and the almost identical Brando version are my current favorite nano cases.
Product Information
Price:
22.0
Manufacturer:
Pivot
Requirements:
Pros:

Easy to put on / take off
Protects against scratches

Cons: