We use affiliate links. If you buy something through the links on this page, we may earn a commission at no cost to you. Learn more.
It's only natural that a company which produces professional in-ear monitors
would also create a popular priced line of earphones for non-professional
consumers. After all, the typical digital music enthusiast wants to have great
sound from their player, but they usually can't (or won't) throw down $800+ for
a custom set ordered through an audiologist.  Thankfully, they don't have
to.
Previously, I have reviewed consumer priced offerings from professional audio
sources

Future Sonics and

Etymotic; today I will be talking about
Ultimate Ears. For those that are
unfamiliar with Ultimate Ears, they have a

colorful history. According to their site, "Jerry Harvey was traveling as
a sound engineer with multi-platinum rock band Van Halen in 1995 when drummer
Alex Van Halen complained that the earpiece he was using to hear himself and his
bandmates on stage wasn't worth the price of one of his drumsticks. Several
months later, Harvey and his then-wife Mindy went into business under the name
"Ultimate Ears" with a deluxe in-ear monitor featuring special two-driver
engineering for better sound reproduction plus custom fabrication from silicone
impressions of the wearer's ears to ensure a precise fit." That was the
beginning of their professional line, but it was when Jerry was handed an iPod
that a whole new market became obvious.
According to the Ultimate Ears site, The person that handed Jerry the iPod "was
a production assistant with rap-metal sensation Linkin Park. Jerry had never
seen an iPod before and didn't know what it was. As soon as the assistant showed
him how Apple's digital music player worked, he plugged in his own [custom]
earpieces and immediately heard a new market singing in his ears." According
to Jerry, "A guy from Linkin Park's sound crew introduced me to people
in Apple's professional audio division, and I flew out to Cupertino to fit 30
Apple executives and employees with one of our professional earpiece models.
They were blown away, and that's when I knew my instincts were right. I went to
work designing a special earpiece tailored to the needs of mastered music
instead of live performance."
Well there you have it – if you needed proof that even the execs at Apple
don't use their included earbuds, it couldn't have been made any clearer.
The "special earpiece" that Jerry created for listening to mastered music was
the
UE-5c, a pair of in-ear monitors that still utilized a visit to the
audiologist for ear impressions – just like when someone is fitted for in-ear
hearing aids. While custom ear impressions are most likely the first necessary
step for the best sounding and most comfortable earphones, the
$550 price tag still kept them out of most consumer's range.
Fast forward a year, and Ultimate Ears is now offering several universal fit
models at substantially lower price points, which are marketed under their
super.fi
line. Today I will be taking a look at their

super.fi 3 Studio Earphones, which are available in white, black and a clear
model that is offered exclusively through
Guitar Center.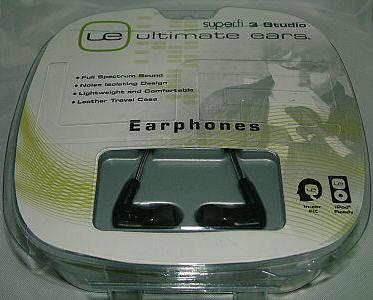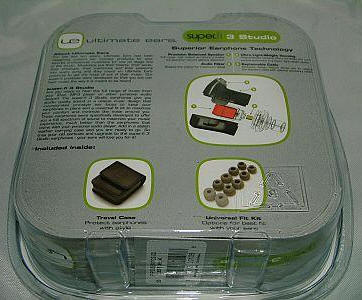 This packaging is a bear to open…GRRRR
It must be kismet, because when asked if I would review these earphones, I
asked for the black pair – little knowing that I would soon be ordering an
iPod, much less the
black U2 Special Edition. So
luckily, right out of the nearly-impossible-to-open-without-cutting-oneself
retail packaging, I had a set of earphones that would compliment my new player.
Honestly, I understand that retailers need packaging that can withstand the
five-finger discount, but I just hate that honest consumers have to suffer the
consequences. Anyway!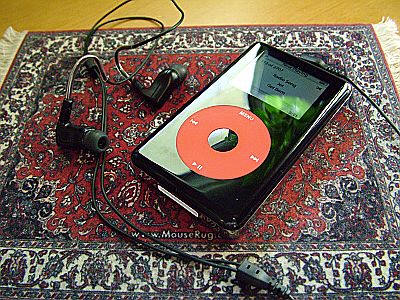 Isn't it pretty?
Included in the Ultimate Ears (UE) package are the
earphones, a soft leather travel case, a cleaning tool, five sets of various
sized eartips, and a user guide.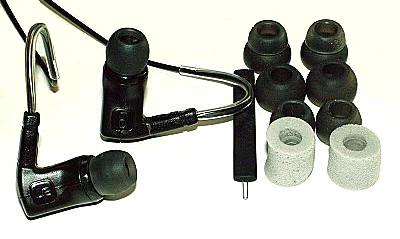 People and their ears come in so many sizes, so it
makes sense that there wouldn't really be a simple way to provide a "universal"
fit, especially if yours is a company used to only dealing in custom fitting ear
pieces. With proper fit in mind, UE includes a large selection of eartips in
this starter kit. Included are a set of small, medium and large single flange
silicone tips, a set of dual tip dual flange silicone tips and a set of foam.
It's possible that one type tip might feel better in one ear, and another might
feel better in the other. Having a selection like this makes it easier to mix
and match. Since these items will eventually wear out, once the tip that
provides the best fit is chosen additional pieces may be ordered from the
super.fi
accessories page.
I decided I best liked the single flange silicone eartips, so that is the
pair I wore for much of the review process.
The 1/8" (3.5mm) input tip is gold plated, which is important because gold
will not corrode or oxidize as will other common metals. The removable earphone
cable is 46" long, which allows the music player to be stowed in just about any
pocket on the user or their backpack.
A cleaning tool is provided because over time, unless the wearer is a freak
of nature, ear wax will accumulate in each earphone's ear conductor. Using the
cleaning tool to keep the conductor unobstructed is the way to guarantee that
the Studio 3's sound quality is kept as good as when they were new.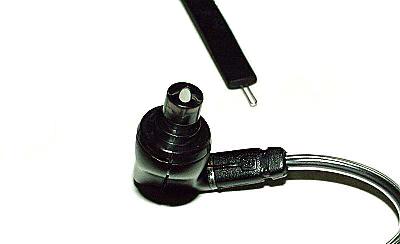 The leather travel case is handy for those that like to keep their kit neat
when not in use; I should confess that I generally just wrap my cable around the
player.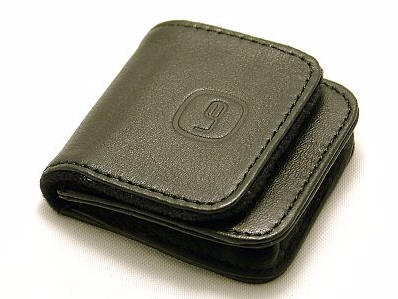 So let's take a look at the earphones themselves…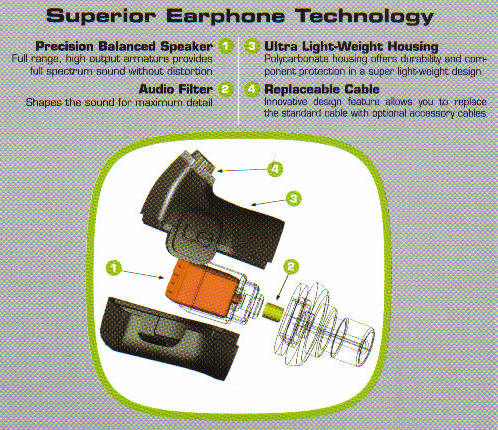 Scanned from the super.fi 3 Studio Earphones Box
Because these are in-ear speakers, they do have inherent noise isolating
properties. In direct comparison to the other previously mentioned earphones
that I have reviewed, I felt that the 3 Studios let in a little bit more
background noise than the others had when music was playing on lower levels.
While this might not be as desirable on a long flight with a chatty seatmate, it
is probably better for daily use, since people will not have to jump in front of
the wearer to grab their attention. However, if the music is turned up past
about 50% on an iPod, the wearer is not going to hear anything else going
on around them. At lower levels, outside sounds are definitely dulled if not entirely muted.
The proper method of wearing these earphones is a little bit different than
what I am used to, because instead of going directly into the ear at the most
obvious angle – where the stem of the earphone hangs downward, the 3 Studio is
meant to be worn with its stem pointing upward. The clear plastic casing around
the wire directly exiting the earphone is meant to be molded to fit over the
wearer's ear. Proper placement in ear is achieved in this manner…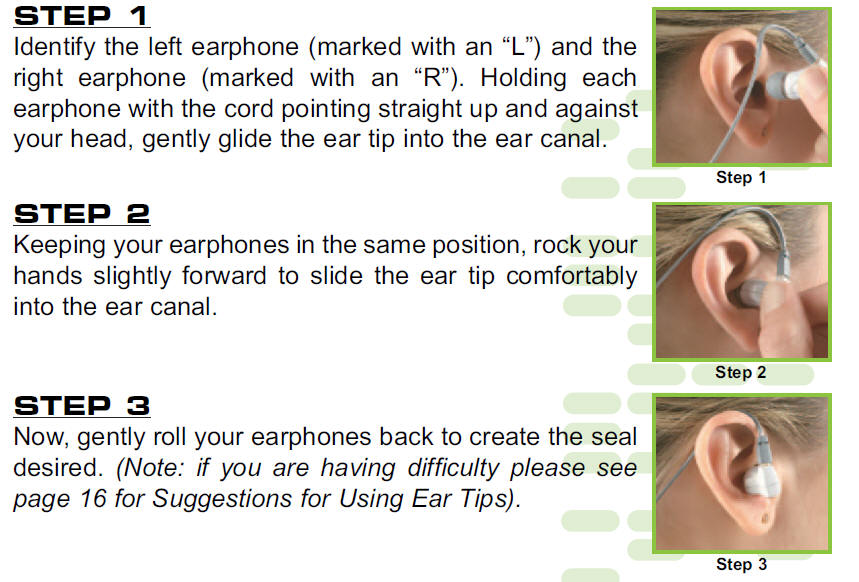 Photo from the 3 Studio Users
Guide
Yes, I admit that I was wearing them wrong at first, but I finally read the
manual. ;0)
Once the earphones are in place, the cables can either hang in front or
behind the wearer. I found them to be more comfortable hanging behind. Music
coming through the earphones was as good as I expected. Since wearing in-ear
headphones, I have become accustomed to hearing all of the background noises
sometimes missed on music tracks when they are played over a conventional
speaker system: muffled voices, quiet laughter in the background, whispered
words before the beginning of a song, things like that. With an in-ear speaker,
all is heard.
Music heard through the Studio 3s sounds quite good. Perhaps partly due to
the player's equalizer setting (pop), bass was thumping, vocals were clear and
high notes were crisp and clean. All in all, I was very pleased with the sound
produced through the
I thought it was interesting that when directly comparing the fit of the
Studio 3s to the Etymotic 6is, the Studio 3s didn't seem to feel like they were
as deeply positioned in my ear canal. I am not sure if that is a good or bad
thing, it's just something I noticed. The fit of the Studio 3s is definitely
secure, so it's not like I ever felt that they were loose or that they might
fall out.
Overall, I am quite satisfied with the fit and performance of the Studio 3s.
Considering that they are a third less expensive than the other two
in-ear headsets I have reviewed from similar professional in-ear monitor
manufacturers, makes them an excellent value in my opinion.
Product Information
Price:
99.99
Manufacturer:
Ultimate Ears
Requirements:

An audio / video product with a 3.5mm jack

Pros:

Multiple included ear tips allow for a personalized fit
Included cleaning tool
Competitively priced
Two year warranty against defects in materials &/or workmanship

Cons:

Packaging is a pain to open