We use affiliate links. If you buy something through the links on this page, we may earn a commission at no cost to you. Learn more.
If you're looking for an inexpensive but functional case for your Sony PlayStation Portable, you need not look any farther than the Aero Case from Brando. Available in Blue or Grey, this dual zippered case will protect your PSP from everyday abuse while allowing you to also carry a few games and accessories.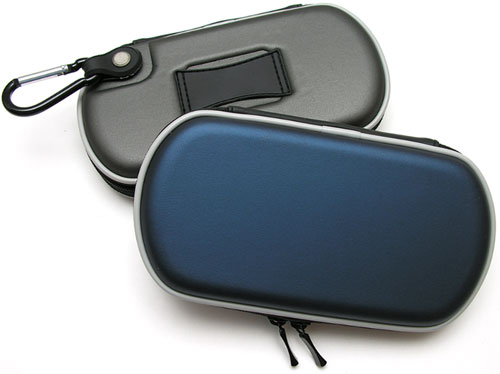 The Aero case has a semi-rigid outer shell. I'm not exactly sure what it is made of (some type of vinyl is my guess), but it is smooth and looks like it should cost more than it actually does. Dual metal tabbed zippers allow for easy access into the interior of the case. These zippers have perfectly smooth action.
The back of the case has two attachment methods. There is a flat vinyl belt loop and a metal carbiner. I don't really think a person would wear their PSP on their belt using the loop, but it's possible that they might hang it from their belt using the carbiner. I wouldn't advise doing this though as the carbiner isn't the best quality. The carbiner is easily removed, but the rubber loop where it was attached is not removable.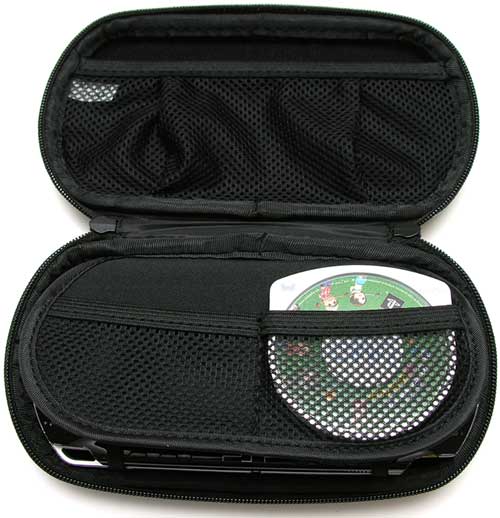 The interior of the case is lined in soft neoprene. The top shell of the Aero case has a horizontal mesh pocket that can hold accessories such as earbuds. The lower half of the case has another area for storage in a fold up flap. This flap has 2 mesh pockets perfectly sized for game discs. The underside of the flap is just soft neoprene. It rests on the PSP screen and should protect it from scratches.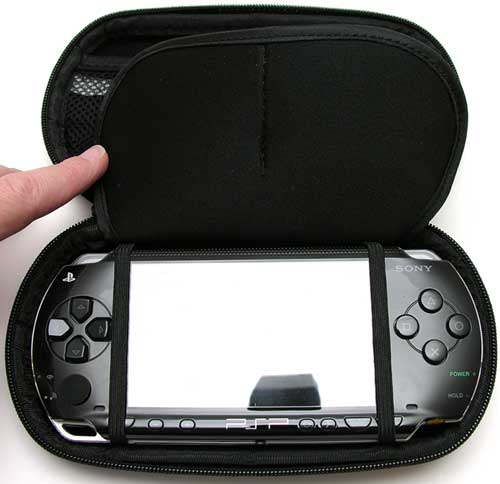 The flap flips up to reveal the PSP holding area. Two thin elastic bands can be used to hold the PSP in place while inside the Aero. It's conceivable that you could even play games while the device is in this case, but given the fact that there isn't a way to hold up the disc pocket flap, it might not be very convenient to do so.
This is a simple case, but it's made well and so far I would have to say that it's my favorite method of storing my PSP. I like the extra storage and the flat simple design. It's crazy, but I really like the easy zipper action too. There's nothing I hate worse than having to wrestle with a zipper ;o) If you want a better case for your Sony PSP than the lame slip cover that ships with it, I highly recommend the Brando Aero case.
Price: $12.00
Pros:
Enexpensive
Can hold a few accessories and game discs
Cons:
None
Product Information
Price:
12.0
Manufacturer:
Brando
Pros:

Enexpensive
Can hold a few accessories and game discs

Cons: