We use affiliate links. If you buy something through the links on this page, we may earn a commission at no cost to you. Learn more.
Next month (September) it will have been 4 years since my very first SCOTTeVEST product review. I don't think I'm wrong in saying that since that first review, not a season has gone by that I haven't worn at least one SCOTTeVEST garment at one time or another. My two favorite jackets have been the SCOTTeVEST Version Three.0 Limited Edition Leather Jacket and the Version Three.0 Spring Jacket. This is until I received their latest light weight jacket: The Sport TEC. The Sport TEC is similar in weight to the Spring jacket, but has been updated with new material, colors and fit.
Available in 10 sizes (Small, Medium, Large, Large – Tall, X-Large, X-Large – Tall, XX-Large, XX-Large – Tall, XXX-Large, and XXX-Large – Tall), as well as 2 colors (Pearl Gray and Summer Khaki), I was sent the Pearl Gray in Small.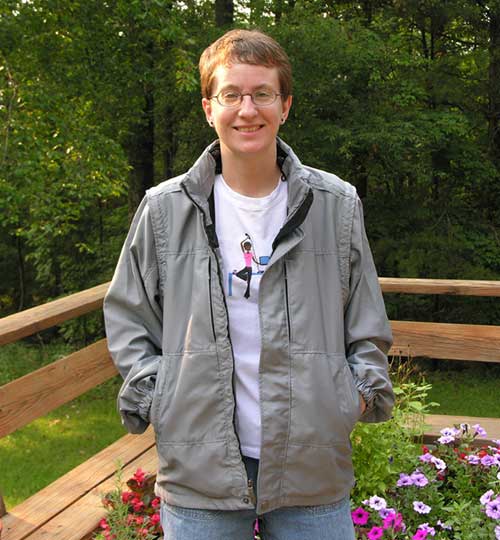 The first thing I noticed when I put on this jacket was the improved fit. The last Small jacket that I reviewed from SeV swallowed me up, and I was even bigger the last time I wrote a review. I think this one looks even better on me than the Spring jacket did. In my opinion it is safe to say that this one can be considered a unisex jacket.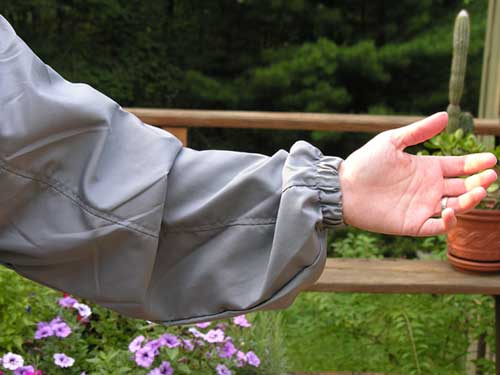 The only slight fit problem that I noticed was that the sleeves (for me) are a little too long. That said, I much prefer the elastic band cuffs on the Sport TEC over the previous jacket's evil Velcro cuffs. If you don't like sleeves at all, you can easily unzip them to create a vest.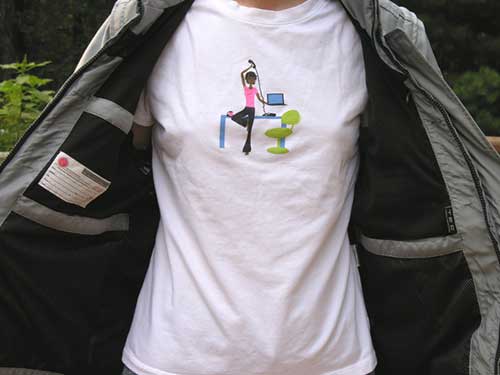 The Dupont Teflon® coated nylon material used for the exterior of this jacket is more in line with what you would see in a typical windbreaker. It is light weight, slightly shiny in appearance and can repel water and oil based spills. The material used for the jacket lining is black Coolmax® mesh, which is sort of see-thru. I've never been a big fan of the Coolmax material, only because it feels easy to snag to me. That said, I've yet to rip this material on any SeV product that I own. The Coolmax material is nice because it is soft, keeps you cool and dries fast. It's also important to mention that even though this jacket is made of what sounds like exotic materials, it's still machine washable and can be dried (on low) in a regular dryer. Yay!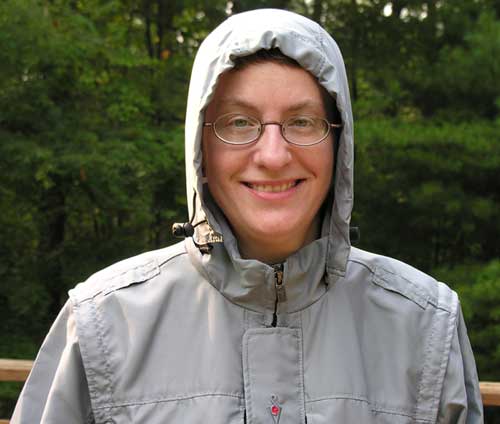 Note to self: Never allow someone to take a picture of you with a hood on again…
Never miss one of our posts again. Sent MON, WED, and FRI with the latest gadget reviews and news!
Speaking of drying fast, this jacket has a hood hidden in the 2.5 inch stand up collar. The hood on the small sized jacket felt almost too small to me. Maybe my head is just too big though… Regardless, it's nice to have a hood for those times when it ummmmm…. rains. ;o) The hood has adjustable cinch strings, so along with the magnetic front wind flap, you can really keep out all the weather.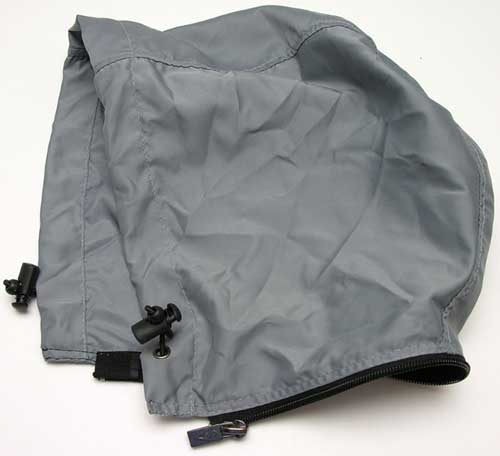 If you aren't into hoods, you'll be happy to know that you can unzip it and throw it in a drawer.
All SCOTTeVEST products are known for their pockets, and the Sport TEC is no different in this regard. There is definitely no shortage of storage with this jacket! According to the product page on the SeV website, there are a total of 21 pockets. Let's see if I can name all of them:
1 & 2. Left hand zippered deep slash pocket with zippered divider to create 1 large pocket or 2 pockets
3. Right hand zippered deep slash pocket
4. Left vertical zippered pocket
5. Right vertical zippered pocket
6. Large back zippered pocket
7 & 8. 2 earbud pockets
9, 10, 11 & 12. Pen/Pencil pockets
13. Inside left breast vertical zippered pocket
14. Inside left bottom front large 8 x 8 inch horizontal zippered pocket
15. Inside right bottom front large 8 x 8 inch horizontal zippered pocket
16. Inside right middle breast horizontal zippered pocket.
Hmmmmmmm, I seem to be missing 5 pockets. Regardless, that's a whole heckuvalot of pockets people! You would think that having the ability to fill all those pockets would result in a bulky ill fitting jacket. Not so. The Sport TEC (and SeV's other jackets), have been designed with a special material in the shoulder areas to hold the shape and distribute the weight evenly.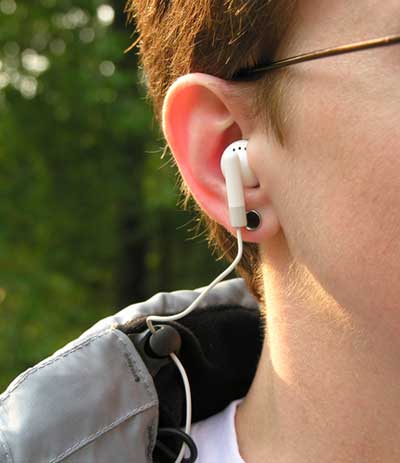 In addition to the pockets, this jacket also has the famous patented PAN (Personal Area Network) which allows you to channel the wires from devices such as MP3 players through the jacket. For example, you can put an iPod in your pocket and then channel the earphone wires from a pocket up to the neck of the jacket and through the collar loops and rubber earbud holders.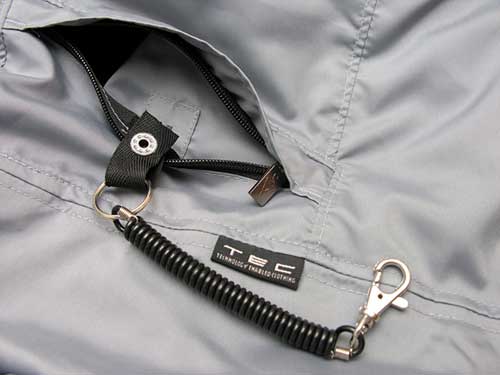 Another nice little addition is a springy cord key holder that is attached to the right hand slash pocket. Never lose your keys again! This key holder can either be used while attached to the jacket, or it can be unsnapped if desired.
The left hand deep slash pocket has a zippered divider that lets you customize that pocket to either be two narrow pockets, or one large pocket. The larger of the two pockets has a wide elastic band sewn into the wall of the pocket. This band is a water bottle holder.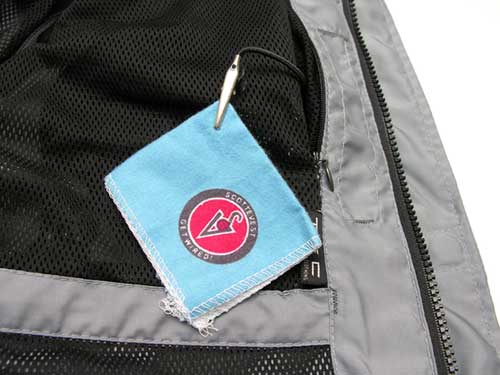 Also hidden inside the left inside breast pocket is an SeV monogramed eyeglass cleaning cloth. Nifty! It's like a scavenger hunt to find all the goodies with this jacket. I even found several SEV logo stickers in a pocket. :o)
Speaking of logos, the number of logos on SeV products continues to be a topic of conversation with a lot of potential buyers. How many logos do I count on the Sport TEC? Let's see:
1. Smallish grey and red embroidered logo on front wind flap at chest level
2. Logo on metal snap at bottom front of jacket
3. Grey TEC letters embroidered at bottom left hip
4, 5, 6, 7, 8 & 9. Logo on metal zipper pulls
10. Sewn in TEC tab level with right hand slash pocket
11. Sewn in TEC tab on inside middle front lapel
12. Large SeV logo label sewn into the interior back
13. Smallish grey and red embroidered logo on back middle shoulder level
14. Logo on metal snap hidden by flap on large back pocket
12. Logo on eye glass cloth
WOW! That is a lot of logos! But in all truth, the don't scream out at me like they have on their previous products. Maybe it's because the embroidering is blending in with the color of the jacket, or maybe I'm just getting used to them after all these years. They really don't bother me at all…
This Sport TEC jacket is very nice. It was a little difficult to get it a thorough usage test due to the fact that it's been 90 or more degrees here in Indiana the past several weeks. But, I'm confident in saying that this a great jacket. It's going to be my new Fall and Spring jacket, replacing the Spring version that I reviewed last year. It's always fun reviewing SeV products, because I enjoy seeing how they evolve with each new version. I'm happy that they continue to improve upon an already good thing.
Price: $99.99.
Pros:
Turn your jacket into your gear bag with pockets galore
Improved fit
Removable hood and sleeves
Cons:
Some may not like the number of logos
Only available in 2 colors
Product Information
Price:
99.99
Manufacturer:
SCOTTeVEST
Pros:

Turn your jacket into your gear bag with pockets galore
Improved fit
Removable hood and sleeves

Cons:

Some may not like the number of logos
Only available in 2 colors