We use affiliate links. If you buy something through the links on this page, we may earn a commission at no cost to you. Learn more.
If you are the type that pulls CDs out of their cases without returning them
after use, then you probably have found that it is very easy to scratch or
misplace those same CDs. Let's face it, CDs come with cases because they need
protection when they are not lying in a CD tray. Disc-it!
is a product that was designed to hold up to eight CDs on the user's desk,
without the bother of returning them to their jewel cases.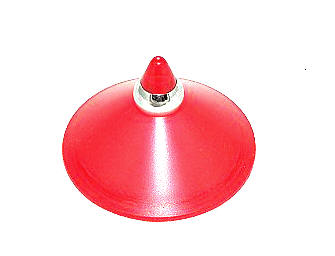 Disc-it!s measure approximately 2.5" in diameter and are 2" tall. They come
in red, blue, white or black and can be ordered in bulk with or without company
imprinting. They have three grippy feet on their bottom to keep them from
scooting across their owner's desktop.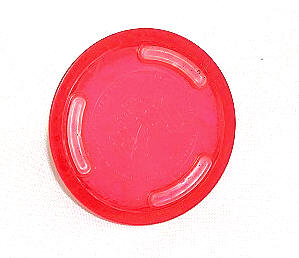 The Disc-it! will hold up to eight CDs. The disks will sit straight, but they
are really meant to be stored at an angle as I have shown here…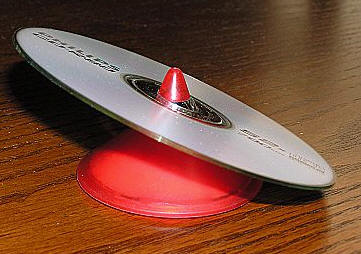 The portion of the CD with the encoded data won't touch the disk on top or
below because of the raised ring built into all current CDs.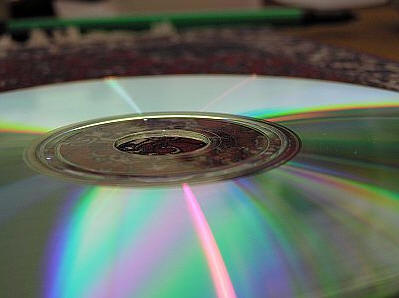 I have to say that this product seems rather odd to me. I mean, if one is too
lazy to put the disk back into its case, then one is probably also too lazy to
keep a clean desktop. If that's the case, then it may be hard to find a clear
surface in which to perch the Disk-it! Or perhaps this is where its grippy feet
will come in handy – preventing a stack of CDs from sliding off a ream of papers
that are sitting on a pile of books…you get the idea.
If the idea of a small pile of caseless CDs perches atop a petite tower of
plastic appeals, then the Disc-it! can be had for just a little bit more than a
Starbuck's Vente Caffè Latte.
Price: $4.95
Pros:
Can be used as a ring holder when not holding CDs
Cons:
Why not just put the CDs back in their cases?
Product Information
| | |
| --- | --- |
| Price: | 4.95 |
| Manufacturer: | Disc-it! |
| Pros: | Can be used as a ring holder when not holding CDs |
| Cons: | Why not just put the CDs back in their cases? |