The Gadgeteer is supported by readers like you! If you buy something through links on our site, we may earn an affiliate commission. Thank you! Learn more.
As I have mentioned in the past, I get concerned when I see people on the
street that are not properly outfitted for maximum visibility. Whether it be an
older married couple taking an after-dinner stroll, a fitness buff running in
the early morning hours, a Policeman directing traffic in the rain, or a
teenager on a bicycle that that is wearing dark clothes at dusk, anyone that is
on the street for any reason needs to be as visible as possible at all times.
For that reason, I am always pleased to discover products that promote safety
without compromising the user's convenience. Let's face it – if a safety product
is difficult to use or if it adds too much weight, then it will not be
remembered when its owner steps out the door.
Ian Bouchard, the man behind the

Bright Night Illuminated Umbrella that I favorably reviewed last year,
recently sent me his latest product, the StrideLite
Strobe-Lite Running Belt.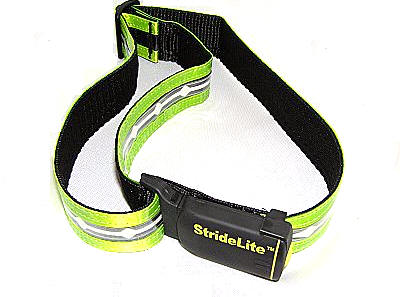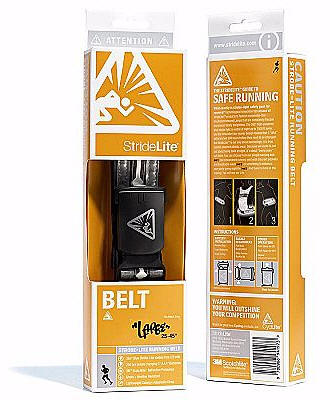 Please be advised that the version I was sent had the old
logo. Belts now come with the updated triangle logo and some other cosmetic
differences.
This lighted belt appears to be an ideal solution for the scenarios I
mentioned previously.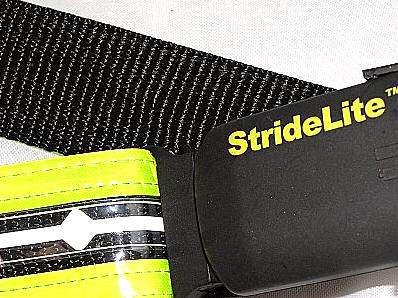 Composed of light green 3M reflective material that is backed with a woven
nylon webbing, the belt reflects light even when it is not turned on. The
flexible plastic portion of the belt's exterior has a center stripe with what
looks like a connected white diamond pattern. this material is attached to the
nylon webbing with four rows of stitching.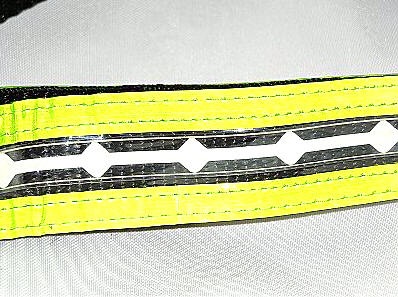 The battery compartment is accessed by popping its lid…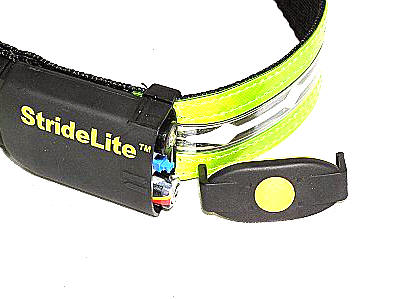 Once two AA batteries are inserted in the black plastic buckle, the
StrideLite belt becomes a unique lighted wonder. According to the belt's
packaging, two AAA batteries will last for 200+ hours of use, but Ian has told me
that their real world testing has yielded closer to 300 hours. I think that is
pretty impressive!
Once activated, the thirty white "diamonds" in the
middle of the belt will begin to pulsate light at slightly more than once a
second, along with a visible lighted line between them. This light is supposed
to be visible for up to half of a mile. I can tell you that it definitely
catches ones attention!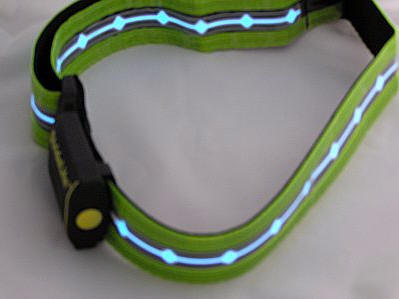 I really like the idea of a lighted belt which can be worn over the user's
clothing. Since it weighs under four ounces with the batteries installed, it is
not a product that will weigh down a minimalist. The belt I received measures approximately
32" long x 1.5" wide when let out to its longest length; using the plastic
adjuster, the belt can be made smaller. Ian has told me that the belt is available in sizes that will fit up to a
40″ waist.
The buckle is opened by releasing the small catch at its top and sliding the
other side of the belt off the buckles plastic guide.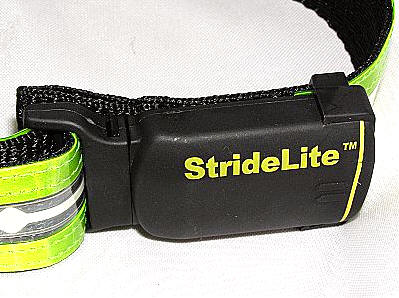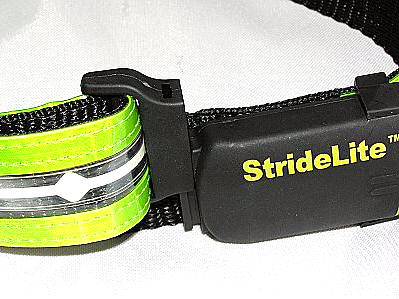 The belt can be turned on or off by pressing the yellow button on the side of
the buckle.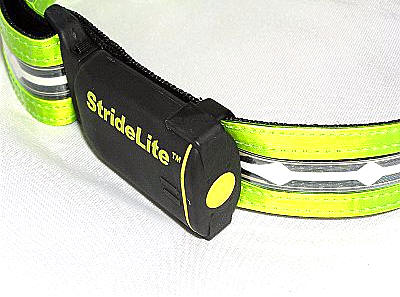 According to the belt's packaging, there are "24-micorn-thin
Electroluminescent Lamps" in each belt that are "completely flexible,
virtually weightless, and highly durable." The belts are shock and weather
resistant so while the belt is not made to wear while swimming, it should easily
survive a run in the rain. If you like to bring Fido along when you are outside,
then there is even a matching
strobe light dog collar available.
The StrideLite Strobe-Lite Running Belt is a very well thought out product
that combines safety with ease of use. It is not heavy or cumbersome, it is not
embarrassing to be seen in, and even though the word "Running" is in its name,
it is not limited to that activity. The belt is small enough that it can be left
next to the back door for or even in a car's glovebox for roadside emergencies.
Anyone that needs to be highly visible in poor light conditions will benefit
from this product…as long as their waist is small enough to use it!
Inquiries may be made here, or one
can be purchased here.
Price: $32
Pros:
Adds excellent visibility to wearer
Non-binding and easy to wear
Batteries are extremely long-lasting due to minimum power draw
Available for waist sizes up to 40″
Cons:
None
Product Requirements:
Two AAA batteries
Support The Gadgeteer
:
The Gadgeteer is supported by readers like you! If you buy something through the links on our site, we may earn a small affiliate commission. Thank you! Learn more.
Product Information
Price:
32.0
Manufacturer:
StrideLite
Pros:

Adds excellent visibility to wearer
Non-binding and easy to wear
Batteries are long-lasting due to minimum power draw
Available for waist sizes up to 40"

Cons: