We use affiliate links. If you buy something through the links on this page, we may earn a commission at no cost to you. Learn more.
Product Requirements:
Device:
palmOne Treo 650 Smartphone
I wish you had a smellavision monitor, so you could get a big whiff of the
two Vaja
Treo 650 iVolution cases that I have
sitting next to me right now. Ahhhhhh, leather. Nothing smells better than a
Vaja leather case. Well, maybe fresh baked chocolate chip cookies… or bread…
or… Ok, I'll stop now.
If you have a Treo 650 and you want the best looking, best fitting case on
the market, you want a Vaja iVolution case. They are the ultimate in look, feel
and fit. Problem is that they are also expensive with a capital E. But if you
don't mind paying over $100 for a PDA/Phone case, then keep reading.
T65 iVolution
This is a minimal case with class. There is no cover to protect the screen or
top edges of the Treo, but the rest of the phone is encased in a semi-rigid hard
shell leather holster.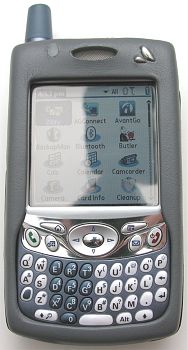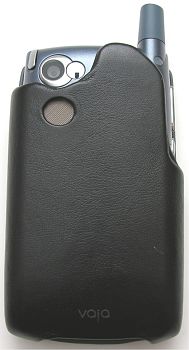 Available in almost any color combination that you could ever imagine, the
T65 comes with or with out a belt clip. Cutouts for the hotsync connector, side
volume control, camera, stylus, display and keyboard, make this case totally
play through. Cutouts for the earphone and speaker are lined with a fine metal
mesh and the cutout for the status LED has an opaque rubber plug in it that
makes it look like a large LED. The only reason why you would ever need to
remove the Treo from the case is to perform a reset.
I'm 99% happy with how the cutouts line up with the features. The 1% that I'm
unhappy with is that the main cutout could be just ever so slightly larger all
the way around. As it is, it comes right up to the edge of the display and
bottom of the keyboard. While I never seem to have a problem with the screen
portion of the cutout, I do find it a little hard to press the button row of
keys on the keyboard.
Never miss one of our posts again. Sent MON, WED, and FRI with the latest gadget reviews and news!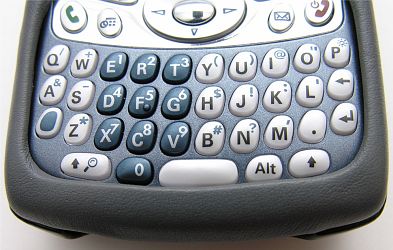 Some of you might ask if voices are muffled since the microphone is covered
up. So far no one has commented that they couldn't hear me while I used the Treo
in this case.

I love this case and have been using it for a few weeks now. It's made well,
feels great and smells great. What more could I ask for?
 
Price: $104.90 (minimum)
Pros:
Available in a wide variety of colors
Play through
Cons:
Bottom edge of main cutout touches the bottom row of the keyboard
T66 iVolution
Like the T65, this is a semi-rigid hard shell case for the Treo that is
available in a rainbow of color combinations and with or without a belt clip.
What makes this case different than the T65 is the addition of a screen cover.
This cover has a built-in spring loaded SD card slot on the inside and is held
closed with magnets.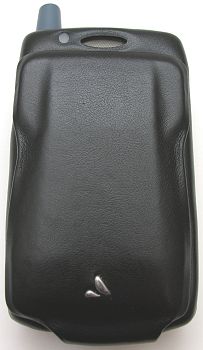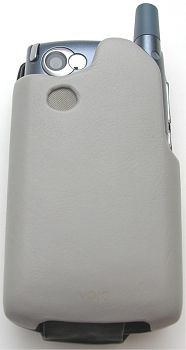 The magnets are pretty strong, so the cover will not fall open accidentally.
I found that opening the cover can be done with one hand by sliding the cover
sideways to disengage the magnets.


With the added cover comes added bulk. So, you have to ask yourself which you
desire most: protection or slim size. For me I like the T65 better because I can
easily slip it into a cargo pocket or jacket pocket and don't need to open a
cover to answer a call or use the PDA functions. Both cases are gorgeous though,
so it just depends on which one is better for you.
Price: $130.00 (minimum)
Pros:
Available in a wide variety of colors
Play through
Spring loaded SD slot
Cons:
Expensive
Product Information
Price:
130.0
Manufacturer:
Vaja
Pros:

Available in a wide variety of colors
Play through
Spring loaded SD slot

Cons: