We use affiliate links. If you buy something through the links on this page, we may earn a commission at no cost to you. Learn more.
Product Requirements:
Device:
palmOne Treo 650 Smartphone
The palmOne Treo 650 smartphone is
an expensive device that deserves to be protected from everyday abuse. Most
people that own this phone will immediately seek out a case for it. It's
difficult to find the right case that is best for you. Some people are not happy
unless their phone is completely covered on all sides by leather or metal. Then
there are other  people who take a minimalist approach in order to prevent
their PDA/phone from becoming a bulky brick.  If you're looking for a
minimal case, then this silicone product from
Brando might be just what you're looking
for.
Available in Ice or Blue, this thin, soft, non-sticky, flexible rubber case
adds very little bulk to the Treo. What it does add is protection to the sides,
back, top and bottom of the device. The gripping nature of the silicone also
helps to keep the Treo from slipping out of your hand.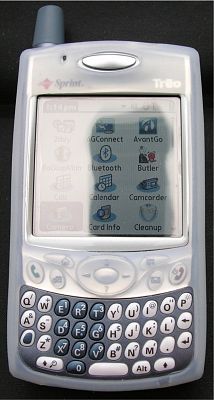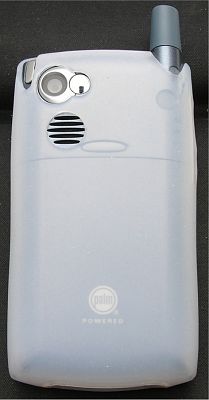 Cutouts allow access to the Hotsync port, microphone, earphone, keyboard,
display, status LED, camera, stylus, speaker, IR port, SD slot and speaker
toggle. The side volume rocker button and front face navigation / application
buttons are covered by the silicone material. Using the buttons through the
material is not a problem though as representations of the buttons are molded
into the silicone. This does not hinder tactile feedback whatsoever.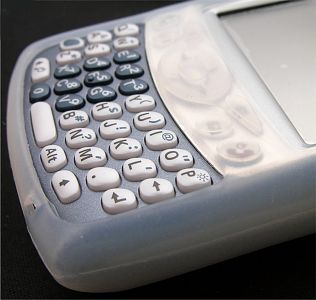 I've never been a big fan of these type of rubber cases as they tend to
attract lint and dust. So far this one has not done that, but I was sent the Ice
version, so it's hard to see if dust is stuck to it.
As long as you understand that this case will not protect the display or even
protect the whole device all that much in the event of a drop, then this cover
is an adequate way to keep your Treo's shell from scratches and wear.
Price: $20.00
Pros:
Doesn't add bulk to the phone
Adds better gripping to the phone
Cons:
Screen isn't protected
May attract link and dust
Product Information
Price:
20.0
Manufacturer:
Brando
Pros:

Doesn't add bulk to the phone
Adds better gripping to the phone

Cons:

Screen isn't protected
May attract link and dust