We use affiliate links. If you buy something through the links on this page, we may earn a commission at no cost to you. Learn more.
Product Requirements:
Device:
PalmOne Treo 650
One of the first accessories that I try to get my hands on after buying a new
PDA, is a 2nd USB sync / charge cable. I like to keep one in my gear bag so that
I can use it at my day job. My first web stop while looking for a new PDA
accessory, is always Brando's Workshop.
Brando (yes, he's a real person…) has been selling PDA accessories for years
and years. In my recent hunt for a spare sync / charge cable for my
PalmOne Treo 650, I was happy to find
that Brando was carrying the USB Retractable SyncCharger Cable.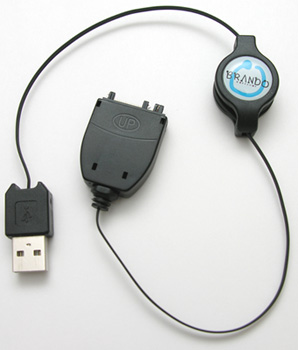 This cable is allows you to both sync and charge your Treo 650 without
needing a AC power wart. Charging is provided through a USB port.
The cable extends to 29in (74cm) and retracts back down to 4.5in (11cm).
Extending and retracting is accomplished by pulling both ends of the cable at
the same time. When you do so, you will hear a ratcheting sound as the cable
stops at various lengths. As long as you remember to pull both ends at the same
time, you won't need to worry about the cable getting jammed around the holding
spool.
The only downside to this syncing and charging tool, is the fact that you
have to navigate to the Hotsync app on the PDA to actually initiate a hotsync
session. Otherwise, this is a handy little accessory that is great as a spare in
a gear bag, or even as your main charging and syncing cable as it will help
alleviate cable clutter on your desktop.
Price: $15.00
Pros:
Handy
Cable retracts
Cons:
You have to navigate to the Hotsync app on the PDA to initiate syncing
Product Information
| | |
| --- | --- |
| Price: | 15.0 |
| Manufacturer: | Brando |
| Pros: | |
| Cons: | You have to navigate to the Hotsync app on the PDA to initiate syncing |