We use affiliate links. If you buy something through the links on this page, we may earn a commission at no cost to you. Learn more.
When a photographer friend told me that new camera bag company
Think Tank Photo was allowing
professionals and serious amateurs to test drive its products, I had to jump at
the chance. The test drive gives certain photographers a month to decide whether
they want to purchase the bag or send it back. Think Tank President Doug Murdoch
is a former lead designer for Lowepro USA.
I asked to try out a Think Tank "Speed Freak Beltpack." The bag retails for
$130. In the beltpack line, there is also a smaller "Speed Demon" and a larger
"Speed Racer." I also asked to test drive an "Airport Addicted" bag (which fits
your gear in a carry-on sized airline bag), but Doug said that the response on
that item was overwhelming, and he and the company would not be able to supply
one to everyone who wanted one. I was hoping that the Speed Freak would get to
me in time for a March trip to Rome, where I had been warned about pickpockets
and petty thieves. I didn't get the authorization to make my test drive order in
time, but I thought running the belt pack through the jungle of my hometown New
York would make for a good field test as well.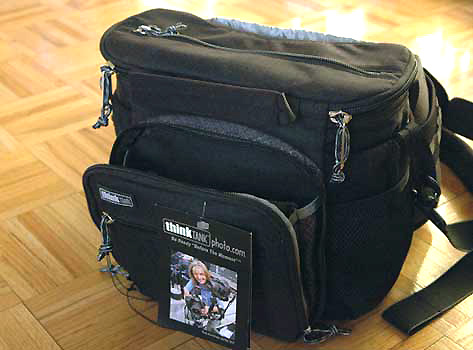 A label says that the bag I received was manufactured in Vietnam. It looks
and feels well made with sturdy zippers, strong stitching and webbing. The Speed
Freak is well thought out. The main compartment, which can be divided with five
removable (Velcro) inserts, comfortably holds a Nikon single lens reflex (SLR)
with 35-80 zoom, a second Nikon SLR body and a 70-300 f4 zoom lens. The bag has
stretchable side mesh pockets, a stretchable "span-korda" side pocket and a
removable rain cover. There's also a zipper in the middle of the top flap that
can be used to quickly lift equipment out of the bag. A zipped front pouch can
be used to hold pens, cleaning cloths, a small notebook or other odds and ends.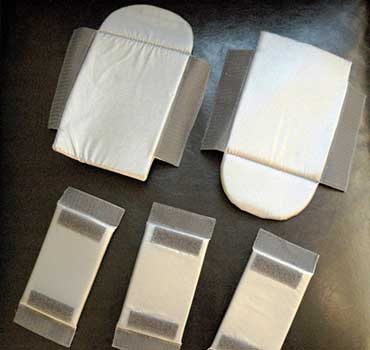 A neat feature for digital photographers is the "Pixel Pocket Rocket" – a
long, roll-up pouch that holds up to 10 compact flash cards in clear, plastic
slots. The shoulder strap is well padded and seems to be sturdy, and the belt
strap has a plastic buckle that can be quickly undone. Think Tank's "modulus
components" (which hold lenses, flashes and other accessories) can be attached
to the waist belt.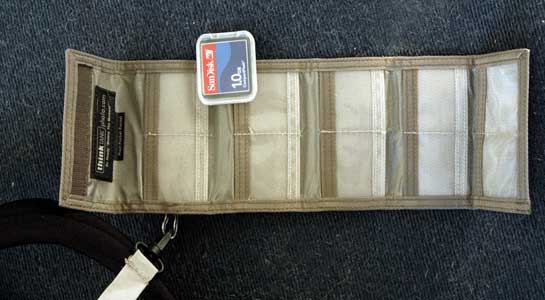 Ideally, I would have liked Velcro or some kind of tie downs to keep the waist
straps out of the way for those times when you want to simply use the bag's
shoulder strap. One of the bag's drawbacks is that it is pretty obviously a
camera bag: not great if you want to be more incognito. On an assignment to
cover the recent National Invitational Tournament Finals and Semi-Finals in
Madison Square Garden, I left the Speed Freak at home and took a more
non-descript (though padded) backpack instead. That's despite the fact that the
rented 80-200 f2.8 lens I had on hand (a good-sized lens for an amateur like me)
would have comfortably fit in the bag (Think Tank advertises as much). I didn't
want to be carrying a camera bag on the New York subway. That's obviously not a
big fault, since I would feel more than comfortable using the Speed Freak to
prowl New York's streets.
Price: $130.00
Pros:
Media card holder included
Inside can be customized with Velcro dividers
Cons:
Looks too obviously like a camera bag for some situations
Waist straps get in the way when using the bag on shoulder
Product Information
Price:
130.0
Manufacturer:
Think Tank Photo
Pros:

Media card holder included
Inside can be customized with Velcro dividers

Cons:

Looks too obviously like a camera bag for some situations
Waist straps get in the way when using the bag on shoulder