We use affiliate links. If you buy something through the links on this page, we may earn a commission at no cost to you. Learn more.
Name: Mike Oetting
Location: Kansas City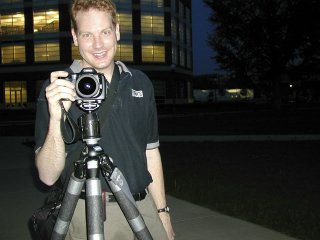 I suppose it all started nearly 10 years ago in 1996 with the launch of the Palm
1000. I remember reading the press leading up to the launch of this product, and
I was hooked. I thought it was the first PDA which seemed to have a fair amount
of functionality, offered the possibility of 3rd party development yet was
inexpensive enough to be a reasonable choice for the average person. I bought
one shortly before it was announced, and before Comp-USA even had them in stock.
Since that time, I have been captivated by gadgets of all types. For some
reason, I derive great joy in researching them, testing them, purchasing them
and recommending them to others based on their individual needs and desires. The
Gadgeteer site has been helpful to me over the years as I explored this hobby.
My gadgets have included PDA's, digital cameras, music reproduction equipment,
computer hardware and many single-purpose devices too numerous to mention. I
thought I'd provide a list of my eight favorite gadgets (in terms of how useful
and enjoyable they were at the time of purchase). They include inexpensive items
that could fit in most budgets, to those which are difficult to justify on
price. They are listed below in reverse order of merit:
8) Palm V: I've had a number of PDA's over the years on the Palm and Pocket PC
platforms, including products made by Palm, Toshiba and Compaq. I think that
this particular product had the best form-factor of any of them. It was truly
pocket sized and surprisingly thin. Of course it was hampered by a monochrome
screen, but that was fairly common in those days. The battery lasted forever and
it felt great in the hand.
7) Oregon Scientific BAR338 CableFree Thermometer/Weather Forecaster with
ExactSet™ Projection Clock:
I love this gadget. Perhaps it's the height of laziness, but there's something
rather compelling about being able to see the time and temperature in the
morning without even having to turn your head 90 degrees. This device offers a
lot of flexibility in the projected image, including focus, rotation etc. This
is not true of some of their lower-price projection clocks.

http://www2.oregonscientific.com/catalog/1_2_402.asp
6) Etymotic ER-4P MicroPro Earphones:
Wow. With the right music source, these earphones really bring detail in music
to life. They are not unlike the B&W (manufacturer of highly accurate
loudspeakers) of headphones — very analytical and adding little color to the
sound. If what you're listening to is poorly recorded, you will be able to tell.
But the plus side is – you will hear things in your favorite songs that you may
never have heard before. I highly recommend these for frequent travelers (they
isolate you nearly completely from outside sound) and for audiophiles on the go.
I suggest getting the ER4P along with a converter cable which effectively makes
an ER4S. The difference is that the 4P sounds arguably better with no additional
amplification, and the 4S sounds superior when you add a headphone amp. The ER4
series is described at the Etymotic Site:

http://www.etymotic.com/ephp/er4.asp. A great place to find general
information and discussion about headphones and headphone amplification is
http://www.headfi.org/.
5) SLIMP3 (reviewed here by Julie)

https://www.the-gadgeteer.com/slimp3-review.html. This small box with a
bright display caught my attention when I was looking for a way to play my
iTunes library on my home stereo system. When I learned that music could be
streamed from my Mac to a network device which connected to my stereo, I was
elated. I placed my order, and when it arrived, I was pretty excited. I suppose
it had to do with being able to listen to the bulk of my music without getting
up to change discs. It wasn't until I moved away to attend graduate school that
its value really became clear. Rather than carting boxes and boxes of discs and
transporting them across the county, I could just pack my Mac and my SLIMP3 and
be done with it. The newest version of this product, known as the Squeezebox,
offers a wireless connection, which could be invaluable to a WiFi household.
http://www.slimdevices.com/
4) Palm Portable Keyboard: I have noted a specific model in this case, but this
entry really applies to the whole category of portable keyboards for PDA's. I've
owned three different keyboards over the years, and while I have found them to
be very useful from time to time, they weren't really essential until graduate
school. Rather than take notes in my admittedly poor handwriting, or deal with
the bulk or lousy battery life of a notebook computer, I found that the
combination of my Palm Portable Keyboard and Palm Zire 71 PDA was pretty much
ideal. I could quickly type notes on the full-sized keyboard, running into
problems only when graphs and charts were displayed. Once I synchronized with my
PC at home, I could rest easy with the knowledge that I didn't have to worry
about dropping a notebook on campus and losing my semester's work. I highly
recommend a portable keyboard to all students and frequent notetakers.

http://www.palmone.com/us/products/accessories/keyboard/ For more
information on how personal electronic devices can enhance learning in a
university environment, please see a site, entitled Gadgets in Higher Education
which I created in support of class devoted to Literacy in the Information Age.
http://www.oetting.org/491/.
3) Garmin GPSmap 60c: This was my third GPS device. There's something sort of
comforting about knowing absolutes. Like clocks synchronized with atomic time
servers to tell you exactly what time it is within a fraction of a second, GPS
units provide the same sort of reliable information. You get to know exactly
(actually within 10-15 feet or so) where you are on the earth. This information
is only of limited value when you are only presented with a set of latitude and
longitude coordinates, but in the case of a color mapping GPS like the Garmin
GPSmap 60c, this information can really be useful. This is one of the better
multi-purpose units out there, feeling equally for hiking off-road, or for
street directions. The color display is bright and clear, and requires no
backlight under typical daylight conditions.

http://www.garmin.com/products/gpsmap60c/
Perhaps the best site to help you decide which GPS to buy is by Joe MeHaffey:
http://gpsinformation.net/
2) Princeton Tec Aurora: This 3-LED headlamp is really excellent. I use it
around the house when connecting cables on the back of the TV, when looking
through boxes in dimly lit rooms, while scanning the carpet for a dropped screw
and for any number of other situations where a normal flashlight might be
normally used. The freedom that a head-mounted flashlight offers is significant.
You have two free hands instead of one, which makes a significant difference in
many tasks. The Princeton Tec model which I have is based on LED, rather than
incandescent light. This means that it will burn longer and cooler than the
technology which older headlamps used. I load mine up with rechargeable NiMH AAA
batteries, and say goodbye to the never-ending stream of alkalines.

http://www.princetontec.com/outdoor_aurora.html
1) Apple iPod: My initial foray into high-capacity (hard drive based) portable
music players was the Creative Nomad Jukebox. At the time, I thought it was
pretty decent, offering 6GB of storage in a portable-cd-player-sized package.
When I was watching the live webcast of the MacWorld Keynote Address on October
23, 2001, Steve Jobs caught my attention in a big way. He unveiled the iPod,
which was an order of magnitude smaller than my Nomad Jukebox and undeniably
more elegant. I placed my order the same day, put my Jukebox on eBay, and have
been a happy camper ever since. The iPod completely blew the Jukebox away in
terms of user interface, industrial design and sound quality. While it was
smaller in capacity at 5GB vs. 6GB for the Nomad Jukebox, I felt it was a small
price to pay for such high-quality portable sound. For me, there's no other
choice. If you do portable music, and you have the cash, you simply must have an
iPod. The interface really IS that much better. More iPod information can be
found here:
http://en.wikipedia.org/wiki/IPod#First_generation
Many of these gadgets are still available in one form or another today. If your
needs are anything like mine, I don't think you can go wrong with any of my
favorites.
Brief Bio: A recent graduate of library school at the University of Illinois, I
currently live in the Kansas City area. I've worked as a Web Manager and as a
Human Resource Management Consultant prior to entering librarianship. My
interests include photography, reading, travel and personal electronic devices
(obviously).