We use affiliate links. If you buy something through the links on this page, we may earn a commission at no cost to you. Learn more.
It is easy to overlook everyday objects as ho-hum necessities. One such
object that we probably never give a second thought to, is the paper tray or
in/out box as it used to be called. Most of us have either seen a paper tray or
have one on our desks at work and home. Usually they are just there to collect
incoming and outgoing documents. Nothing too technical about that function huh?
Well, you've obviously not seen the PaperHub from
Pressure Drop.

The PaperHub is a paper tray on steroids. It is made entirely of anodized
aluminum with a soft brushed finish and smooth edges. As far as paper trays go,
this one looks more like a piece of artwork than a receptacle for paper pulp.
The top tray can accommodate A4 and US letter sized documents (8.5 x 13), while
the bottom tray is US letter sized. Both trays are 1 inch deep.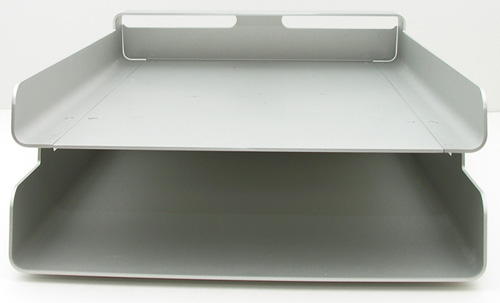 Besides having an ability to hold quite a few documents, this tray has
another more powerful feature. It is also a 4 port USB hub and a 4 port FireWire
hub.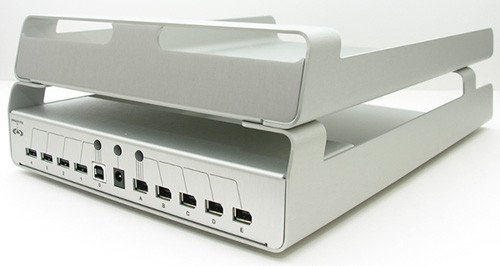 Included with the PaperHub is an AC adapter capable of powering both the USB
and FireWire hubs, 1 USB cable, 1 FireWire cable, and 3 Velcro wire ties.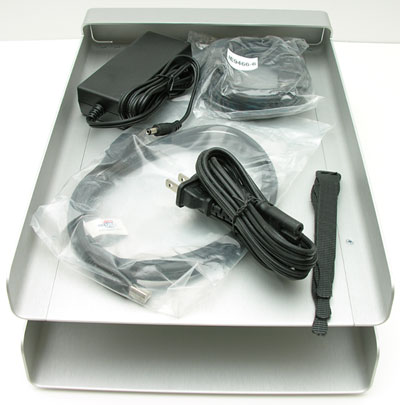 Never miss one of our posts again. Sent MON, WED, and FRI with the latest gadget reviews and news!
To connect the PaperHub to your PC or Mac, you just plug in the AC adapter,
and then attach the USB and FireWire cables to the back of the tray and to your
computer's USB and FireWire ports respectively. Once you do this, you now have
an additional 4 USB 2.0/1.1 ports and 4 FireWire 400 ports. Nice! The USB ports
are rated up to 480Mbps for USB 2.0 devices, and 12Mpbs per channel for each 1.1
device. The FireWire ports are auto-switching 100, 200, or 400 Mbps.
Each USB port is provided with up to 500mA @ 5V, and each FireWire port
receives up to 300mA @ 12V. If you don't have FireWire capability on your
computer, you may still connect up to four USB peripherals to the PaperHub. Any FireWire
peripherals that are then connected will not be able to communicate with your computer.
However, power will still be provided to each FireWire port (this can be useful
for charging some battery-powered FireWire peripherals). If  you don't have USB
capabilities on your computer, You may still connect up to four FireWire peripherals to
the PaperHub. Any USB
peripherals are then connected will not be able to communicate with the computer and
will not receive any power.
I only have 2 nits that I can pick with the PaperHub. The first complaint is
that all of the ports are on the back of the tray. This makes it a little
inconvenient to connect something quickly like a flash drive. It would be nice
if there were at least 1 USB and 1 FireWire port on either side of the PaperHub.
That said, a widget like the FlexUSB could
help give a little better access to a port.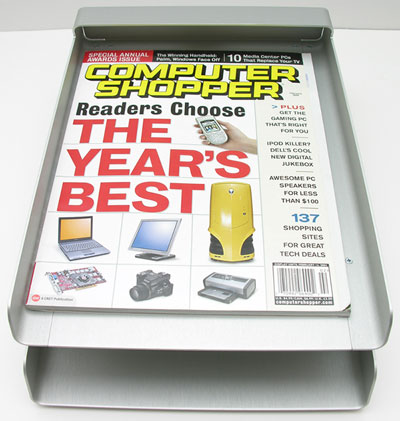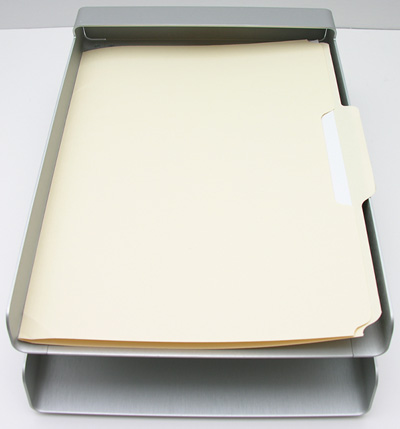 My other complaint is that while the trays are large enough to hold magazines
and papers, the trays are not quite wide enough to accommodate a standard file
folder. As you can see above, the folder tab sticks over the side of the tray.
The PaperHub is very nice, but also very expensive. While you could definitely
buy a run of the mill plastic paper tray, a 4 port USB hub and a 4 port FireWire
hub for less than $150 total, the combo won't be nearly as nice as this one
integrated product. If money isn't an issue and you ports and paper storage, the
PaperHub is a office accessory.
Price: $149.99
Pros:
4 USB 2.0 ports
4 FireWire ports
AC powered
Cons:
File folders don't lie flat in tray
Ports not convenient to access for flash drives
Product Information
Price:
149.99
Manufacturer:
2bit Software
Pros:

4 USB 2.0 ports
4 FireWire ports
AC powered

Cons:

File folders don't lie flat in tray
Ports not convenient to access for flash drives