We use affiliate links. If you buy something through the links on this page, we may earn a commission at no cost to you. Learn more.
Those of you with keen eyes have probably been noticing some new additions to the site in the way of a text based advertising service that we're trying out. These new links are appearing on the reviews, articles, forums pages and home page. If you haven't noticed yet, the links look like the one in the image below:

When you hover your mouse over one of these links, you'll then see a popup like the one in the image below: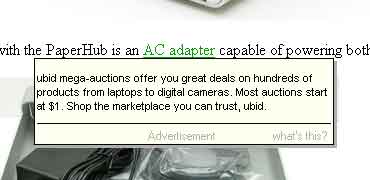 As a free website that is run solely on the advertising dollars that we're able to generate, this type of revenue is the only means of keeping The Gadgeteer running. Web hosting fees per month run in the $100's of dollars. Judie and I also spend a lot of our own money just to purchase the latest and greatest devices in order to present you with interesting reviews and articles. With all that said, I'd like some feedback on what you think of these links. So drop me an email with your comments!