We use affiliate links. If you buy something through the links on this page, we may earn a commission at no cost to you. Learn more.
In the past year, I've reviewed two hard drive based audio players from
Digital Mind Corporation: The
DMC-500 and
DMC-800. Known for plug and
play ease of use, their players continue to be a favorite of mine. Like iPods,
having gigs of hard drive space is great for hauling around your entire MP3
collection. But when you want to go to the gym or out running, you might not
want to take along a bulky or expensive player. DMC has the solution in their new Flash
Player.
 
Hardware Specs
256mb of memory
Player supports 32kbps – 320kbps MP3 file playback
32kbps high quality voice recording
Backlight dot matrix big LCD screen (128 x 64)
Powered by AAA Alkaline or rechargeable Ni-MH battery
SD/MMC card reader expansion slot
Built-in FM radio tuner
USB host interface: USB 1.1 standard high speed files transfer, Upload 950 kbps,
Download 520 kbps
Dimension: ( L x W x H ) 92mm x 37mm x 21mm
Weight: 43g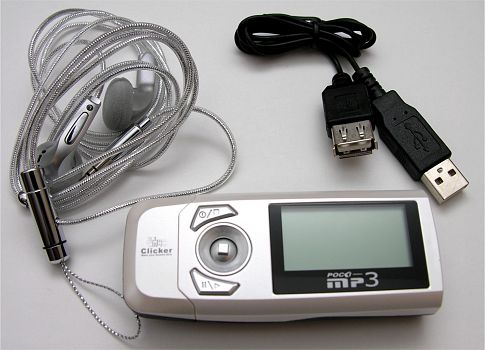 Package Contents
Flash Player
USB 32" extension cable
Ni-MH rechargeable battery
Ear buds
User manual
Installation CD (for Win98 and ME)
The Flash Player is pretty compact even though it has quite a few extra features
packed in. It's also rugged enough to withstand a moderate amount of tossing
around. The casing is made of thick plastic with the bottom having a rubber
coating.
The face of the device has a large backlight LCD display that shows the
current song title, battery level, and bit rate. In addition to those details,
while a song is playing, you will be entertained by 3 animated stick figures
dancing on the screen. No, you can't turn this off (at least I don't think you
can…).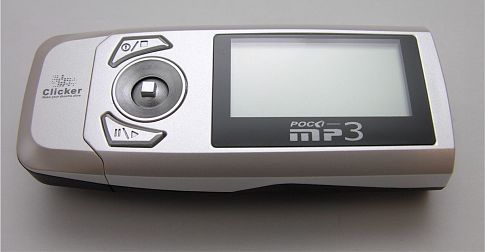 Control of the player is accomplished from 2 buttons and a joystick. The top
button doubles as the Power toggle and Stop feature, while the bottom button is
Play and Pause. The spring loaded joystick adjusts volume when you press it left
or right, and moves to prev, and next tracks when you press it up or down. Is it
just me, or should those features be switched? You would think the up/down
action would be assigned to volume control… Oh well. Pressing the joystick in
will launch the menu.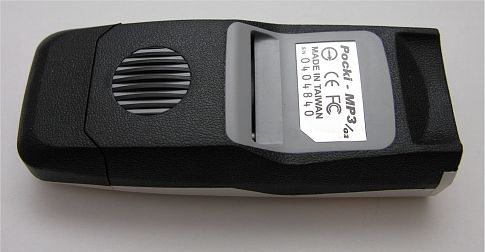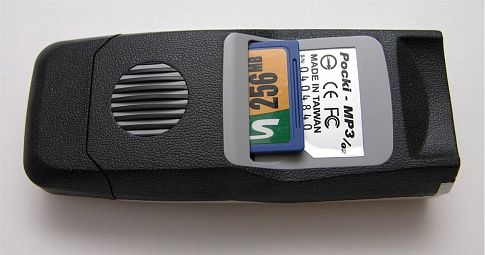 The back of the player has an SD slot. Which is a very nice touch! It's easy
to upgrade this player to well over 1gb of space. SD cards are pretty cheap
these days.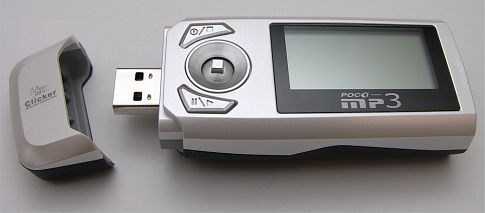 One end of the Flash Player pulls of to reveal a standard sized USB plug.
When plug the player into your computer, 2 separate removable drives will show
up in your drives listing. One for the player's internal memory, and one for the
SD card. Like their previous players, you just drag and drop your .MP3 files
from your computer to the player. Easy. I should note that the player does not
have USB 2.0, so file transfers may seem a little bit pokey.
Unfortunately, this player is pretty simplistic, so you can't have folders of
songs or playlists. You must copy the music to the root of either the player
itself, or the SD card. That said, you can use the Flash Player as a USB storage
device. You can copy any types of files/folders there that you want to. It will
just see the .MP3 files in the root when you go to play music.
Audio quality is very good. There is even a
6 mode equalizer with  Normal, Classic, Rock, Jazz, Pop and Mega-Bass
presets. Volume level is also good.
In addition to being an decent audio player, the Flash Player also has a
built-in FM radio with 8 user defined presets, and a voice recorder.
Battery life is great. With the included Ni-MH rechargeable battery, roughly
6 hours of play per charge can be expected. Pop in a standard AAA alkaline
battery, and you're talking about 15 hours. How do you charge the Ni-MH battery?
Through the USB port. No extra adapters required.
While I would not be content to make this device my main audio player, I have
found that the Flash Player from Digital Mind Corporation has a nice collection
of features that help to make it a great little spare or starter player. The
price point isn't too shabby either.
Price: $99.00
Pros:
SD expansion slot
Easy to use
Built-in FM radio and voice recorder
Cons:
Not USB 2.0
Can't put music in folders
No playlists
Product Information
Price:
99.0
Manufacturer:
Digital Mind Corporation
Pros:

SD expansion slot
Easy to use
Built-in FM radio and voice recorder

Cons:

Not USB 2.0
Can't put music in folders
No playlists