We use affiliate links. If you buy something through the links on this page, we may earn a commission at no cost to you. Learn more.
What's the worst thing about TiVo? Watching TV anywhere else without TiVo. Until
there's a TiVo iPod (Apple, are you listening??), the
Sony LocationFree TV
allows you to watch your TiVo anywhere… in any room in your house, from an
airport lounge, from a hotel room, anywhere with access to broadband.
LocationFree is a television monitor that connects to TiVo (or other video
components) in your home via LAN or broadband.
 
Basics
The LocationFree TV has two parts: 1) a base station with connections to your
video components and 2) a monitor to access the base station.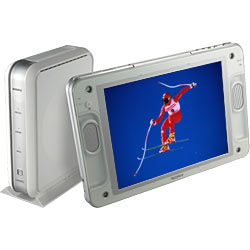 You use the monitor for setting up the system and watching programs; the base
station is only used for the hardware connections. The base station has inputs
for broadcast television, two A/V components (such as TiVo, cable or satellite
set-top box, or DVD jukebox), and LAN access to the internet.
From anywhere in your house, you can watch television, either of the two A/V
components, access the web, and look at pictures from a Sony memory stick.
Watching programs couldn't be easier. The monitor's stand is adjustable for
the best viewing angle so it sits nicely on a coffee table. The battery lasts
about 3 hours—enough for a few shows or a long movie—but you can also run the
monitor using the AC adapter. You can use the stereo speakers or your own
headphones; I find the sound quality from the built-in speakers is very good
considering their small size (shown in the picture above about midway down on
each side).
The monitor is just that: it monitors whatever is showing on the base
station. So you use TiVo as if you were local—you can watch live TV or a
recording program, pull up the guide, and change your TiVo settings.
 
Installation: Local

There are two setups to work through: the local hookup is easy; the remote
setup is fairly complex. To get started, insert the LocationFree base station
between your TiVo and your existing TV. The base station has two A/V inputs as
well as an antenna input (does anyone still watch local television over an
antenna?). All I connected was my TiVo but it would also make sense to connect a
DVD jukebox or some other A/V component. Now choose your device by brand and
type from the onscreen setup to configure the remote codes.
That's it! You're watching your TiVo in another room. Setup time was about 5
minutes.
If you want, you can also add an internet connection for surfing the web and
checking email. The easiest connection is to go from the base station to your
home router. If you have a wired LAN in your home, you can also connect the
monitor to the LAN to access the base station; this is particularly helpful if
the wireless signal is too weak over a long distance. I have an Apple AirPort
router so I just connected the base station to an AirPort repeater which then
makes a wireless connection to my router. The AirPort appears to be a wired
connection to the base station and also to the monitor.
 
Installation: NetAV
Now it gets trickier. To access the base station across the internet, you
need to assign a permanent IP address to the base station (in the LocationFree
setup), convert your cable or DSL IP address to a fixed one (using a free
service from DynDSN), and open a port so you can access the base station from
outside of your network (using your router's setup software).
Although this sounds difficult, Sony provides a pretty good online document
(but no information in the printed matter) that explains this process for a
linksys router—a good choice since they are probably the most prevalent in a
home. A sidebar explaining the basics for Apple and Netgear would have made the
documentation a little stronger.
Setup time for me was about an hour with a few missteps despite careful
reading. With so many available settings on three different services, you never
know which are set right and which are wrong.
 
Using The System
I can watch the LocationFree TV wirelessly from almost any room in my house.
But the TiVo is in the basement and my office is too far away for a strong
wireless signal. So I can connect the monitor to the LAN, switch from "Home" to
"LAN," and the reception is fine.
But here's the cool part: watch your TiVo while traveling. All you need is a
broadband connection. To access the base station via the internet, change the
monitor from "Home Wireless" to "On the Go Wireless." Then click on [Settings]
to choose a wireless network.
The screen image is great, with only occasional pixilation due to slow
traffic on the internet. Remote response is fairly good but it takes a while to
get used to the 3-5 second delay; it can really mess you up if you are fast
forwarding at high speed.
So that's it: a wireless video monitor for your existing A/V setup plus
internet access to get to your A/V remotely with only moderate bandwidth
problems.
 
Complaints and Comments
The documentation is fairly good, especially for a new product. But as is
often the case, the logic flow gets lost as the documentation goes into if this,
and if that, and if the other thing. Vendors would be well-advised to define the
setup of a typical situation with appendices or sidebars for variations.
It doesn't have a MUTE button!
It'd be nice if you could name the inputs. Sony labels them "Digital Sat" and
"DVD" since these are the types of devices I specified for the remote codes. You
also cannot remove devices from the list. I will never use the TV option but it
will always be in my menu of available inputs.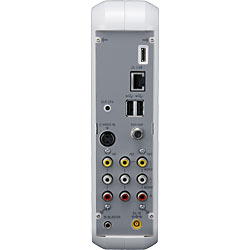 Accessing via a remote connection (after it's been set up) is more tedious
than it could be. To use NetAV (ie., video over the internet), you must choose
the network and click "Connect"; it won't default to a known network as we've
come to expect from Windows and Macintosh. Then switch to the TiVo input and
wait. Nothing happens. Oh yeah, now tap the screen and click on [NetAV] to turn
it on. Further, if you turn off the system when you're connected via a NetAV
(such as when you're using it in a hotel room), you must reestablish the LAN
connection and reestablish the NetAV connection to resume watching TV. It could
be a little more straightforward.
It comes with a handy stylus but using your finger works too. But now I have
fingerprints all over the screen.
The user interface is very good but occasionally I expect things to work
differently because of the way computers work. For instance, the WiFi connection
icon is static; it shows that WiFi either is or is not connected. I have come to
expect that a WiFi icon also indicates the signal strength. Likewise the power
indicator: the icon shows the remaining battery power but not a percentage
indication nor does it show remaining time to full power when recharging.
The mail application is fine for most uses. It's fairly cool to check your
email while watching a show. It cannot connect to AOL, Gmail or protected
servers using non-standard port definitions.
For some reason, the engineers threw in the capability to look at pictures in
the monitor. This strikes me as a "possible but stupid" feature. You can view
picture files only from a Sony memory stick and you have to know to put the
files in /mssony/airboard/pictures.
A USB port is provided for a standard 101 keyboard but the USB cannot be used
for other devices (such as memory or LAN cards).
 
Supported component vendors
ABC, Admiral, Aiwa, Akai, Americast, AMW, Apex, Bell South, Bell & Howell,
Burmester, Bush, Carver, Crown, Cyber Home, Daewoo, Denon, DirecTV, DISH
Network, Emerson, ExpressVu, Finearts, Fisher, GE, General Instruments, Gemini,
Goodmans, GO VIDEO, Gradiente, Grundig, Hamlin, harman/kardon, Hitachi, Hughes,
Humax, Jerrold, JVC, Kenwood, Koss, KLH, LG/Goldstar, Lite-On, Macom, Magnavox,
Marantz, Matsui, McIntosh, Memorex, Mintek, Mission, Mitsubishi/MGA, Motorola,
NAD, Nakamichi, NEC, Net, Oak, Onkyo, Orion, Oritron, Panasonic, Parasound,
Paragon, Philips, Pioneer, Pulsar, Quadral, RadioShack, RCA, ReplayTV, Revox,
Rotel, SABA, Samsung, Sansui, Sanyo, Schneider, Scientific Atlanta, Scott,
Sharp, Sherwood, Shinco, Shintom, Sonic Blue, Sound Design, Star Choice,
Sylvania, Symphonic, TEAC, Technics, Teknica, Thomson, TiVo, Tocom, Toshiba,
Uher, Uniden, Universum, Wharfedeale, Yamaha, Zenith.
 
Recommendation
Sony LocationFree TV works out of the box with some fairly tedious internet
setup but it works. Setup is not for the faint-hearted. You can't set it up for
your spouse or kids and forget it; the one who sets it up is the only one who'll
be able to use it.
The amazing part is not how well it works but that it works at all. It does
just what I want: gives me remote access to TiVo from a hotel. Would I get it
again? Surely.
Price: $1500 12" monitor (LF-X1), $1100 7" monitor
(LF-X5)
Pros:
Your video everywhere you go
Great support for different component remotes (no programming required)
One button menu to watch broadcast TV, video 1 and 2, Web, Email, photo
album
Flexible connection options (via built-in wireless, LAN, broadband)
Cons:
Difficult setup for remote connections
Some awkward user interaction could be streamlined
Support for wireless home networks would be nice
It doesn't have a MUTE button!
Product Information
Price:
1500.0
Manufacturer:
Sony
Pros:

Your video everywhere you go
Great support for different component remotes (no programming required)
One button menu to watch broadcast TV, video 1 and 2, Web, Email, photo
album
Flexible connection options (via built-in wireless, LAN, broadband)

Cons:

Difficult setup for remote connections
Some awkward user interaction could be streamlined
Support for wireless home networks would be nice
It doesn't have a MUTE button!