We use affiliate links. If you buy something through the links on this page, we may earn a commission at no cost to you. Learn more.
Product Requirements:
PS2 or USB port on your laptop, Tablet
PC or Windows 98/2000/ME/XP Desktop computer. Should also work with Mac
computers.
Are you one of those people that can't sit in front of a computer without
something nearby to eat or drink? I admit that I always have a diet coke in the
near vicinity of my left hand. Being something of a klutz, I am not very proud
to tell you that I have managed to completely fry no less than three
keyboards over the last five years, because I accidentally knocked over my
drink. Bummer…
So while I have had pretty good luck since I have been using my current
Atech
keyboard, I was still quite interested when
Brando offered to send us his
Flexible Keyboard,
which as the box states is "virtually indestructible."
This keyboard is actually available in two sizes, the Mini with 85 keys and
the Full size with 105. I was sent the Mini, which measures approximately 13.7"
long x 5.25" tall x 0.5" on the end which holds its "brains".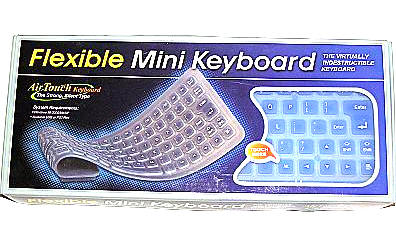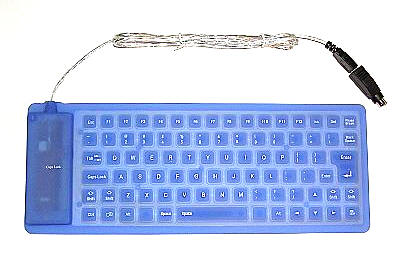 The keyboard has a USB cable with a PS2 adapter on the end, so that it can be
used by just about any computer out there.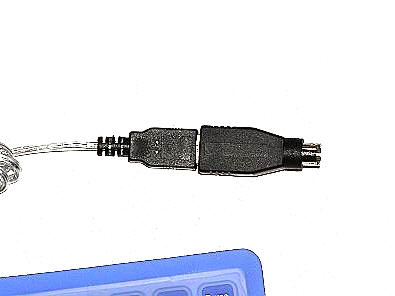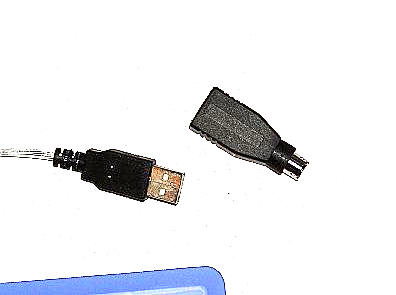 The entire item is made of fully sealed translucent blue flexible silicone.
This keyboard is dustproof, waterproof, and safe to use in just about any
climate for that reason.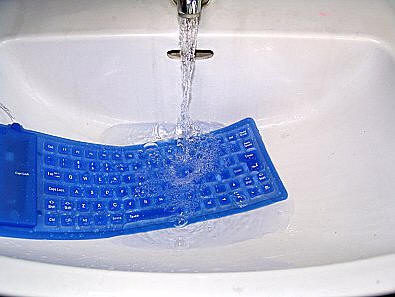 Photo courtesy of Brando
The keyboard is extremely flexible, which you can see in this picture where I
have it rolled up like an enchilada.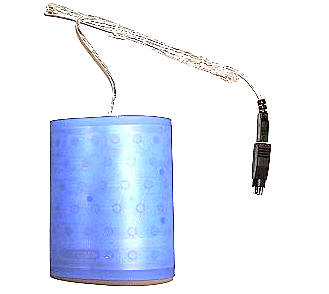 Typing on the keyboard seems strange at first! To begin with, the keyboard is
very flat, with the keys only poking up about ⅛ of an inch. While the keys are
perfectly silent as you tap on them, you can still feel a very satisfying
tactile feedback. With that said, I did feel like I had to press the keys a
little bit harder than I am used to, especially the space bar.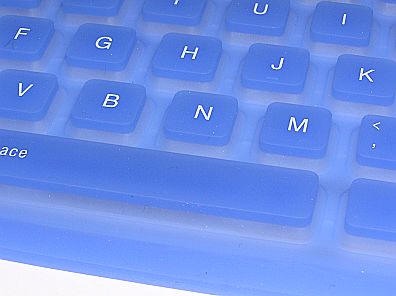 When the "Caps Lock" is engaged, a red LED will shine on the right side of
the board.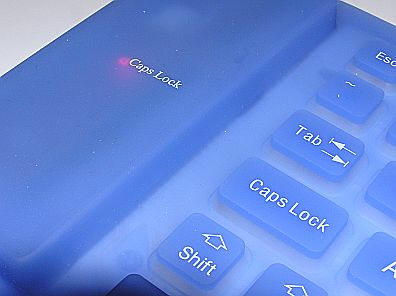 The only caveat to using the Flexible Keyboard is that for the entire time I
was testing it, I couldn't help but wish that it was on a platform of some kind.
It is just too flat for comfortable long-term data entry. However, just
the fact that the user can't "kill" it may be enough to make some people get
one.
Who needs this keyboard? Well, someone that has a track record for killing
traditional models. Someone that works in a harsh environment, where there is
dust, sand, or rain all the time. This keyboard would be perfect in a dusty
warehouse, a feed yard, the middle of the desert, the middle of a rain-forest.
Anywhere that a typical keyboard would be in danger of failing. In fact, while I
was writing this review, I couldn't help but think that this would be the
perfect companion to a Tablet PC in an
Otterbox
Tablet PC Case.
Price: $22 for the mini, $26 for the full-size
Pros:
Virtually indestructible
You can spill drinks on it, drop food on it, whatever
Very silent keyboard
Extremely portable
Excellent for harsh environments
Cons:
So flat that it isn't comfortable for long-term use
Product Information
Price:
22.0
Manufacturer:
Brando
Pros:

Virtually indestructible
You can spill drinks on it, drop food on it, whatever
Very silent keyboard
Extremely portable
Excellent for harsh environments

Cons:

So flat that it isn't comfortable for long-term use