We use affiliate links. If you buy something through the links on this page, we may earn a commission at no cost to you. Learn more.
Product Requirements:
An FM Radio and an audio source with a
3.5mm headphone jack, one AA battery (included)
It's the age old dilemma – how to best listen to one's music in the car, when
said music is all contained on a player that is not hard-wired to the auto's
sound system. One of the easiest and most effective ways that I have found to
solve this problem is with the use of an FM transmitter. Today, I'll take a look
at the Air-Wave FM
Transmitter, available from Brando.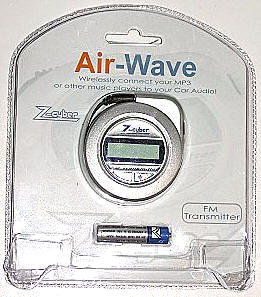 The Air-Wave measures 2.54" tall x 2.33" wide x 0.73" thick and weighs 1.5
ounces. It is composed of glistening matte silver plastic and features an LCD
screen on the front as well as two buttons for advancing or reversing the
broadcast band number. The Air-Wave's compact design is quite clever in that it
has a six inch cable which wraps around its own diameter then plugs into a
receptacle for efficient storage. The device itself is quite solid as I was not
able to detect any creaks when I purposely tried to torque and squeeze it.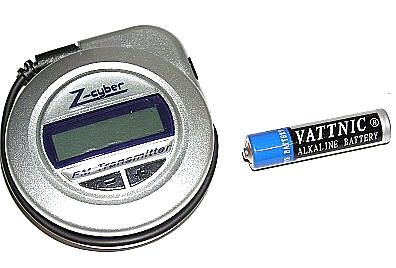 The back holds the battery compartment…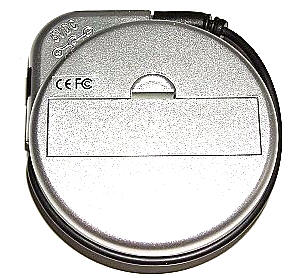 To use the Air-Wave, the 3.5mm plug must be released and then inserted into
the music players head-phone jack.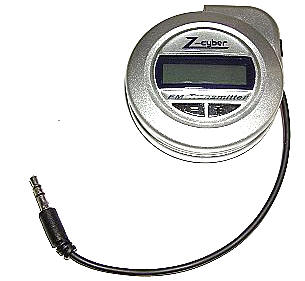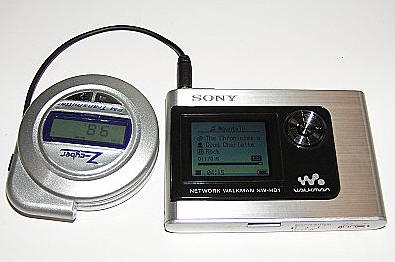 The Air-Wave is turned on by pressing the +
button, and a pretty blue side-light will illuminate the LCD screen.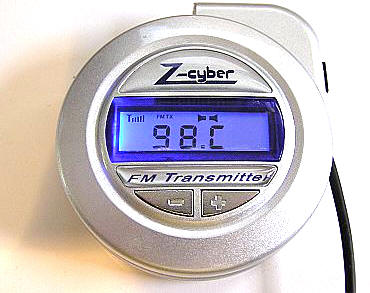 You'll note that the Air-Wave that I received has a slight defect in that the
two vertical bars on the far right LCD's digit do not show up at all. While this
was a bit inconvenient for use and testing, it did not affect the Air-Waves
performance.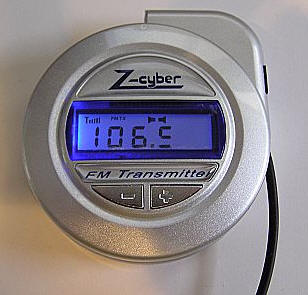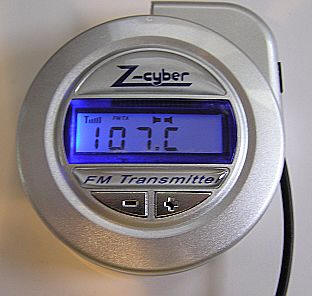 Because the Air-Wave will allow the user to select any FM station from 98.0
to 108.0, there will hopefully be a clear channel available for even those that
live in the largest cities.
I tested the Air-Wave in my auto and found that its range was very short. If
I moved it more than a foot from my radio I got a poor reception and lots of
static. While this is unacceptable for my own personal use, I understand that
there are users out there that live in areas where a far reaching signal could
get them in trouble with the law. While I am not suggesting that anyone
necessarily do anything illegal, I am just going to say that it would
probably be easier to get away with using this particular transmitter.
One of the things I like about the Air-Wave is its compact size and the fact
that the one cable on it stores away so neatly. However, I do wish that instead
of being battery powered it had either included a 12v cigar lighter adapter or
an internal rechargeable battery. I suppose that some may think that I have
become spoiled, but I really hate having to buy AA batteries anymore. The good
news is that I tested the Air-Wave while it was hooked up to my player and
broadcasting, and found that I was able to get approximately ten hours of use
from a single battery.
Well, obviously I had some issues with the Air-Wave. Mine has a messed up LCD
which is probably a quality control issue from the manufacturer, and I felt that
its signal was inadequate for my use. However, I was quite satisfied with the
Air-Wave's battery life and design. I like that it is small enough to keep in
the glove box of an auto or a gear bag pocket. The addition of a 12v power cable
would be nice, but for this price I can't complain. If you are in the market for
an FM transmitter that doesn't broadly transmit, then you might want to
take a look at the
Air-Wave FM Transmitter, available from
Brando.
Price: $22
Pros:
Compact design with efficient cable storage
Can choose from any FM dial increment between 98.0 and 108.0

Cons:
Mine has a messed up LCD
Extremely finicky and weak FM signal
Product Information
Price:
22.0
Manufacturer:
Brando
Pros:

Compact design with efficient cable storage
Can choose from any FM dial increment between 98.0 and 108.0

Cons:

Mine has a messed up LCD
Extremely finicky and weak FM signal