We use affiliate links. If you buy something through the links on this page, we may earn a commission at no cost to you. Learn more.
Shhhhhhh… Don't tell anyone, but I've been cheating on my
iPod for a couple months now! Yes,
I know it's hard to believe, but it's true. These days I don't listen to the
iPod at all on my drive to and from work. What is my new digital audio player of
choice? Actually, it's not an audio player at all, it's a satellite radio.
For those of you that follow the adventures of Judie and I through this site,
you may be aware that I was always the MP3 player aficionado. I've been using
them and reviewing them for quite a few years now. I kept asking Judie why she
didn't seem to have the slightest interest in them, and always got the answer
that she listened to CDs in her vehicles and listened to music through her
computer when she was home, and didn't really see the point in having one. It
wasn't until I was able to get her the 20gb
Sony
Network Walkman that she finally got the bug and now loves hard disk based
audio players as much as I do ;o)
On the flip side, Judie has been a Sirius satellite radio subscriber almost
since they originally started broadcasting in back in 2002. At that time, I
think she had a similar conversation with me asking why I wasn't excited about
the technology. I probably replied with a lame answer that I had my iPod with
1000's of songs, so why would I need a new fangled radio?
So, what made me want to give satellite radio a try? Truthfully, the answer
is that I wanted some new tunes. Yes, I have over 4000 sounds on my iPod, but
like a lot of people with large collections, we still tend to listen to our
favorite albums over and over and over till they are no longer all that enjoyable. I
had actually gone back to listening to my regular in dash car radio when driving to and from
work everyday. Granted, my drive each way is only about 20 minutes, give or take
5 minutes. But, during that time I always have the radio playing. Problem is
that where I live (bustling metropolis of Columbus, Indiana Population 35,000),
there are only a handful of stations to listen to. You have your Oldies,
Country, Top 10, Christian Radio, and more Country. I would tend to listen to
the Top 10 station and typically would hear the same exact songs on the way to
work that I would hear on the way home. If I wasn't listening to the same songs,
I was listening to annoying DJ's talking about some lame local contests, or
commercials about sweeper bags. To say that I was fed up with FM radio is an
understatement. I was ready to give satellite radio a try!
It's a little hard to believe that satellite radio has been around for over 3
yrs now. That seems like a long time to me… The first service available was
XM in September of 2001.
Sirius debuted the next summer in July of
2002. Both services have over 120 stations of music, talk, news, sports and
entertainment. They are also subscription based. XM is $9.99 per month while
Sirius is $12.95 per month. Which is better? That's what I wanted to know, so I
have been checking them both out for the past couple of months. Hopefully this
overview will be of some help if you are interested in making the jump to
satellite radio yourself.
SIRIUS
I picked Sirius to try first. I was lucky enough to have them send me the

Audiovox SIR-PNP3 receiver with the optional car kit.  You actually
have to buy either a car kit or home kit with this device. It's not useable all
by itself as it just comes with a handheld remote control and no antenna. The
car kit was pretty simple to install and took me about 30mins to do a temporary
setup. After sticking the small magnetic antenna on the top of my truck, I
fished the very long wire attached to it under the gasket around my door, under
the seat and to the SIR-PNP3.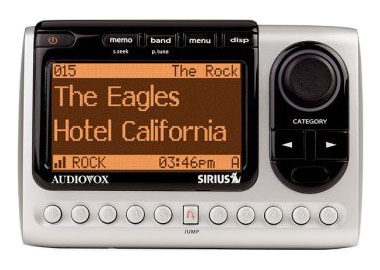 Powering on the receiver immediately gave me a preview station with very
clear audio. I'm all about easy installations, so I was already impressed by
this point. Of course before you can begin enjoying the 120+ stations, you have
to subscribe to the service. This required a phone call and a few minutes of
waiting. 15mins later, I was happily flipping through stations.
The next morning I was greeted by very heavy rains. I was doubtful how well
the radio would work as my satellite internet service (Direcway) tends to poop
out during periods of heavy rain or snow. I was pleasantly surprised that the
signal was strong and clear during my entire drive to work. The only time that
the signal cut out was while I drove down my tree lined drive, driving under
overpasses, sitting in the garage, or while getting gas at a canopied service
station.
During my month or so of using the Sirius radio service, I became immediately
addicted to the fact that the name of the band and song name are always
displayed on the radio's LCD. That feature in and of itself is something that I
can no longer live without as far as a radio is concerned. I don't know about
you, but in the past with FM radio, I will hear a new song, really like it and
then never figure out who sings it. With satellite radio, you'll always know
exactly what you are listening to at any given time.
I believe both Sirius and XM tout the audio quality of their broadcasts as
being near CD quality. I wouldn't go that far, but I found that Sirius sounds
pretty darn good on my crappy old Delco radio. If you're into music, you have a
huge variety of channels to choose from. As of this writing, there are 13 Pop
music channels, 17 Rock, 6 Country, 4 Hip-Hop, 5 R&B, 6 Electronic/Dance, 6
Jazz, 3 Classical and 5 Latin / World music channels. These 65 different music
channels that are 100% commercial free. Every so often you will hear DJ's talk a
little bit, but very rarely.
If you're into Talk / News radio, you will be happy with 36 channels to
choose from. Channels that focus on entertainment news, stand up comedy, gay /
lesbian news, woman's issues news, kids news, Discovery channel news and old
standbys such as CNN, NPR, Bloomberg, etc. We also must not forget Sirius's big
announcement in October 2004 that Howard Stern would join its
programming lineup on January 1, 2006. The infamous shock jock will be available
exclusively to Sirius subscribers.  
The one content area where Sirius has XM beat is with their
sports channels lineup. With 8 dedicated channels, they have  the NBA, the
NHL, and live play-by-play coverage of every NFL game. I don't give a hooey
about this aspect of satellite radio, but I know there are many of you that do.
If you have Sirius in your car, but not in your house, you
can always listen to the broadcasts as they stream over the internet for free.
This is also an easy way to check out the service / content before you
subscribe. You can get a 3 day trial at the Sirius website.
One month into my satellite radio experiment, and I was
already hooked on Sirius. I reluctantly unhooked the Audiovox and setup the

Delphi XM SKYFi2 receiver that I bought at my local Circuit City. Since the
XM folks never returned my emails asking for an evaluation unit, I figured I
could test out the radio and return it within 30 days. ;o)
XM
Like the Audiovox, I had to spring for a car kit in order to use the SKYFi2
in my truck. Also like the Audiovox, installation was quick and painless.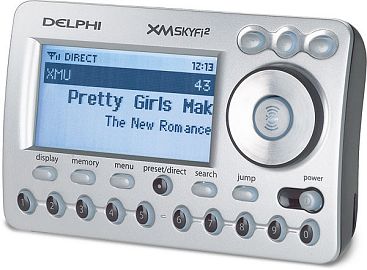 Although this article is not a hardware review, I immediately noticed
that the black on white display of the SKYFi2 was not as easily viewable as the
red on black display of the Audiovox. Just something to keep in mind when you go
shopping for a receiver.
The XM radio functions pretty much like the Sirius radio. Reading the manual
is not required unless you plan to use the extra features. I was easily flipping
stations, and setting presets within 5 minutes of hanging up the phone after
starting my subscription.
One big difference that I noticed within days of testing the radio/service
was the fact that this radio would actually receive a signal while my truck was in the
garage. In addition, it didn't cut out as I drove down my long tree lined lane or under overpasses.
Bonus.
With 68 commercial free music channels, XM has a few more than Sirius, but the same basic collection of Pop, Country, R&B, Jazz, etc. The only thing about XM that is a little different is the naming scheme for their channels. Some of them have wacky names like Lucy, Ethel, and Fred. Not sure what happend to Ricky. I
immediately noticed that the sound quality for XM was somewhat better than
Sirius. I also found that I preferred the music that XM tends to play on their
channels over the content that Sirius plays. XM claims to have a deeper play
list which I believe to be true. Due to XM, I have discovered quite a few
artists / bands that I had never heard of before. As a result, I have purchased
several CDs based on these discoveries.
I should also mention that while I would sometimes notice a bit of talking by
DJ's on Sirius, I've never heard anything other than a short station ID / promos
on XM. XM seems more 'quiet' than Sirius in that regard.
Besides music channels, there are also 33 channels of news, sports, talk &
entertainment, as well as 21 dedicated channels of XM traffic & weather for
large cities. Sports fans will be happy to hear that XM will start airing MLB
broadcasts in this year. Wheeeeee…. not ;o) Race fans can listen to NASCAR
races too.
Want to listen to XM via your computer as it streams over
the internet? Sure, no problem… But unlike Sirius, this is not a free service.
XM subscribers have to pay an additional $3.99. Yeah, I know… It sucks.
To compare XM to Sirius is a bit like comparing Macs to PCs,
or Coke to Pepsi. It's a personal preference kind of thing. If you are
interested in becoming a subscriber to a satellite radio service, I don't think
that you can really go wrong picking either one. They both have a great
selection of content and channels that will keep you entertained forever. I
would have been perfectly happy with Sirius had I not tried XM and found that I
liked it better as far as their music selection is concerned. Personally,
I'm going to remain a subscriber to XM radio as I never returned the Delphi XM
SKYFi2 to Circuit City.
In my opinion the choice between the two comes down to only
a couple of different things. If you are a football or hockey fan, go with
Sirius. If you are a baseball fan go with XM. If you are a Howard Stern fan, go
with Sirius. If you are just a music lover, then I suggest that you try the free
internet streaming trial for both services and make your choice based on which
one plays more of the types of music that you enjoy most. Regardless as to which
service you choose, I guarantee that you'll never go back to FM radio again!