We use affiliate links. If you buy something through the links on this page, we may earn a commission at no cost to you. Learn more.
I hope everyone has been enjoying New Years Day today!
Yesterday was a fun day for me. I went up to Indy with Bill Ray (he has contributed several photography related reviews to the site…) to check out Nikon's 8800 Coolpix camera. I liked it so well that I placed an order with NewEgg last night. This camera will replace my ancient Nikon 990 Coolpix.
On the way home we stopped at the giant Dick's Sporting Goods store in Greenwood. Bill talked me into racing him up thier huge rock climbing wall. I wasn't too sure how well I would do, but I guess the Bowflex is paying off because I was beating him at one point.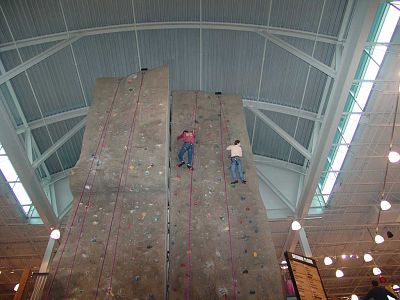 He actually ended up winning though as I ran out of hand grips and was too pooped to launch myself up to grab another. It was a total blast and I will definitely do it again the next time I'm in Greenwood!