We use affiliate links. If you buy something through the links on this page, we may earn a commission at no cost to you. Learn more.
Name: Curtis Hinson
Location: Texas, USA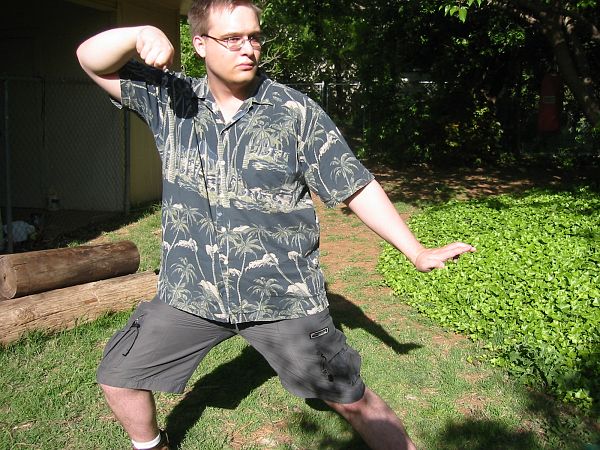 I just read through a few of your Gadgeteer profiles and thought I fit your
profile. My first meetings with gadgets were back in the middle 80s when my
family got a Tandy computer with an 8088 in it. I had some experience with
electronics and programming as a kid so that fostered a joy in using technology
in creative and unusual ways.
I previously worked my way through part of college as a web developer, so having
computer parts and electronics sitting around led to me linking up all my
devices in one way or another, for surprisingly little money in many cases. I've
tended to find special deals to get parts cheap, or find windfalls from unwanted
parts or trades.
Here's my setup: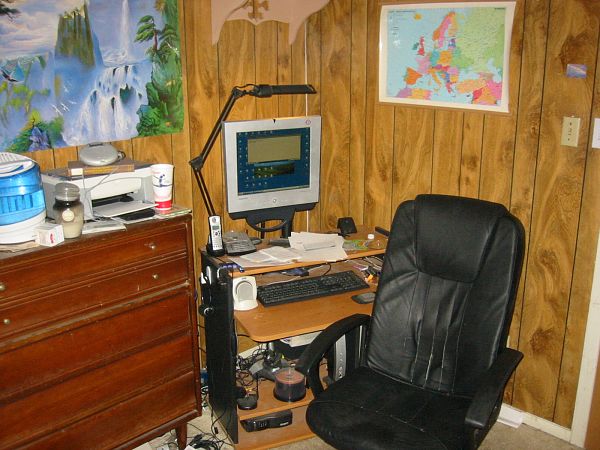 My PC is a homebuilt system, Intel board with a P4 2.53 gig processor and 1 gig
DDR RAM. It has a 180 gig hard drive and a 40 gig drive. There's a Samsung
Syncmaster 170MP multifunction display mounted on a lovely SpaceDEC extensible
monitor arm that is bolted through the computer desk. It has an
OrangeMicro/Jabra wireless Bluetooth headset, a Thrustmaster wheel and pedal
set, an HP psc 1210 All-in-one printer/scanner, and an X10 BOOM2000 wireless
video/audio control and transmission setup, etc. IE, I can play MP3s over my
living room stereo and control Winamp from an RF remote. The wireless
transmitter is set as my second monitor on XP, so I can view video files, Winamp
visualizations, Flash animations or whatever on the living room TV.
I have a Gyration remote RF keyboard and air/optical mouse in the living room,
so I can actually control the computer from there that way. I use a utility
called wndhop so I can hit a hotkey and flip windows from the PC into the living
room TV and back.
The PC also has a Smarthome Powerlinc USB X10 powerline interface and Mountain
Systems X10Net so it acts as a home automation controller. Most of my lights and
appliances including the air conditioner and the phone are on X10 modules so I
can control any device from any of the several remotes, my PDA, or over the
internet from anywhere. There's a motion detector on the front door that turns
the lights on at night when I come in and announces visitors by voice from the
PC. When I exit the house, the computer will shut down all the lights and pause
Winamp. When I'm out of town I check in over the internet with remote admin
software to see if the motion detector has been triggered so it adds some
security to the house.
The computer also has software that watches the caller ID of incoming callers.
The ringers on the Uniden 5.8gig cordless handsets are turned off so the
computer can take over ringing. This way, if a caller I don't want to talk to
calls, the computer won't ring but sends the caller to voicemail, or if I really
don't like a caller, I can set it to answer and instantly hangup without
sounding a ring tone. It also sounds custom waves that speak the names of the
callers for my favorite people. This software automatically saves its caller log
as an HTML file in a secure directory on the web server over the network, so I
can log in from anywhere and see who tried to call me. The software can also
stay silent during my sleeping hours or when I set it to sleep. (I plan to
interface that with X10 so I can mute my doorbell and silence phone calls and
set my Trillian status from a button on my remote.)
I have a headless homebuilt Redhat Linux server, an old AMD K62 500. It has a
Netgear Super G 624 wireless router/firewall and a DSL modem. It has it's own
domain and serves email, web, a game server, and FTP. It has an old Tandy WP-2
portable word processor connected to the serial port as an admin terminal should
the network ever go down. I am also considering using my old Palm m500 PDA as a
status display for it as I found an LCD emulator for it. I took the circuit
board out of an old keyboard for the status lights, and the server runs software
that blinks one of the LEDs whenever email is on the server. Those LEDs are
mounted discreetly up on the wall. The server is protected by a one-hour APC UPS
unit and it current shows 120 days of uptime. It can get up to 46,000 hits a
month for the biblical studies resources on the website.
As far as mobile electronics go, I use a Canon Powershot S200 digital camera, a
128 meg USB flash drive, and a Palm Tungsten E. The Tungsten has a 1 gig
high-speed SD card in it loaded up with MP3s and books, and my car has a cradle
mounted on the dash for it along with a power adapter and an adapter to play the
sound through the car's stereo system. I also use a wireless keyboard for it to
take notes in my classes. The PDA has remote control software so it can control
my house and most remote control devices.
Note of interest: I know former Gadgeteer Henry Kong personally from my time
spent in Asia. I spent most of my time as a web developer using my skills to
benefit churches and mission organizations in different countries. I left web
development to pursue theological degrees.