We use affiliate links. If you buy something through the links on this page, we may earn a commission at no cost to you. Learn more.
Product Requirements:
Device:
HP hx4700 / hx4705 Pocket PC
HP hx4700 iPAQ owners looking to purchase
play through rigid protection should look no further than the Metal Deluxe case
from Innopocket. Like their other
offerings, this case is made of 100% anodized aircraft grade aluminum with black
neoprene lining.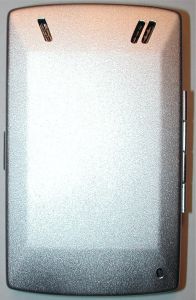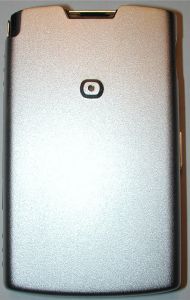 Size: 5.3 x 3.2 x .89in (135 x 82 x 22.6mm)
Weight of case with PDA: 9oz (255g)
This is a book style case with a cover that opens left to right. I would
really like to see Innopocket come out with flip up style PDA cases in the
future. As a lefty,  I find that this case is a little hard to hold in my
right hand while manipulating the stylus in my left. It may just as difficult
for righties… The open cover doesn't seem to allow me to keep a secure grip on
the case. That said, the raised rubber strips along the sides of the case do aid
in gripping.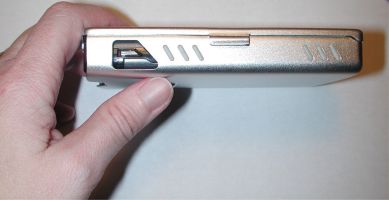 The hx4700 is fully accessible while inserted in this case. All the buttons
and features either have cutouts or are exposed with the cover is opened. The
only action that you can't do while the iPAQ is in this case is sync / charge
with the cradle. Cables work fine however.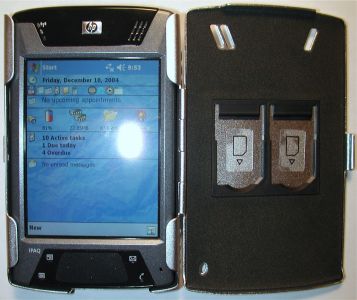 This case has several other nice features that are worth mentioning. For one,
the finish is bead blasted so that fingerprints and smudges do not show. When
the cover is closed, the hx4700 is almost entirely enclosed. Only the top of the
PDA is partially exposed. This was mainly done to allow for oversized CF and SD
cards to be used while in this case. As designed, they can extend from the top
of the PDA even while the cover is snapped closed.

The cover which has 2 SD storage slots on the interior side, snaps securely
closed via a friction/flex clip type of latch. There are 4 small cutouts in the
cover for status LEDs and the microphone. It's nice to have the ability to
record a voice note without having to open the case.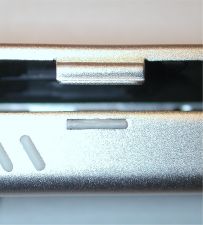 On the back of the case there is a threaded socket for the included belt clip
post. The end of the post has a slot for a flat head screw driver. This makes
tightening it much easier than using your fingers on the serrated edges. I like
having the option of using the clip or not using it.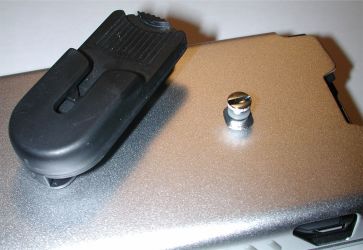 I've always liked Innopocket cases, and this one is not an exception. I've
been using this one to protect my hx4700 since receiving it and don't see a
change in the foreseeable future.
Price: $29.90
Pros:
Excellent value for the price
Stylish
Cons:
Slightly difficult to open
Have to remove PDA to sync / charge with cradle
Product Information
Price:
29.9
Manufacturer:
Innopocket
Pros:

Excellent value for the price
Stylish

Cons:

Slightly difficult to open
Have to remove PDA to sync / charge with cradle