We use affiliate links. If you buy something through the links on this page, we may earn a commission at no cost to you. Learn more.
Product Requirements:
A free USB port
In keeping with the Holiday Season, I have found yet another way to spread
some Holiday cheer without calling too much attention to your workspace.
This USB Optical
Liquid Mouse with Floating Santa is a great replacement for your usual mouse
that includes a liquid filled area in it's bulbous end which features a floating
Santa figurine.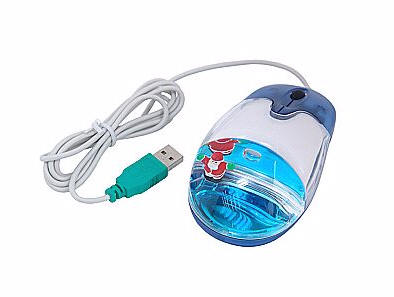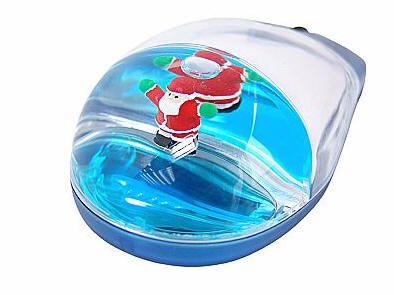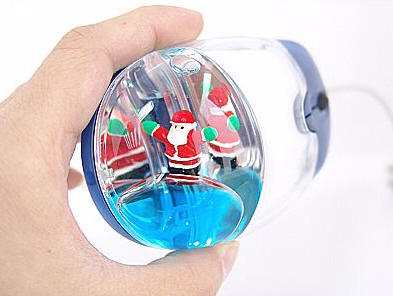 Pictures courtesy of USB Geek
Okay, maybe it is a little creepy to think that Santa is trapped in your
mouse and he can't get out, but the mouse itself is just so darned cute! I was
completely expecting this to be a cheesy track-ball type mouse, and was
pleasantly surprised to see that it was optical (with red light), instead. The
typical right and left click buttons are here, as well as a center clicking
scroll wheel. Completely plug and play, the mouse is immediately usable. Santa
cheerily bobs about, and a viola – instant Holiday fun.
If you are looking for a simple way to spread some holiday cheer at the
office, then the
USB Optical Liquid Mouse with Floating Santa, available from
USB Geek, is a great place to
start.
Price: $18
Pros:
Plug & play
Optical
Center scrolling wheel
Cheerful bobbing Santa

Cons:
None
Product Information
Price:
18.0
Pros:

Plug & play
Optical
Center scrolling wheel
Cheerful bobbing Santa

Cons: