We use affiliate links. If you buy something through the links on this page, we may earn a commission at no cost to you. Learn more.
Product Requirements:
Device:
Windows 2000, XP with USB 2.0 port
PVPs (Personal Video Players) are becoming much more prevalent these days. It
seems like every week or so there is another one being announced. When
Brando asked if we were interested in
reviewing the Sony HMP-A1 Media Player, I was very interested as this would be
the first PVP to be featured by The Gadgeteer.
Like Apple,
Sony really knows how to design cool
consumer electronic products. They always seem to manage to create something
that is both sexy and functional at the same time. Also like Apple, Sony
products are very spendy. Some people might say that you get what you pay for. So let's dig in and
see if the HMP-A1 is really worth its $700 price tag.
 
Hardware Specs
Hard drive: 20 GB
Screen: 3.5" LCD TFT 320 x 240 resolution
Audio / Video Formats: MPEG1, MPEG2, MPEG4, MP3, WAV, JPEG
Connection: Hi-Speed USB 2.0
Video Out: AV Mini Jack (special connector w/ RCA out)
Power: DC 5.2V (Charge Time: 2.5 Hours via AC, 7.0 Hours via USB)
Size: 5.10 x 2.97 x 0.86in (129.6 x 75.6 x 22mm)
Weight: 0.55 lbs (250 g)
 
Package Contents
HMP-A1
AC adapter
USB cable
AV cable
Earbud
Remote control
Hand strap
Carrying case
Manual (Japanese)
Software CD
 
When the HMP-A1  arrived, I was a little worried as the packaging and
all the included instructions were in Japanese. The first thing I did was to
plug in the AC adapter to charge the internal battery. Yes, it ships with a US
style 2 prong charger  :o) Approximately 3hrs later, I was ready to take a
closer look at this player.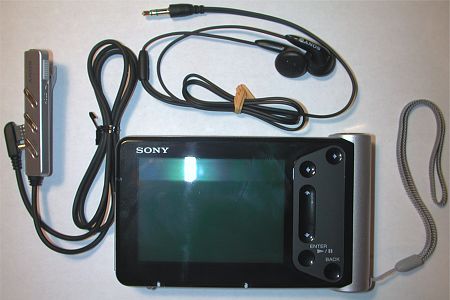 Weighing in at 9 oz, this device is a little heavier than your average PDA.
But size-wise it is comparable to the
hx4700 that we just reviewed. So in hand, this device is actually quite
comfortable to hold and use. It's very solid and passed the Gadgeteer creak /
squeeze test with flying colors.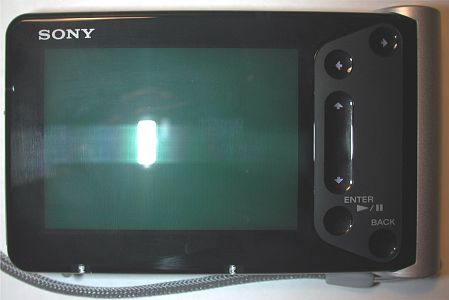 By default, the HMP-A1 is configured for right handed use. The right side has
a pseudo grip built into it. I would guess that the rounded hand grip is
actually where the rechargeable battery is stored… On the back of player there are 3 raised bumps
that allow your fingers to keep a good grip on the device. Lefties will be happy
to know that the display can be rotated so that you can easily hold the unit in
your left hand as well.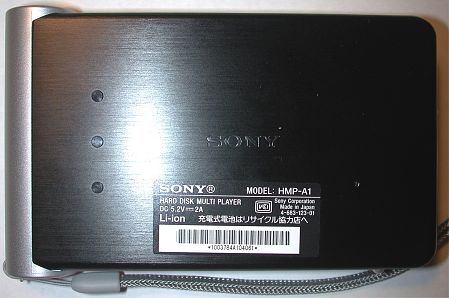 The majority of the front of the player is a flat polished surface. On the
right side, are the navigation controls. Like the 3rd generation iPod, these
controls are not tactile buttons, but touch sensitive ones. The buttons are
arranged in a symmetrical pattern so that if you do want to flip the display 180°,
you'll be able to navigate easily in either hand.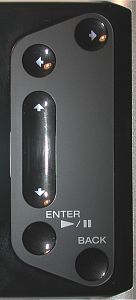 The large groove shaped button is the scroll
'wheel'. As you swipe your thumb up and down, it will scroll in that direction.
Resting your thumb at either end of the groove will cause the scrolling to
continue automatically in that direction. While scrolling seems to proceed at a snappy
pace, it is no
where near as fast as the iPod. Scrolling does not accelerate the longer you hold
the 'button'. As an example, it takes 10 seconds to scroll through 7082 song
titles on my 4th gen iPod. I gave up running this same test on the HMP-A1 when
my stop watch was over 1 minute and I was still in the B's.

There are physical buttons on the top edge of
the player that are assigned to the Tools popup menu, Volume adjustment and
Power. The Power button is actually a spring loaded switch. To turn the unit on
or off, you have to slide and hold the Power button to the right for a few
seconds. Next to the Power button is the status LED. This LED glows amber
while charging, off when fully charged and green when powered on.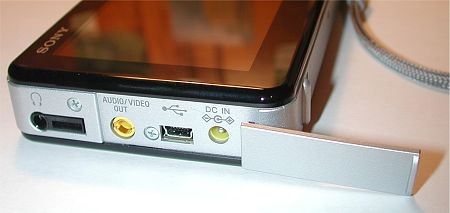 Along the left side of the player is the earphone / remote control jack, A/V
jack, USB connector and DC in jack. The A/V jack, USB connector and DC in jack
are protected by a rubber door that snaps in place. Included with the player are
the typical set of cheapo earbud and an equally cheap remote that can plug in
between the device and headphones. I was hoping the remote by at least have an
LCD that would display the song title currently playing, but instead it is just
a light weight plastic module with hold, volume up/down, stop, play, prev and
next features. Oh, and it has a spring loaded clip to attach to your clothing.
Wheeeee…
Sound quality through headphones or earbud is very good. Unfortunately, there
isn't an internal speaker built into the unit. If you ever want to show a movie
clip to a friend or a group of people, you'll need to let them borrow your
headphones or hook the HMP-A1 to a TV with the included RCA cable. If you do
hook up the player to a TV, you'll be able to play video, view pictures and play
MP3s. It was pretty cool displaying some of my favorite animations on my 65"
widescreen TV.
The display on the HMP-A1 is very very nice. It's bright, crisp, has vivid
colors and a wide viewing angle. It does wash out outdoors in bright sunlight,
but that is to be expected.
The screen is pretty small at 3.5in. The hx4700 iPAQ has that beat by
half an inch. That might not sound like a lot, but every little bit makes a
difference when you're trying to watch a movie on a small device such as this
one. That said, I find it easy to view pictures and videos on this device.
I also love that the display is protected with a thick layer of what looks
like Lucite. It reminds me of how the iPod display is constructed with a thick
layer of clear plastic over it. This allows for very easy cleaning which is a
good thing because the screen is a big fingerprint / smudge magnet.
When you first power up the player, it's all in Japanese. Switching to
English is very simple. A quick press of the Tools button on the top of the
device and you'll easily find the language setting. Once it's set to English,
you're ready to get started. Although the player comes with some sample video,
pictures and music, after charging the battery, you'll want to install the
software from the included CD so that you can move your own content to the
device.
Connecting the device with the included USB cable will result in a new hard
drive showing up in your drives list. Yes, you can use the HMP-A1 as a portable
hard drive in addition to its other media features.
Two applications are included on the CD. MUSICMATCH Jukebox for MP3 transfers
and HMP Image Transfer Manager for photo and video transfers to the player.
Luckily both apps are in English!


Click thumbnail to see full size image
The Jukebox program will allow you to transfer all your audio files to the
player relatively painlessly. It's very  interesting to note that the
HMP-A1 does not use Sony's proprietary ATRAC audio format. Instead, it reads
.MP3 and .WMA files. The Jukebox does do some magic to the files though, because
they are renamed and stored on the player in a funky folder hierarchy. I
copied one of the individual files back to my PC and was unable to play it with
Windows Media Player and iTunes. They are converted to something, I just don't
know what.
The HMP Image Transfer Manager is just a simple interface that gives you the
ability to transfer photos and video to the player. Like the jukebox, this
application will also perform some type of conversion on the video files. It
does leave .JPG images files alone though. You can actually copy .JPGs directly to
the photo folder on the HMP-A1. Other formats (TIFF, BMP, GIF, and PNG files)
are converted by the manager program into .JPG before they are transferred to
the device.



Click thumbnail to see full size image
As for video, the manager application converts WMV, AVI, and DVR-MS files into
MPEG 2 and 4 formats. Transfers take a long time and really bog down your PC.
Besides small 5-10mb animations, I did a test where I copied a 30min show from
my ReplayTV to my PC and then to the HMP-A1. The file on the PC was 445mb. After
mucking with some conversion settings, I transferred the show to the device. The
resulting file was 248mb and took several mins to transfer from the PC to the
HMP-A1..
This player's user interface is best summed up with one word: Simple. In my
opinion, power users will be left wanting more.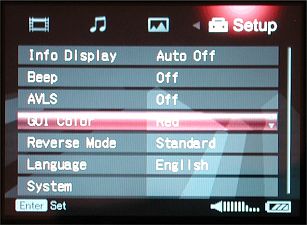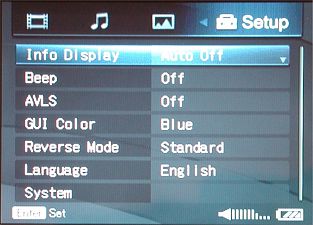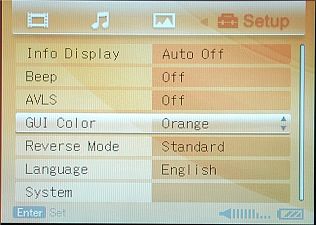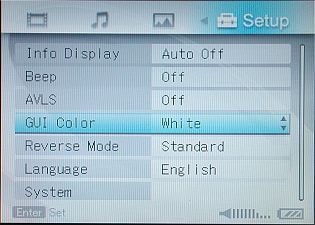 You can change the color of the interface to Red, Blue, Orange or White.
Let's start with the music playback features. Like most audio players, the HMP-A1 gives you the ability to sort music by
various categories. This player can sort by Artist, Album, Genre, Year,
Playlist, and Title. While a song is playing, you can not go back to the song
list to pick another song without the currently playing song playback stopping.
This is what I have always liked about the iPod, I can navigate through the
menus without interrupting the music. You also can not skip around inside a song
like you can on an iPod. Not that I do that very often with regular music, but I do when
listening to Podcasts or radio shows in MP3 format.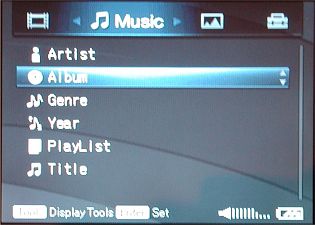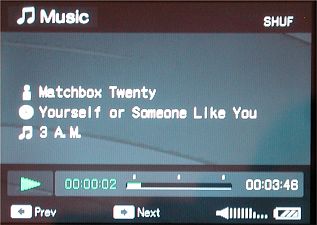 Two other features that are absent is the ability to create on the fly playlists,
and an equalizer… But one
feature I did discover is that if you turn off the player while it is in the process
of playing a song, it will remember where you were and will automatically
continue playing that song at the spot you stopped when you power it up again.
It actually does this for video and picture viewing too.
The picture viewer allows you to view images in 3 different ways.
Individually, in thumbnail mode and by slideshow. The arrow buttons allow you to
move forward and backward through the pictures and a pretty snappy pace.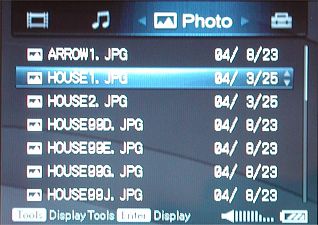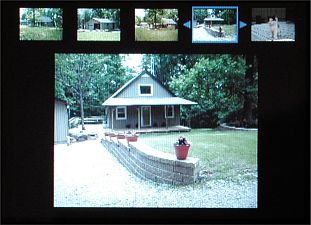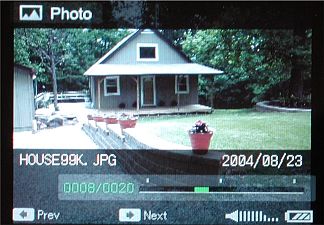 I'm not sure how I would really improve the picture viewing app. Maybe change
the thumbnail mode to show an entire screen of thumbnails instead of just 5 at
the top of the screen.
You would think that the HMP-A1's video playback features would be the most
robust of all its features. After all, it this is primarily what this device is
being marketed for… Well, just like the music and picture viewing features,
the video playback features are just as simple.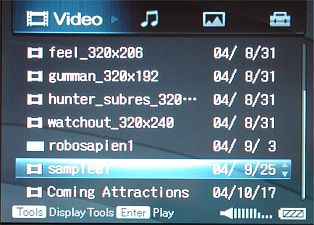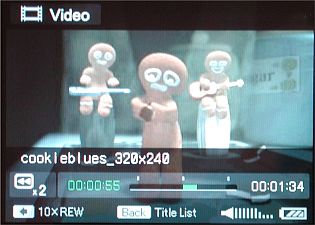 Video playback is very smooth and clear. It's like watching your TV. But, all
you can do is play, pause, stop, skip ahead / back 15 seconds and increase
playback speed by x2, x10, x30, and x120. When you increase playback speed, the
audio is stopped and all you see is choppy video flashing by. Not too useful. I
will concede that the skip ahead / back by 15 secs is a great feature for
quickly skipping over commercials. Additional features that I would like to see
would be a way to set bookmarks in videos and some kind of folder hierarchy for
grouping videos of like types.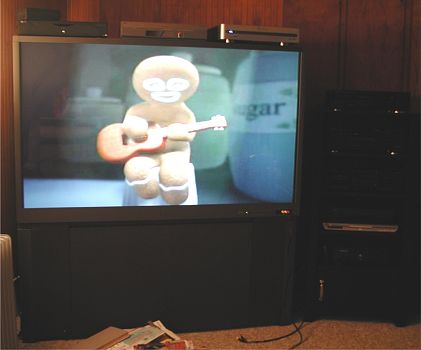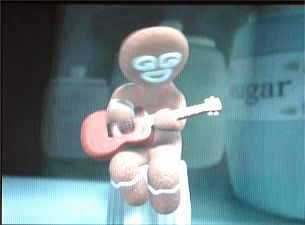 Left to right: Video playback on a 65in TV, Video playback on
the device
Load time for big videos isn't too horribly bad. For a 30min show, load times
are typically about 5 seconds.
Probably one of the biggest questions that most people will be asking about
this device would be concerning battery life. We all know that video playback can
really drain a battery. I conducted a test using all the features of this
player, to give an idea of typical usage. Here are the results
starting with a 100% charged battery:
Duration
Activity
Running
Time Total
9:00am – 10:00am
Video Playback
1hr
10:00am – 10:30am
Powered Off
 
10:30am – 11:30am
Music Playback
2hrs
11:30am – 12:00pm
Image Slideshow
2hrs 30min
12:00pm – 1:00pm
Powered Off
 
1:00pm – 2:00pm
Video Playback
3hrs 30min
2:00pm – 3:00pm
Music Playback
4hrs 30min
3:00pm – 4:00pm
Powered Off
 
4:00pm – 5:30pm
Video Playback
6hrs
I don't think 6hrs per charge is too shabby really. Of course if you used the
device just for audio playback, you could probably add at least an hour or two
to that total. Especially if you set the screen to turn off during playback
(default setting).
 
The battery can be charged through the included AC adapter or through the USB
connection. Using the AC adapter, it only takes about 2.5hrs to fully recharge a
depleted battery, while charging through USB will take about 7hrs.
As far as the hardware design, this is a very solid product with above average audio
and video capabilities. The user interface and features feel
a little anemic though. With a price tag of approximately $700, I would hope
that this player would have every bell and whistle known to man. Unfortunately
it doesn't. Yes, it's a Sony, but right now it just doesn't impress me enough to
recommend it. Maybe I'll change my mind after comparing it to other PVPs. We'll
just have to wait and see…
 
Price: $680 (shipping included from Brando)
Pros:
Bright, vivid display
Can import .MP3 and .WMA sound files
Good battery life
Cons:
Lacks features above and beyond the basic
Pricey
Product Information
Price:
680.0
Manufacturer:
Sony
Pros:

Bright, vivid display
Can import .MP3 and .WMA sound files
Good battery life

Cons:

Lacks features above and beyond the basic
Pricey