We use affiliate links. If you buy something through the links on this page, we may earn a commission at no cost to you. Learn more.
Product Requirements:
An audio device with a headphone jack
and a stereo with an FM receiver, one AAA battery
Last year I favorably reviewed the
Digiana Wireless Audio Portable
FM Linker, a FM transmitter that could play content from audio devices
through an FM station of the user's choosing. This year,
Merconnet is offering a newer version
that has an even more streamlined shape plus the welcome addition of a car
cigarette lighter adapter.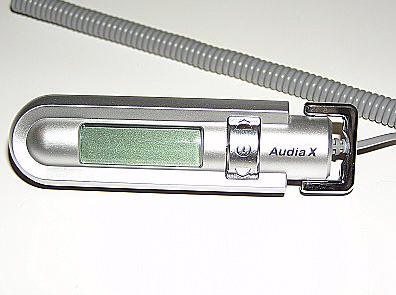 The
Audia-x FM Transmitter Version 2 is a 3" long with 1" diameter device that
plugs into any audio device with a headphone jack and airs the content over an
empty FM station of the user's choosing.
The body is comprised of matte silver and black plastic with a shiny silver
plastic loop at the top, suitable for attaching to a lanyard. The body is light,
but feels solidly built, with no creaking or moving. As I mentioned, there is an
attached jack for linking to the audio device and there is a removable car
charger cord for unlimited power.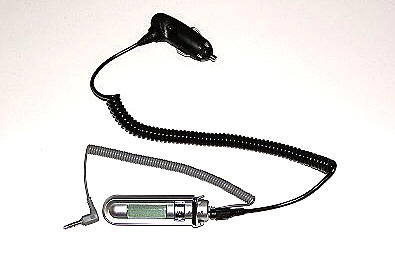 For times when you don't want to use car power, like when broadcasting
through a home stereo or portable player, a single AAA battery can be used.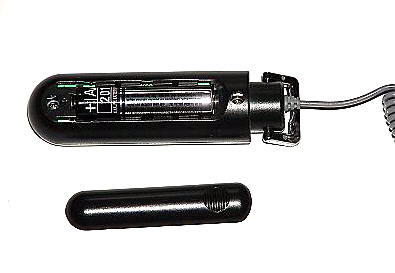 Specifications:
Tx Frequency Range 88.0 MHz ~ 108.0 MHz
Channel Spacing 100 KHz
Channel Capacity 201 Channels
Bandwidth 170 KHz
Modulation Type F3E
RF Output Power 10 µW
Frequency Stability 25 ppm
Frequency Deviation ± 100 KHz
Transmitter Spurious Emission 25 dBµV/m @ 3m
Stereo Separation 40 dB
Effective Range 2 m
What I particularly like about this transmitter, other than the fact that it
nicely matches my Sony NW-HD1, is
that I don't have to worry about the battery dying on me during long usage
periods in the car. There is a power port in my armrest, so I am able to tuck
everything inside and keep it hidden.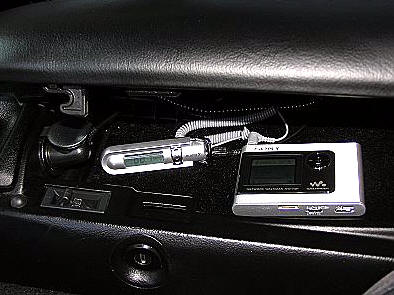 Operating the Audia-x is simple. There is an up/down toggle switch on the
face that when pressed in the center powers on the unit. If battery power is
being used, then the car charger must not be attached, otherwise the charger
over-rides the battery. When turned on, a green backlight will glow and black
LCD numbers will display the selected station.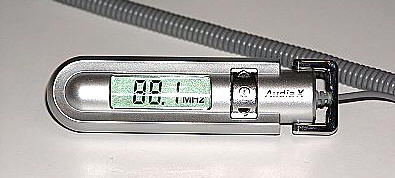 A non-broadcasting station can be selected on either the vehicle's radio or
home stereo, and by moving the toggle switch up and down on the Audia-x to match
the frequency, audio content will then be broadcasted to the FM stereo and
through its speakers.
The range of the Audia-x is billed as being approximately 6.5 feet (2 meters)
from the FM receiver. This figure would allow plenty of options for where to place
the unit without worrying about the signal polluting other people's FM
receivers. During testing however, I found that the Audia-x actually transmitted
through my car and up to 40 feet away before the signal really got fuzzy. This
meant that Steve was able to get into our ranch truck, parked on the street 30
feet away, and get the same signal I was transmitting on 88.1. I don't know if
this will be a problem for anyone, but I thought I should mention it.
The
Audia-x FM Transmitter Version 2 is a handy way to enjoy your personal audio
content in a more public manner. It is available from
Merconnet.
Price: $38.99
Pros:
Can choose from any FM dial increment
Compact and sturdy design
Can use either a battery or included car cigarette lighter adapter
Cons:
None
Product Information
Price:
38.99
Manufacturer:
Merconnet
Pros:

Can choose from any FM dial increment
Compact and sturdy design
Can use either a battery or included car cigarette lighter adapter

Cons: