We use affiliate links. If you buy something through the links on this page, we may earn a commission at no cost to you. Learn more.
Product Requirements:
Device:
Windows XP or Mac OS X computers with a free USB or
PS/2 port
Having recently reviewed two different wireless mice, I quickly came to the
conclusion that I'm so over old fashioned wired mice. The two
products that I reviewed were both Bluetooth mice. The

Bluetake BT500 and the
MacMice
BT Mouse. While I enjoyed reviewing these products, it wasn't long after the
reviews, that I retired them and went back to using a boring old wired optical
mouse. Why didn't I stick with one of the Bluetooth mice? The number one reason
was that they were powered with regular batteries that only lasted about a week.
I'm a basically lazy person. There I said it! I don't like having to worry about
removing batteries, charging them and reinstalling them every couple of weeks.
So, when one of our readers was kind enough to make me a gift of his used
Logitech MX700 wireless mouse, I happily
accepted. He had just upgraded to the MX1000 and thought I might like to try
this input device. The day I received it, was the day I knew I'd never use a
wired mouse again. I used the MX700 for a several weeks, and then started
drooling over the MX1000, Logitech's latest offering. After minimal begging, the
fine folks at ThinkGeek.com sent me one
to review.
Hardware Specs
Image Processing: 5.8 mega pixels/sec
Resolution: 800 dpi
Surface Sensitivity: 20x versus optical mice
Package Contents
Logitech MX1000 Laser Cordless Mouse
Rapid-charging base station
CD with SetPoint software
Installation guide
USB to PS/2 adapter
AC power adapter
Three-year limited hardware warranty
The MX1000 is a plug and play device. I just opened the box, plugged in the USB
cable to the base station, plugged the AC adapter into the base station and then
charged the mouse over night. The next day, I removed the mouse from the base
station and began using it.
After having used the MX700, I was already accustomed to the somewhat largish
size of Logitech's wireless mice. The MX1000 is slightly bigger than the MX700,
but still very comfortable to handle.
Never miss one of our posts again. Sent MON, WED, and FRI with the latest gadget reviews and news!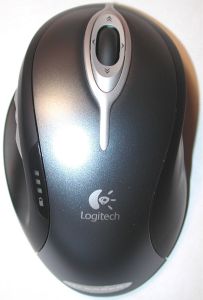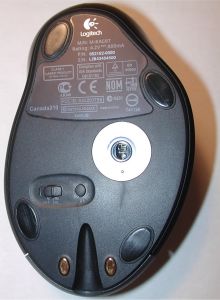 At 6 oz., this mouse has a substantial feel to it. It's actually the same
exact weight as the MX700, but it somehow feels heavier. My old Logitech optical
only weighs 2.8 oz. Big difference!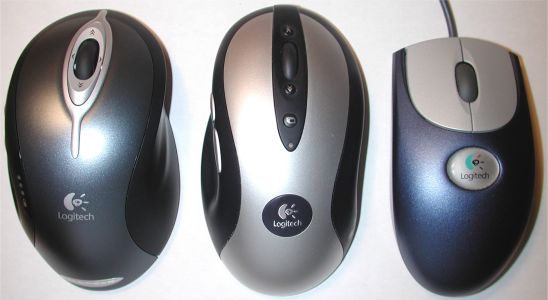 Left to right: MX1000, MX700, cheapo optical model
The body of the mouse is constructed of plastic, but has a solid quality feel
to it. The top of the mouse where your index, middle finger and palm rest is a
sparkly gunmetal bluish color. The sides where your thumb and outside fingers
rest is made of black rubberized plastic. Game players will appreciate this
material as it allows you to keep a good grip on the mouse.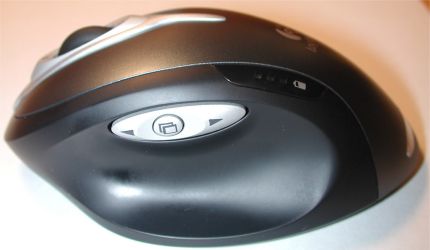 The MX1000 has two main buttons. Both the left and right buttons are easy to
click and have excellent tactile feedback. Nothing else moves or flexes when you
click one of these main buttons.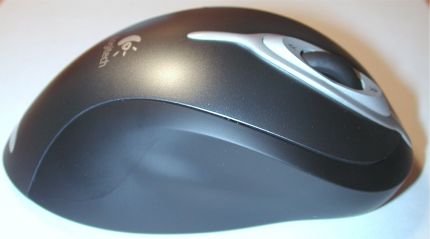 A scroll wheel is located between the left and right mouse buttons. This is a
rubberized black wheel that has a slight ratcheting type of feel when you spin
it. In addition to using it for scrolling up and down, it will also tilt left
and right for movement in those directions. Spreadsheet users, will appreciate
the ability to scroll left and right using this wheel. Pressing the scroll wheel
in will provide a zoom feature while in some applications such as picture
viewers and editors.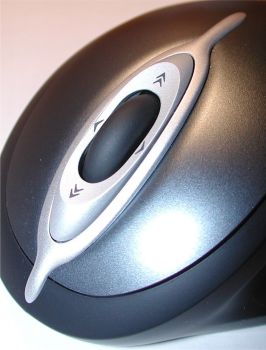 Surrounding the scroll wheel is the up/down cruise
button. This button will quickly scroll either up or down through a document.
It works much faster than spinning the scroll wheel. I personally haven't found
myself using this button very often as I'm so used to scrolling with the wheel that I
rarely remember that it is even there…
On the thumb side of the mouse there is another set of buttons. The large
oval button is a toggle type of button that moves you forward and backward
through web pages. In practice I found that this feature worked fine in Internet Explorer,
but 
didn't work at all in FireFox.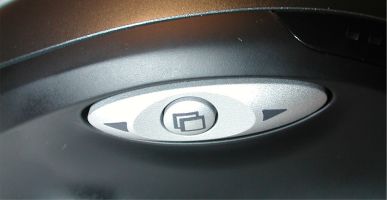 Although I use the back button, I have yet to get comfortable with pressing
the forward button. It just feels awkward to me.
In the center of the back/forward button is the application button. Pressing
this button will pop up a program switcher panel of all your currently running
programs. You can then click on one to switch to that program. It provides the
same feature as an ALT-TAB.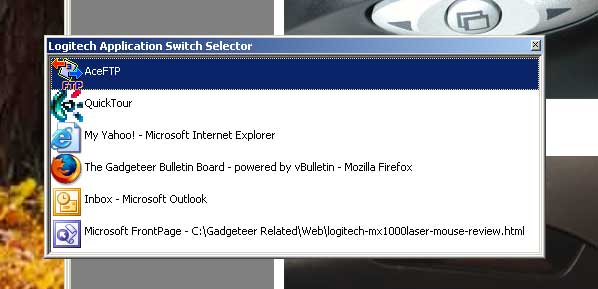 The MX1000 comes with a CD in which you can install a control panel
application called
SetPoint. This application gives you the ability to reassign tasks to some of
the mouse buttons, change clicking speed, scrolling speed etc. For some odd
reason it also adds a link to eBay on your desktop and gives you the option of
installing MusicMatch and RealOne Arcade games. I opted out of those two
installs.
As for battery life and charging, the included base station works great. You
just set the mouse into the cavity and the contacts on the bottom of the mouse
mate with the contacts in the base station and start the charging process. It doesn't require any special
positioning as the mouse automatically centers itself into the base when you
drop it in. You can then remove the mouse when you are ready to use it with just
one hand.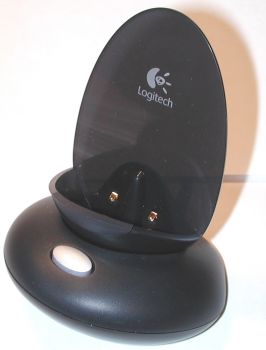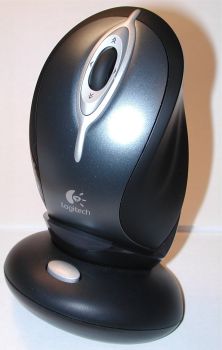 With its internal Lithium-ion battery, battery life is fantastic! I used the
MX1000 for several hours a day for over a week before the battery status display
showed red. There is a 3 segment LED that glows green whenever you are moving
the mouse. As the battery power dwindles, the bar will drop to 2 lit segments,
then 1 and then the last segment will turn red to indicate that you need to
charge the device. Even at red, I never noticed the mouse 'signal' degrading.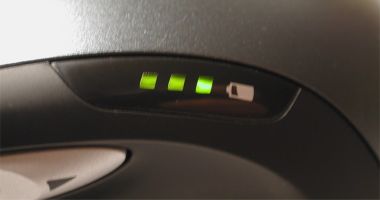 Everyday use with this mouse has been perfect for me. I have no complaints
whatsoever about it. It moves around easily on a mouse pad or any other flat
surface. I haven't any problems with lag or the cursor skipping around on the
screen like I did the Bluetooth products. This is probably due to the fact that
Logitech uses high speed wireless RF technology that allows this mouse to
function as fast as a wired USB mouse. Again, gamers will truly love this mouse!
The MX1000 really hypes the fact that it is a laser mouse instead of an
optical mouse. Personally, I'm not into the hype. Lasers are cool but in real
life, this mouse just works! Some may consider $80 a little expensive for a
mouse, but once you try this one, you'll never go back to your ratty old wired
rodent!
Price: $79.99
Pros:
Long battery life per charge (over a week)
Multiple scroll buttons
Battery status LEDs
Cons:
Expensive
Large
Product Information
Price:
79.99
Manufacturer:
Think Geek
Pros:

Long battery life per charge (over a week)
Multiple scroll buttons
Battery status LEDs

Cons: