We use affiliate links. If you buy something through the links on this page, we may earn a commission at no cost to you. Learn more.
I recently passed my four year anniversary with The Gadgeteer. During those years I have written over three hundred reviews, and I have purchased over fifteen PDAs, two Laptop computers, three desktop computers as well as countless other gadgets and accessories. I have made many trips to consumer trade shows, private press events, and enthusiast gatherings. The one thing that I have never come across, during the entire time that I have been writing about and traveling to tech related gatherings, has been a "gearbag" that I would carry everyday.
Granted, I have found some bags that were (and are) fabulous for trips and for those times when I want to carry everything but the kitchen sink. But for my day to day getting around and doing what I do, I just hadn't found one that did what I wanted and looked how I wanted it to look.
Now before anyone says anything, the answer is "Yes." Yes, I am aware that there are literally hundreds of smaller gear bags available. But no, I had not found one that I personally liked. I didn't want an over the shoulder Cordura or leather bag that shouted Geeky contents inside…even though there are. I didn't want a modified briefcase, messenger bag or sling thing. I wanted something fashionable, feminine, and luxe…and it had to have enough pockets and slots for the daily things I carry. Unfortunately, I wasn't having much luck.
In my attempt to find something that would work for my needs, every purse I bought had to have at least one pocket on the back wall that would serve for holding my PDA. I would also carry accessory pouches that would not only hold my lipstick and assorted pens, but that would also carry my loose memory cards and sync/charge cable. The addition of an Sony NW-HD1 digital music player to my daily gear meant that yet another item that had to rattle around in the bottom of my bag.
Those that know me well know that I like everything to have a place, and I don't like clutter – even though my desk sometimes doesn't relay that fact. If you have been watching my Gear Diary over the years, then you have likely noticed a succession of entries as I tried to find a purse that could function as a gear bag without looking like one. I had just about given up; not having "the bag" was really aggravating.
Back in August, I was talking to Sandy, a friend of mine, and she mentioned that she knew of a company that could make custom-made purses in exotic leathers. She already owned one, and had just placed an order for a different style. Since I have always loved alligator, but had never sprung for a bag made of that leather, I was intrigued. However, I was afraid that the bags might look too old, or be too shiny, or not really be what I had in mind at all. In fact, the only other alligator bag I had seen that I absolutely loved was an alligator Hermès Birkin. Price tag for a used one on eBay: over $16,000…!!!
As much as I liked the Birkin, and even if money had been no object, it still only has one large cavernous interior area with an open slash pocket on the front wall and a zippered pocket on the rear. The custom-made interior idea is what won me over, and caused me to take a hard look at the Alexandra Knight site.
The first item that I saw in the collection was actually a small alligator evening clutch, which put me off. Though pretty, it was not at all what I was looking for. As I clicked down the bag names listed on the left side of the screen, I finally came to the Taylor Tote, which happened to be the smallest of the three full alligator totes listed. To my eyes it was the most beautiful – even though it was shown in "viola glaze," which was
not really a color I could see myself carrying.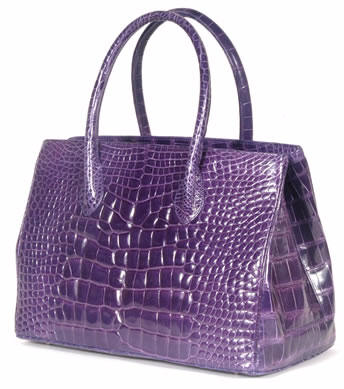 Photo courtesy of the Alexandra Knight website
Never miss one of our posts again. Sent MON, WED, and FRI with the latest gadget reviews and news!
Because Sandy had said Alexandra Knight would custom make the exterior in any color and design the interior for each client, I was already creating a laundry list of what I wanted and needed as I dashed off an email to see if it could be done. I loved the idea of a personalized bag made just for me. As if my input on the color and interior weren't enough, I had also been told that a sterling silver plaque would be placed in the bag's interior that stated my name along with the bag's birth date. I am such a sucker for touches like this…what can I say?
While waiting for a reply from a customer service representative, I perused the site. I saw the various mentions these bags had received in fashion magazines and I read about the designer, Alexandra Knight. A fellow Texan, Alexandra is a former fashion editor with Allure magazine. She was also an assistant stylist for Vogue and Vanity Fair and has worked with such famous photographers as Helmut Newton, Irving Penn and Annie Liebovitz. It is an understatement to say that Alexandra has fashion street credibility. I was impressed to read how she is bringing customization and individuality within the reach of non-celebrity clients like me.
I suppose that one of the things I like best about all of the bags on the website is that the skins are the focus. AK bags have no flashy logos, no
dramatic hardware and no outrageous styles. They are simply classic, timeless pieces that I can imagine carrying for a lifetime.
Soon, to my surprise, my email was answered by Alexandra Knight herself. Yes, the pockets I wanted could be done and my bag's interior could be lined in matching brown kidskin. But had I wanted it, I could have chosen matching or contrasting suede, kidskin or alligator. The bag's handles could even be shortened or lengthened to my specifications. We were in business, but for one small detail…the price.
Now before I go any further, I should tell you that I have been guilty of spending a lot of money on handbags in the past. I am not even going to attempt to add up the amount, but let's just say  that I have been collecting Louis Vuitton since I was 18 (I am 37 now) and had recently discovered Hermès. Even so, the price of the alligator Taylor Tote gave me pause. The fact that AK breaks the payment in two helped, but I still agonized over whether I should splurge or not for about a week. Julie was growing disgusted with me because I couldn't make up my mind over a silly bag, and Steve couldn't understand why I wasn't ordering it if it was what I really wanted. Through it all, Alexandra remained in contact with me, telling me that lizard was also an option, as was ostrich. But I knew that if I got anything other than the alligator that I really wanted, then I would be settling. For my dream daily gear bag, I didn't want to settle for anything.
So I finally wrote Alexandra back and placed my order…and she held my hand via email every step of the way.
After actually committing to getting the bag, the next step was to decide on the type (matte or shiny) and color of alligator skin that I wanted. I chose matte alligator in cognac, because I felt it would go with just about everything that I wear, without looking too fussy or too casual. AK will send out a skin swatch if you aren't comfortable going by the colors on the website, but I felt pretty confident with my choice. I decided on matching kidskin lining and chose matching stitching, though contrasting stitching is also available. One wall of the bag would have two deep well pockets and the other wall would have a large slash pocket as well as a deep zippered pocket. In the middle of the tote would be a large built-in zippered accessory pouch. Now all I had to do was wait…
About a month and a half later, I received a call saying that my bag was ready to ship. By this time I was on pins and needles. A couple of days later, I got my bag…
Opening the box was a treat in itself. Buried under the tissue paper was a soft white flannel sleeper bag embroidered with Alexandra Knight in brown. Undoing the large brown ribbon that kept the bag closed, my nose immediately perked to the sumptuous smell of the alligator inside. You have heard Julie and I go on and on about the smell that Vaja leather has in the past? Well, this smell literally blew it away. Pulling my bag out of its sleeper was almost a religious experience…which is saying a lot.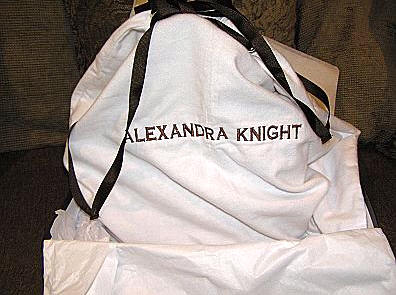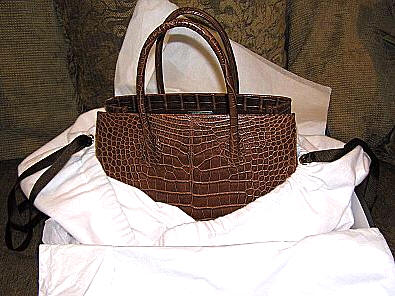 The picture on the right most accurately portrays the color of the matte cognac alligator
The Taylor Tote measures approximately 11.5″ wide by 8″ high by 6″ deep. It is not an overly large bag by any means, it is sized for every day use. The handles stand approximately 5″ above the tote, so while they aren't long enough to wear on the shoulder, they are perfect for carrying on my arm, or in my hand. Keep in mind that the straps could have been made longer had I wanted them to be, but this is what I preferred.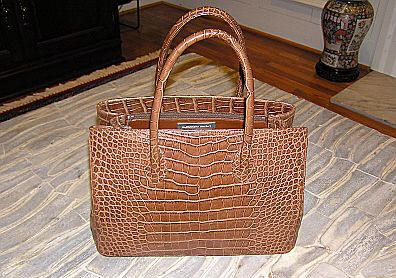 The flash slightly washed out the color of the alligator
The top 1.5″ of the interior is lined in alligator which meets the kidskin to form the rest of the lining. The walls are slightly stiff and have been
reinforced so that they will keep their shape and not sag as the pockets are used and as the bag ages.
The bottom of the bag has four conical pewter colored feet for protection.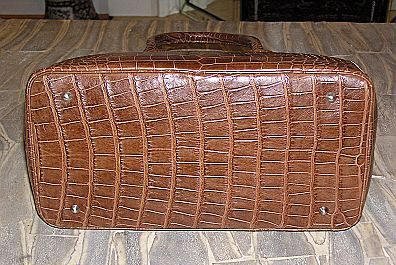 Bearing in mind that this was my custom interior and the next customer might need something completely different, I'll talk about what I ordered…
The back half of my bag has a deep open interior where I keep my wallet and other larger loose items. There is a handy large slash pocket suitable for holding my back-up PDA situated in front of an even deeper zippered pocket which is perfect for holding memory cards and other slim items I don't want to misplace. All of these pockets are lined in a matching grosgrain fabric. Above the slash pocket is an Alexandra Knight plaque in silver. This is the only branding located anywhere on the bag.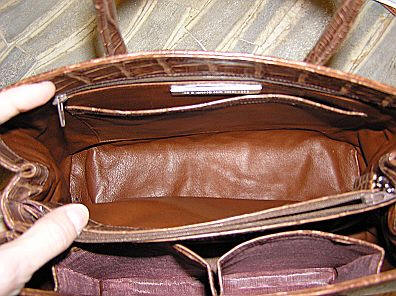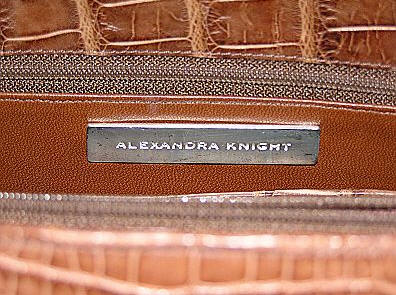 The front wall has the two deep open pockets where I store my iPAQ hx4700 and my NW-HD1. Both of
these pockets are lined in grosgrain. The Sony's pocket is deep enough that I have earphones, remote control and player all in the same tidy space. The iPAQ's pocket is deep and wide enough that once I finally get a case for it, everything will still fit beautifully. The top of the front wall has a sterling sliver plaque that reads Judie L. Hughes, August 29, 2004 in script. In front of the deep pockets is an open area perfect for a few small loose items like my BoxWave VersaCharger and sync/charge cable.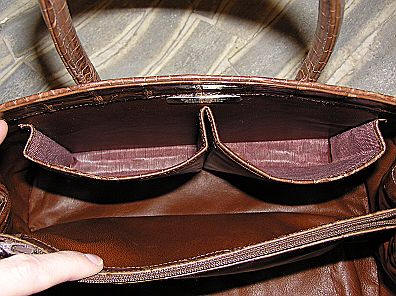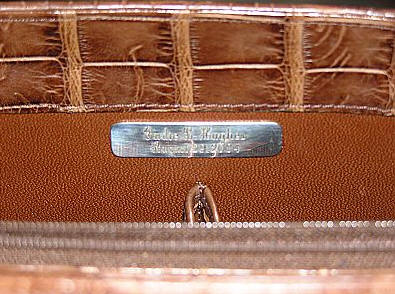 The middle section of my bag has a deep zippered pocket that divides the bag in two and manages to hold small loose items beautifully. This is where I keep pens, lipstick, and other assorted doo-dads. This pocket is also lined in grosgrain.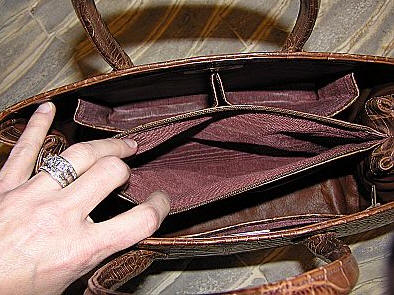 Granted, unless I get a OQO or a Sony U70, I won't be carrying a laptop in this bag…but guess what? I don't need to, either.
Here is what I carry in a typical day…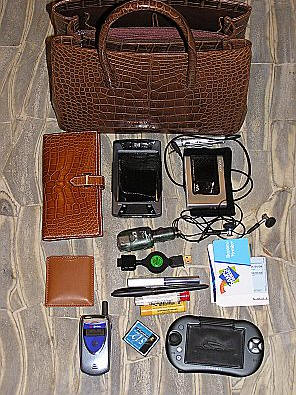 …and here is how it all fits neatly inside my bag.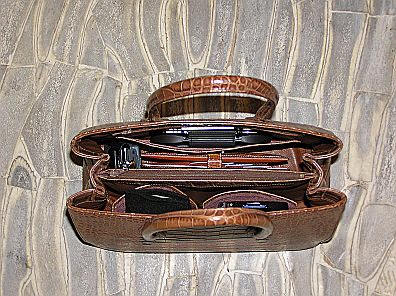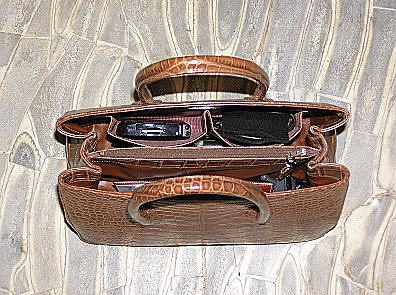 The Alexandra Knight Taylor Tote is my perfect daily gear bag, I just feel fortunate to have finally found it after all of these years. If you or someone
you love are in the same predicament, then you might want to take a look at the Alexandra Knight Collection. Now that it is getting close to Christmas, it might not be possible to get custom bags ordered and created in time, but Alexandra Knight does offer a gift service. To quote the site, "We provide an elegant gift wrapped box that holds photos and descriptions of the bags of your choice and alligator swatch samples along with a note explaining the collection and what the giver would like to express and give. We hold a credit card and then the order is confirmed with the giver before processing the order." What an ultimate gift for some lucky woman…
Price: $5500.00 as tested in alligator
Lizard available for $2400, and ostrich for $3200
Pros:
Custom made with interior to your specifications
Flawless construction and quality materials
Classic bag that will always be in style
Individual and luxurious
Looks (and smells) wonderful!
Cons:
Expensive, but worth every penny to me
Product Information
Price:
$5500.00
Manufacturer:
Alexandra Knight
Pros:

Custom made with interior to your specifications
Flawless construction and quality materials
Classic bag that will always be in style
Individual and luxurious
Looks (and smells) wonderful!

Cons:

Expensive, but worth every penny to me