We use affiliate links. If you buy something through the links on this page, we may earn a commission at no cost to you. Learn more.
It's funny how some forms of technology can be around for years before some
of us ever really notice them. Case in point: RSS feeds. Most of you have
probably heard of the term RSS before. Some of you are probably even using it.
This article is for that group of people that have heard of it, but never took
the time to understand what it is and why you might want to give it a try.
First things first. RSS stands for Really Simple Syndication.
This is a standard that has been around since 1996-97. In a nutshell, it's a way
to allow people to see the latest content from their favorite sites without
having to actually go to those sites to check to see if something new has been
posted since their last visit. Think of it as an AP newswire for your favorite
websites.
Using an RSS reader can save hard core surfers a heckuvalot of time. Instead
of wasting time visiting Gizmodo every
other hour to see if they've posted about some cool new widget, I can just let
the reader tell me when something new is there. I can then spend my time doing
more important things… like writing reviews ;o)
So what does a RSS feed look like, and how do you access one? First you will
need an RSS reader for your desired platform. They have reader applications for
Windows, Mac, Linux, Palm, Pocket PC, etc. The reader that I use is called
RssReader (clever huh?) for Windows XP.
It's freeware and very easy to use. All you have to do is look on your favorite
sites for a link that shows the URL for their RSS or XML feed. Once you have
that little bit of info, you paste it into your reader and you're all set. If
you take a look at the first image below, it shows the kind of information that
typically makes up a feed. Usually it is very basic info… a title, and a small
snippet of the associated article. With RssReader you can either launch a
browser window to read the whole article, or read it right inside the reader.



Click thumbnails to see full size images
Depending on the reader, there are features to have a notice popup whenever
one of your subscribed feeds has new info. This way, you never have to go
looking at a site to see if something new has been posted. The reader will alert
you every 30 – 60 minutes or so, depending on how you have it setup.
PDA users can also get in on the fun! There are several readers for both the
Pocket PC and Palm OS devices such as
PocketFeed for the Pocket PC and Hand/RSS
for Palm.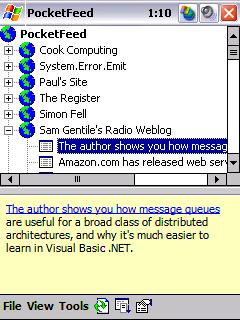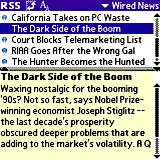 If you don't want to install yet another program on your computer, and don't
really care to have automatic notices every time new content appears on one of
your subscribed sites, one of the simplest ways to play around with RSS feeds is
with My Yahoo! or a RSS reader enabled
browser.
I love My Yahoo! It has been my homepage on both my home desktop PC and work
PC for as long as I can remember. Just this week Yahoo added RSS reading
capabilities. Check out the screen capture below.

Don't like Yahoo? No problem, there are web browsers with RSS reading
features. My new favorite browser is
FireFox. Besides being a
billion times better than IE, it will automatically detect if a site has an RSS
feed, and display a small box in the bottom right corner of the browser window.
Clicking on the box will give you the option to subscribe to that feed.



Click thumbnails to see full size images
Once you have subscribed to the feed, it makes a bookmark that looks like a
folder. When you click on it, you see the latest headlines for that site and can
go directly to them. Nifty huh?
Well, those are the down and dirty details about RSS feeds. I know I have
just skimmed the surface on this topic, but hope that this might make things a
bit clearer for those of you that have been wondering about this great way to
stay up to date with your favorite sites. Have fun and let me know if this
article has caused you to go out and give it a try.