We use affiliate links. If you buy something through the links on this page, we may earn a commission at no cost to you. Learn more.
Product Requirements:
A strong grip
I will start this review by stating that I hate having to buy single use
alkaline batteries for items around the house. For that reason, just about
everything that we own which requires power has a rechargeable battery and/or
can be plugged into an outlet.
Batteries are inconvenient. They are something that I always forget to buy at
the grocery store, and they always seem to die at the worst possible times.
Batteries are not good for the environment. As a single use item, they add to
land fills and the jury is out on what their true impact over time will be.
Rechargeable batteries are a great alternative, but there are times when even
they can be inconvenient. If you happen to be in a situation where there is no
available power source, and your rechargeable batteries have run down, then they
are just dead batteries and your item is useless.
Emergencies happen, and that is why I also like self-power generating items.
These self-power items rely on some form of hand cranking to build up a power
reserve, which enables the items to operate for a period of time without
batteries or electricity. Some of the available items I have seen include 

radios, cell phone
chargers, and flashlights.
Today, I am taking a look at the
Battery-Free Flashlight
offered by Gadget Brando.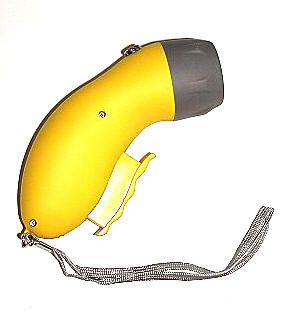 This flashlight, comprised of yellow and gray rubberized plastic, measures
approximately 6.5" long x 2.5" wide at the grip, and weighs just 5.2 ounces.
Because of its finish, the body is not slippery at all and it actually has
almost a velvety feel. There is an attached wrist lanyard so that it isn't
dropped. This flashlight resembles many others in form, except for the addition
of a hand press in the grip. The flashlight stores power generated  when
the grip is squeezed repeatedly. There is also a DC6V power adapter plug at the
bottom, but the adapter is not included with the light. It is really
unnecessary.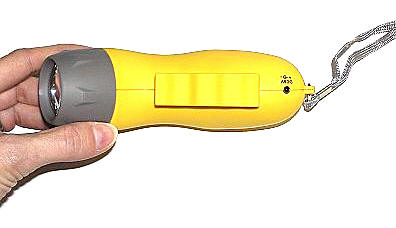 A silver button on the top either powers on or off the light, and the amount
of cranking determines the length of time the light will last. The good news is
that should the beam begin to wane, additional hand cranking is all that is
required to re-power the light.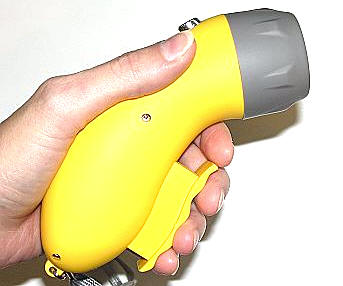 An added benefit to cranking the light is that you can actually improve your
hand's grip! 
The light generated is bright enough to properly illuminate the area ahead of
you when holding the light. While it is not a super-bright xenon light, the
single large LED light is quite brilliant.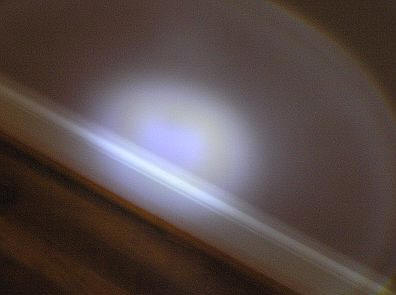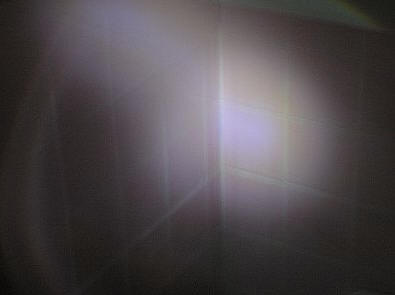 Un-retouched photos from a dark hallway and bathroom
According to Gadget Brando, hand cranking for 10 seconds will power the light
for 8 minutes. 30 seconds will generate power for 15 minutes and 60 seconds for
25 minutes. What goes unsaid is that the grip can be cranked while you are using
the light, so if at any time you need to give it a boost, it is simple to do so
while you are still holding and using the light.
According to the packaging, the service life of the illuminant is 10,000
hours. If you are like me and don't need a flashlight that often, 10,000
hours should translate to years worth of use.
After I post this review, the
Battery-Free Flashlight
is going in my Mini's glovebox. I think that it will be perfect if I ever need
an emergency light while on the road. Maybe I should get another to keep in the
house – for this price, there is no reason to even think twice!
The Battery-Free
Flashlight is available from Gadget
Brando.
Price: $15
Pros:
Rubberized plastic body is not slippery
Batteries are never needed
Long light from minimal hand cranking
Life of light is 10,000 hours = years of reliable use
Cons:
None
Product Information
Price:
15.0
Manufacturer:
Brando
Pros:

Rubberized plastic body is not slippery
Batteries are never needed
Long light from minimal hand cranking
Life of light is 10,000 hours = years of reliable use

Cons: