We use affiliate links. If you buy something through the links on this page, we may earn a commission at no cost to you. Learn more.
Product Requirements:
Device:
Mac OS X 10.1 or
higher and
Windows XP systems that support the Bluetooth v1.0 HID device profile
Not too long ago, I reviewed

Bluetake's BT500 Bluetooth mouse. While it worked pretty much flawlessly
with my Apple PowerBook, the short battery life left me wanting more. I actually
ended up going back to a regular wired mouse not too long after the review and
relegated the BT500 to my travel gear.
When I first saw the Mouse being advertised on the
MacMice site, I knew I had to try one out
mainly because it just looked so cool. When I saw that they were going to be
coming out with a Bluetooth version, I didn't waste any time sending a review
inquiry to the MacMice powers that be. A month or so later, FedEx dropped a
small box off at my day job. My friends gathered around to see what new geek toy
I had received. When I opened the box, I heard several ooohs and aaahs
(including my own) as I held up the Mouse BT. Since no one had a computer there
with built-in Bluetooth, I had to wait until I returned home to give it a try.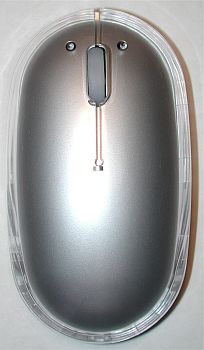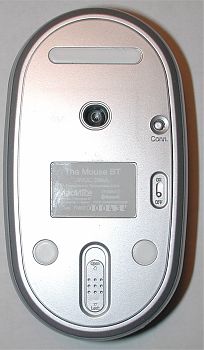 Included in the Packaging:
The Mouse BT
2 Toshiba AA Alkaline batteries
Instruction/Info sheet
Out of the box, this mouse feels very light. Almost too light. Installing the
included AA batteries makes a big difference and raises the weight to 4oz.
Installing the batteries is an easy task. A slide switch on the bottom of the
mouse enables you to remove the cover to reveal the battery compartment. After
you insert the batteries, the cover snaps back on relatively easily.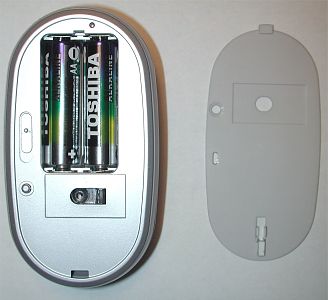 Besides the cover lock switch, the bottom of the mouse also has an On/Off
switch, Connect button and the optical eye.
Never miss one of our posts again. Sent MON, WED, and FRI with the latest gadget reviews and news!
The only computer that I have with built-in Bluetooth is my 15" Aluminum
PowerBook, so that is the machine that I tested the Mouse BT with. Pairing the
mouse with the PowerBook was simple as simple as sliding the power switch on the
bottom of the mouse to On, holding down the Conn button on the back of the mouse
for 10 seconds, and then opening the Bluetooth prefs on the PowerBook to
discover the new device. This whole process probably took less than 1 minute to
complete, so I was mousing around in no time.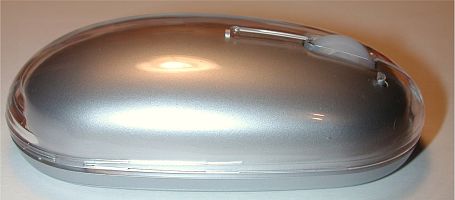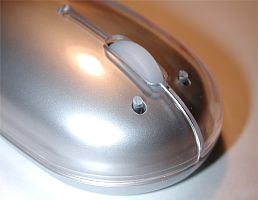 Construction of this input device is very similar to

Apple's own wireless mouse in that it also has a clear acrylic outer shell.
But, the similarities stop there as the BT has a scroll wheel, along with a left
and right mouse button. Apple's wireless mouse only has one button, and
no scroll wheel. The addition of the right button, allows for access to the
contextual menus normally accessed with a Control-Click.
The design of the clear outer shell is pretty clever. The shell sort of
floats on top of the actual body of the mouse. The two buttons are made from
splitting the shell in such a way that the button area flexes to press an actual
button under it. Both buttons have excellent tactile feedback and provide an
audible click when you press them. Although pressing the buttons is no different
than with any other mouse, I did find that the acrylic shell of the mouse would
move or pivot when I would click a button or move around on the screen. Users of
Apple's wireless mouse are probably used to this phenomenon, but it took awhile
for me to become acclimated with it.
I will say that I absolutely love the scroll wheel on this mouse. Besides the
fact that it glows red when you're moving the mouse, it is unlike any that I've
ever used. Instead of providing a bumpy or clicking sensation as you scroll with
your finger, it has a completely smooth/quiet action. The scroll wheel is also a
button, which allows the ability of using it as a select button in some
applications. Pressing it over a link in a browser will navigate to that link,
and pressing it on a button in the dock bar will launch the application.
Size-wise, the Mouse BT is a full size mouse that is comfortable to use. The
batteries make it weighty enough to get it a substantial feel and to provide
good traction on a flat work surface. I did notice on my review unit, that
something on the bottom of the mouse would cause a snagging sound as a would
move it around on a cloth style mouse pad.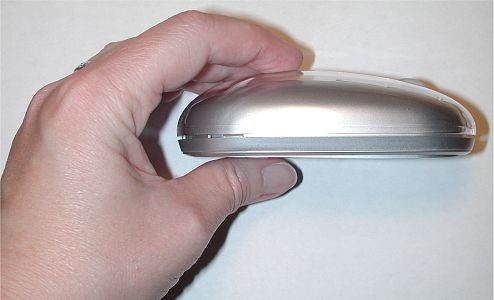 This mouse is available in White and Aluminum. Silly me, I thought the
aluminum version had a real aluminum body under the clear acrylic shell. Wrong.
It's all plastic. I even took it apart just to make sure…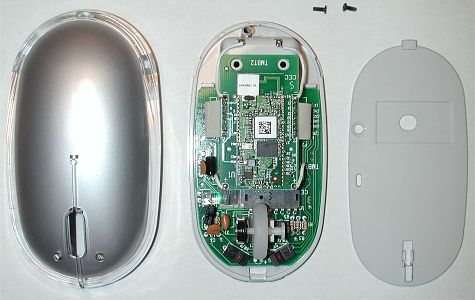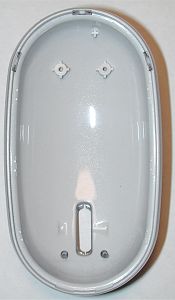 Even though this mouse isn't really aluminum, it is still very cool looking
and matches the aluminum PowerBooks perfectly.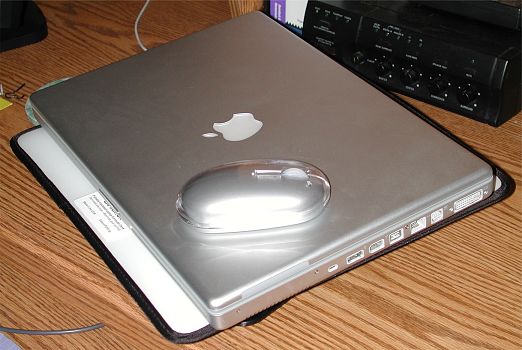 I do have a few gripes… In actual use, I found that my cursor would
sometimes skip around. I would find myself overshooting buttons and webpage
links quite often. Adjusting the tracking settings in the mouse preferences
seemed to help a little, but not totally. This behavior would occur on both flat
surfaces and mouse pads.
I also found that trying to wake up the PowerBook with this mouse after the
PowerBook goes into screensaver mode, takes several seconds. The Mouse BT seems
quite a bit slower at this than the Bluetake mouse.
It's too early to tell about battery life for this product as I've not had it
long enough to do any accurate testing. MacMice claims weeks of usage from one
set of AA Alkalines. We'll see. I really wish there was a recharging cradle that
I could 'park' the mouse in at night when I wasn't using it. Oh well, I guess
that's for the next version…
The MacMice Mouse BT is a very sharp looking input device which feels great
in hand. Although having no wires is a huge plus, they will need to remedy the
cursor skipping problem and make it rechargeable before it becomes my next fave
mouse.
Price: $69.99
Pros:
Great design
Plug and play
Smooth scroll wheel
Cons:
Cursor skips around
Not rechargeable
Slow wake up time
Product Information
Price:
69.99
Manufacturer:
MacMice
Pros:

Great design
Plug and play
Smooth scroll wheel

Cons:

Cursor skips around
Not rechargeable
Slow wake up time