We use affiliate links. If you buy something through the links on this page, we may earn a commission at no cost to you. Learn more.
9/17/04 See
updates in red below
The SCOTTeVEST line of technology enabled clothing sure has evolved from their first vest. Since then, they've created casual jackets, leather jackets, caps, neckties and even sport jackets. It is surprising to me that it has taken all this time for them to finally come out with a pair of pants. But, today is the day that they are announcing their new Hidden Cargo Pants. The term cargo may stir images of slouchy pants with large baggy pockets on either leg. Not so with this product. These pants are nice enough to wear into any office while still providing storage for your stuff and a comfy fit.
Available in sizes from 28/30 up to 40/36, these stone colored khakis are made of 100% cotton and have all the cool features that you've come to expect from SCOTTeVEST, including 11 pockets and their now famous PAN (Personal Area Network). Let's take a closer look…
The material that these pants are made of, has a quality weight to it. In my opinion they feel more expensive than standard khakis that you might buy from a Sears or JcPennys. The material will be Teflon coated, to prevent staining from spills. My sample pants did not have this coating, so I skipped the test I had planned to pour some Big Red on them. The Hidden Cargos are machine washable and do not require ironing.
These pants do not come in male and female versions, so they ride higher on the waist than what I prefer. That said, they are comfortable both standing and sitting.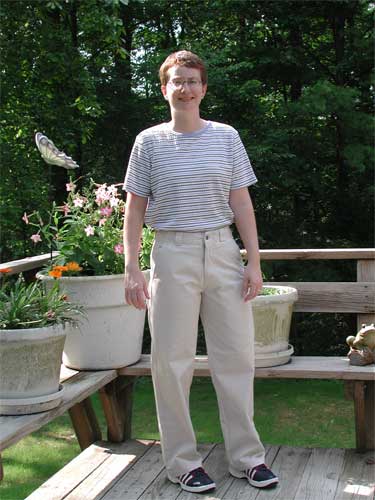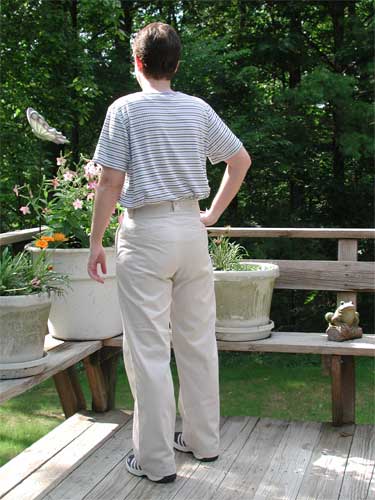 As you can see, they don't have any pleats down the front. Yay! In my opinion, pleats are evil! The legs have more of a bootcut than straight cut. Another plus.
Let's talk pockets… There are 14 pockets / compartments in the Hidden Cargo.
2 normal slash hand pockets
2 deep cargo pockets in front the slash pockets with the bottoms each separated into 2 additional pockets on each side
2 back pockets
1 pen pocket

1 small square pocket inside the waistband
1 zippered change pocket
Argh! I can't find the 14th pocket / compartment. Maybe I'm missing a pocket in this prototype pair. Since it is hard to photograph the pockets make sure you take a look at the info on the SeV site.
This product is called the Hidden Cargo because unlike most cargo pants, there are no big buttoned pockets on the sides of the legs. Instead, there are deep pockets that are situated in front of the slash hand pockets. When you put your hands in your pockets, they will automatically go into the regular slash pockets. To gain access to the cargo pocket area, you have to separate the magnetic 'clasp' that holds the opening closed.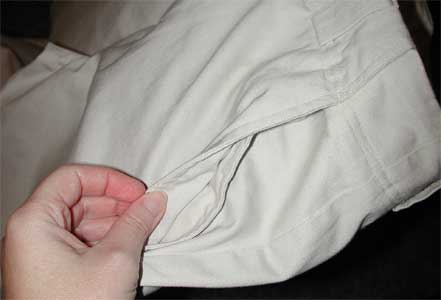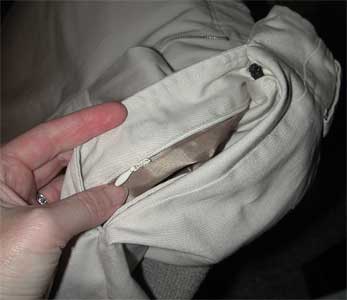 Left to right: Magnetic clasp holding cargo pocket area closed, hidden change zippered pocket
The pockets themselves are quite deep and the outside edge wraps to the outside of your thigh like a typical cargo pocket. In the lower left picture you will see the pants with empty pockets. On the right, I have an iPod in my right hidden cargo pocket, and an ink pen in the left pen pocket. I also have a handful of change and a couple folded bills in the zipped change pocket which is hidden in the opening of the left slash pocket.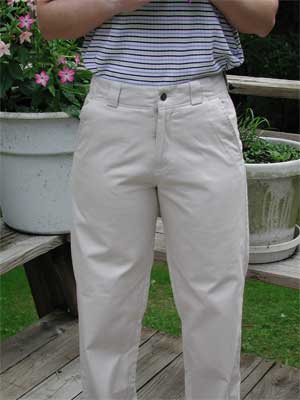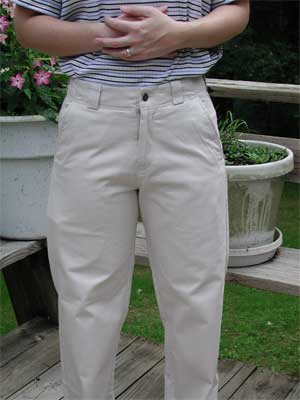 As you can see from in the picture below, the back pockets are lined with the same silky material that their limited edition leather jacket uses. It's too small to see, but there is a small slit near the top of the zipper on each side. This is where you can wire the PAN. It's kind of strange to think about wiring your pants, but if you want to route the headphone wires from your digital music player in the cargo pocket, you have the ability to do so.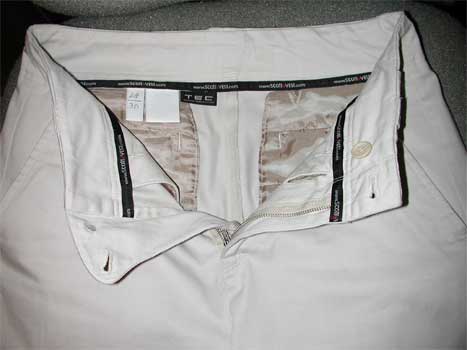 My first small gripe about these pants is with the zipper. As you can see from the picture above, there is a black strip of material that runs along the waistband. This material has the SCOTTeVEST logo on it. The problem is that the material keeps one side of the zipper from zipping completely. See below: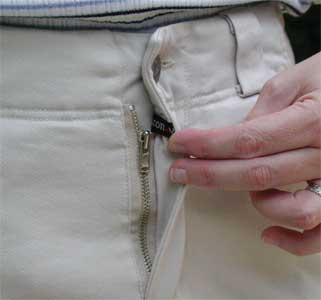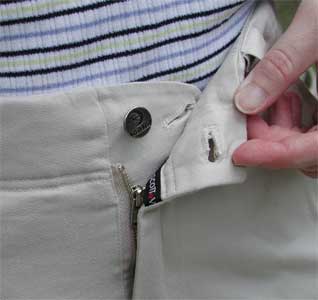 I'm hoping this won't be an issue in the production version of these pants.
You might notice that in addition to a metal button, there's a 2nd button in the waist line. I'm not sure what the point of the 2nd button is, but I can live with it.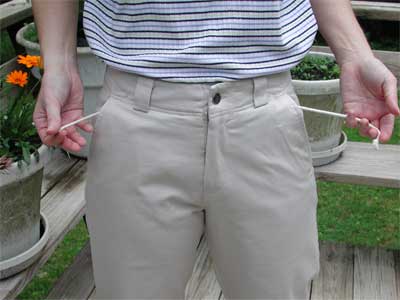 What's with the strings in the pockets? You can actually pull the waist tighter if you suddenly lose weight ;o)
The back pockets are deep and have the same magnetic clasps at the top. Although I don't carry a wallet in my back pocket, you can see what it looks like to do so. The magnets might be an issue if you carry credit cards (who doesn't?) in your wallet. You will also notice the wide belt loops and the only SeV logo that is visible while you are wearing the pants.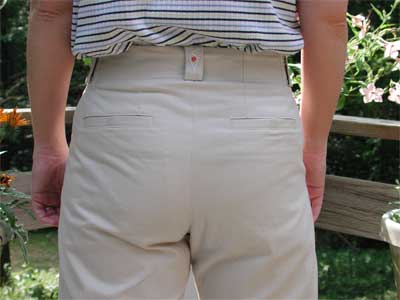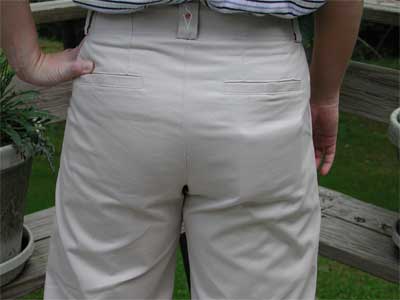 No butt comments please ;o)

As far as design, the only other gripe about these pants that I found was that the pockets gapped open when I would sit down.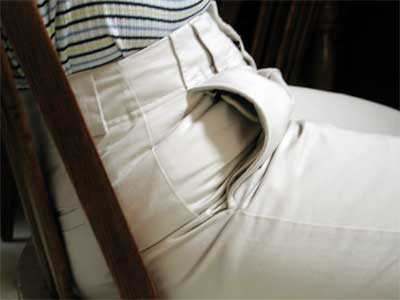 I like the overall design of these pants. Of course I am hopeful that they will make a more feminine version at some point… But even if they don't, they seem to fit me pretty well. More colors would be a plus as well. I can see khaki green, black and navy becoming popular.
At this point I should mention that priced at $90 (pre-order) these pants are not definitely cheap. Regardless of price though, I predict that the SCOTTeVEST Hidden Cargos will quickly become a favorite with geeks everywhere. They offer a more stylish way to carry your extra gear with you, without looking frumpy or dumpy. They are also great for traveling around as pickpockets will hate them!
SCOTTeVEST sent me the final version of their Hidden
Cargo pants. There are only 3 main differences between this new pair and the
pre-production pants that I used for the review.
Change #1: The zipper issue has been fixed. Now both
ends of the chain are of the same length which looks much better.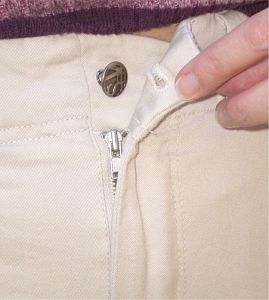 Change #2: An additional pocket has been added inside
the waist band. This might make an ideal storage location for folded currency.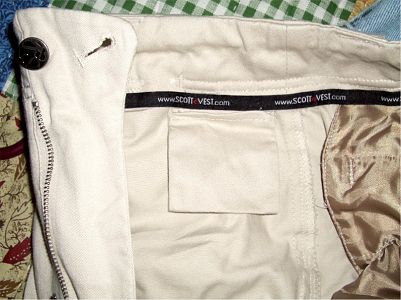 Change #3: The pants now have a Teflon coating that
will help protect the material from spills. This coating does not seem to have
made a difference with the feel of the material as far as I can tell though.
Price: $129.00 ($89.99 Pre-order special)
Pros:

Quality khakis
11 pockets

Teflon coated
Cons:

Price
Zipper doesn't zip up completely
Product Information
Price:
129.0
Manufacturer:
SCOTTeVEST
Pros:

Quality khakis
11 pockets
Teflon coated

Cons:

Price
Zipper doesn't zip up completely