We use affiliate links. If you buy something through the links on this page, we may earn a commission at no cost to you. Learn more.
Product Requirements:
Device:
PC with USB 1.1 or 2.0 and Windows 98 or
better
Hardware Specs:
Display: 2" diagonal Monochrome LCD with Blue EL Backlight


Dimensions (WxDxH):
2.7" x 0.86" x 4.1"
Battery: 1450 mAh Li-ion Polymer (rated at 12 hours continuous
play)
Weight: 7.6 oz.
Freq. Response: 24 Hz – 20 kHz
I've used several flash-based MP3 players over the last
year or so, including a Rio Cali 128mb, a Memorex Metro 256mb, and my various
Palms (currently a Tungsten T3) with the Real One MP3 player.  Excluding the
Palm, the flash based players had their advantages such as small size,
replaceable batteries and ease of use.  However, they were strangled by the
number-one disadvantage of all flash players, a miniscule amount of memory. 
For this reason I decided to move on to a hard-drive based
player, and was initially dead-set on an iPod.  What changed my mind?  That's a
question this review will answer. Bear in mind though, that this review is not
intended to be a comparison between the iPod and the Dell DJ.  I have not used
an iPod extensively, nor do I claim to be an expert on the iPod in any way. 
With that said, I still feel I made an informed decision in
my purchase of the DJ over the iPod.  The shopping process began about two
months ago when I decided I needed (wanted) an HD based MP3 player.  So I got in
the car, drove to Target (Best Buy and other super stores are 25 minutes away,
and I was feeling lazy) with every intent of buying an iPod.  However, to my
chagrin, they were out of the 15GB model I had planned on purchasing.  So I
loaded myself back in the car and drove home, disappointed. 
Wallowing in self-pity, I began doing some research
online.  It was at this point that I discovered that the iPod didn't play
WMA-formatted music.  I suppose this didn't really surprise me, but I just
hadn't given any thought to the probability that a Mac product wouldn't support
a Windows-based encoding.  This was strike one for the iPod.  After all, about
80% of my music library was already ripped to WMA.  Additional research then
yielded other idiosyncrasies that swayed me even further from the iPod.  The
fact that there were no dedicated volume controls, for example, also irked me a
little (though I'm sure the iPod controls are very intuitive, just not my cup of
tea).
It was at this point that I remembered those quirky and
mildly annoying Dell radio ads for their new Dell DJ, a HD-based player that
boasted nearly double the battery life of iPod.  I quickly found that this
player sported dedicated volume controls, WMA support, a slick blue backlight,
and more!  I quickly added a 15GB DJ to my cart and checked out.  However, three
days later I received an e-mail telling me the 15GB model was back-ordered and I
shouldn't expect it to arrive for three weeks.  To make a long story short(er),
I cancelled the order, and was holding a 20GB refurb DJ in my hands three days
later.
Since it was a refurb it didn't have glittery packaging,
though from what I've read online, the brand-new units also come in a humble
cardboard box; nothing as flashy as the iPod's slick packaging with dancing
silhouettes.  Included in the package was: 
20GB Dell DJ
Dell-branded ear buds
USB 2.0 Sync cable
User Guide
Dell CD with the driver, Music Match Software and Dell
Jukebox File Manager
Slip Case
Inline Remote Control
AC Charger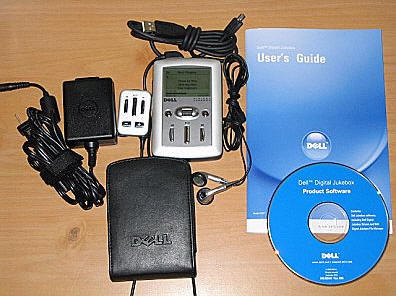 The top of the DJ features a hold slider, the USB port, the
remote and headphone ports, and the microphone for recording voice memos.  The
left side from top down features the power button, volume up and down controls,
the voice memo button, and at the very bottom a reset button that must be
accessed by paper clip.  The right side of the DJ simply houses the A/C recharge
port.  The controls on the front of the unit feature a barrel scroller to browse
up and down through track lists or menu options.  To select a track or function,
you simply press the barrel down.  Doing so produces a satisfying 'click',
assuring you your selection is made.  To the left of the barrel is a "back"
button and to its right is the Home menu button.  Beneath the barrel are the
typical rewind, play/pause and fast forward buttons.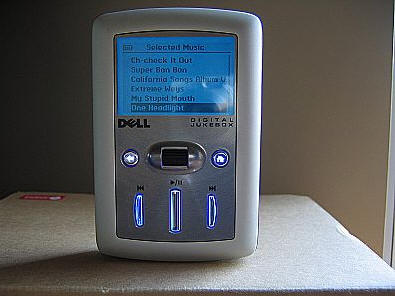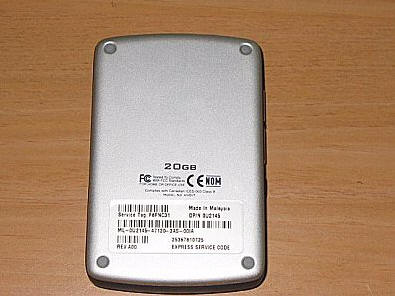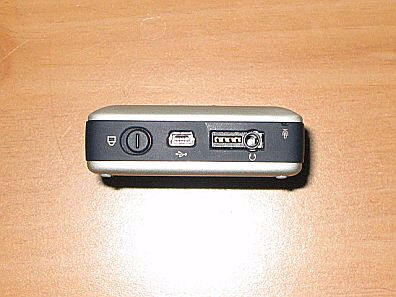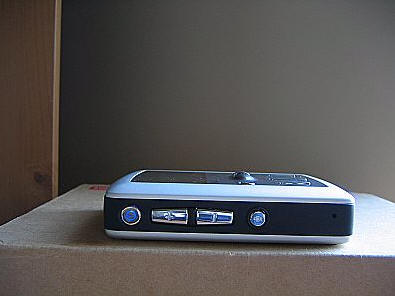 The unit itself feels very solid, probably aided by the
fact that it's a fairly heavy unit.  That's not to say it's a brick, but it's
noticeably heavier than an iPod.  The case is free of any creeks or squeaks when
applying the patented Gadgeteer creak test. Quite honestly, the DJ feels like
you could punt it 50 yards and it wouldn't skip a beat. 
After charging the unit for the requisite 6 hours, loading
the driver for the Dell DJ, and transferring a few albums using Windows Media
Player I was up and running.  Sadly, XP won't recognize the DJ as an external
drive without the driver being installed.  This somewhat limits its use as an
external storage device.  However, I was pleased with the fact that Windows
Media Player recognized the DJ immediately and there were no hiccups in
transferring music using this program.
The bundled music management software, Music Match, is not
nearly as robust or intuitive as others I've used, such as iTunes or even the
new Napster.  However, there is a third party app called Dudebox Explorer
(www.redchairsoftware.com) that fills in some of the holes left by Music Match. 
The downside is that you have to shell out $25 for the Dudebox software.  In my
opinion, this is money well spent.  With Dudebox, creating play lists, adding or
deleting tracks and other routine tasks are much simpler and faster.  However, I
still find that I use Windows Media Player to load the majority of my music
since it's the program I use to rip my CD's.  The overall setup procedure was
fairly simple, with the exception of my frustrations with Music Match.
Once my music and play lists were loaded, I was off and
ready to go.  My DJ and I were ready to take on my various chores for the day. 
I kept the DJ in the cargo pocket on the leg of my shorts.  This meant it would
be occasionally bumped against a cabinet or into a wall.  Through all this the
music never skipped.  Playback quality is above average, especially compared to
the various flash-based players I've used before.  The sound is crisp, not
hollow or muddied in any way.  I used my DJ for about 5 hours that afternoon,
and I still showed all three bars on the battery meter.  As a battery test I set
the DJ to play All Tracks and left it playing in the morning.  Upon my return 12
hours later it was still going strong.  It continued until just over the 13.5
hour mark!  Needless to say, I've been very pleased with the battery life.
Navigating around the DJ's menus is straightforward, with a
few quirks.  It has very plainly been modeled after the iPod's menu system, but
the folks at Dell didn't get it quite right.  I've used friends' iPods and found
them to be a bit more intuitive than the DJ.  For example, after scrolling to a
desired track on the DJ, you have to press the barrel scroller down once to
activate a Track Menu, then press it again to actually play the track.  Sure
this is a small thing, but it's annoying each time you go to play a certain
track.
Early reviews of the DJ stated that it did not have an
option to "Play All Tracks".  In early revisions of the firmware this was true. 
However, DJ's that ship from Dell now have updated firmware that addresses this
issue.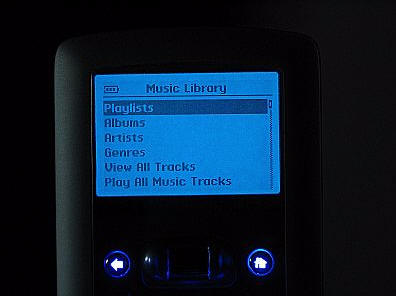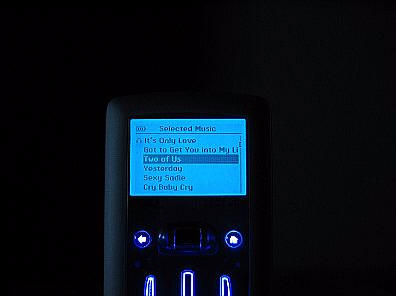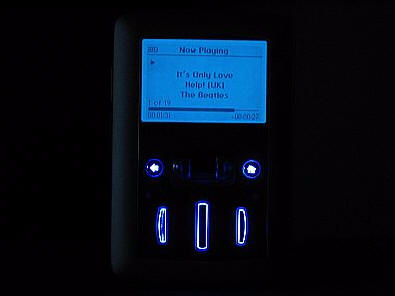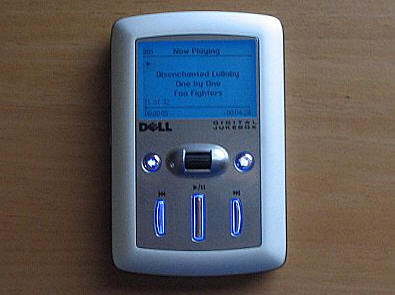 The included voice recorder is a good idea, though its
implementation isn't great.  First, there is a noticeable lag from the time that
you press the voice memo button to the time that it begins recording.  Second,
since the DJ has no internal speaker, you must have headphones on to hear the
memos.  This cuts down on the convenience factor. 
The slip case that comes with the unit is decent and useful
to attach your DJ to a belt or waistline when a pocket isn't available. 
However, it prevents access to any of the controls except for the power button. 
This is useless, though, since you have to hold the power button until the
"Shutting Down" message is displayed on-screen before you can release it, so you
have to remove the DJ from the slip case to power it down anyway.  The market
for cases and other accessories isn't nearly as extensive as what's available
for the iPods, but hopefully this will change with time.   In the meantime, only
a handful of cases are available from Belkin for the DJ.
The 20GB model includes an inline remote that is great for
times when the DJ's in a pocket or in the slip case.  It has buttons for rewind,
play/pause, fast forward and two buttons to control the volume.  It also has a
hold slider on the top that you can engage to prevent accidental button
presses.  The remote itself does feel a little flimsy, but I have to say it's
held up so far under a fair amount of abuse. 
One nice feature of the DJ, one it shares with the 4th
Generation iPods, is the ability to charge it through its USB connection.  This
eliminates a cable from the desktop and allows you to charge from a laptop while
on the road. 
Overall the DJ is a solid performer with above average
sound quality, exceptional battery life, a solid case and a workable design.  I
recommend it for those who want WMA support in their HD-based MP3 player, or who
want to save a little cash over an iPod.  With that said, the iPod is definitely
more svelte and has a better accessory market. 
Price: $199 for 15GB model, $279 for 20GB model,
though Dell usually offers discounts on the 20GB model
Pros:
Great Battery Life
Solid Case Design
Bargain Price
USB 2.0 interface and USB battery charging
Cons:
Bulky (relatively)
Bundled music management software difficult to use
Limited 3rd-party accessory market
Not recognized as external drive without driver (limits use as external hard
drive)
Product Information
Price:
199.0
Manufacturer:
Dell
Pros:

Great Battery Life
Solid Case Design
Bargain Price
USB 2.0 interface and USB battery charging

Cons:

Bulky (relatively)
Bundled music management software difficult to use
Limited 3rd-party accessory market
Not recognized as external drive without driver (limits use as external hard
drive)