We use affiliate links. If you buy something through the links on this page, we may earn a commission at no cost to you. Learn more.
Product Requirements:
A huge collection of CDs that
need organizing
During the last couple of weeks I have been ripping my CD collection in my
spare time. The idea is that I will place all of my music on an external hard
drive so that I will then have a permanent and safe location for my collection.
Of course, the side benefit will be that I can also selectively download albums
to the MP3 players that I am in the process of reviewing. Just to give you an
idea of the task at hand: I have been buying CDs since 1986. Over the years I
have purchased CDs in stores and from the internet, and like many people, I have
joined

BMG and Columbia
House more times than I care to admit. If you figure a minimum of 25
CDs a year for 16 years, then you'll get an idea of the numbers I am dealing
with. Add to that the fact that I married a guy with just as many CDs in his
collection, and you can see that ripping all of the CDs will be no easy
task.
One side benefit of going through our combined collection is that we can
finally purge our duplicates and trim down the collection, keeping only
those CDs that "matter," and finally – after all of these years – free up some
storage room! Woo Hoo!
So guess where the CDs that survive the cut will go? Straight into the
Slappa
360 Pro.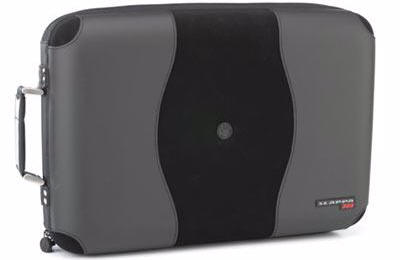 Photo courtesy of Slappa
Perhaps you'll recall that not long ago I favorably reviewed several Slappa
multimedia storage products.
Since that time, Slappa has come out with what may be the ultimate case
for anyone that needs maximum portable CD storage. Measuring a whopping 18.5"
tall x 13" wide x 4.75" thick and weighing 4.1 pounds empty, the 360 Pro is a
beast – it looks like a small suitcase. As the
name implies, this case can hold up to 360 CDs. Or it can store up to180
CDs with their booklets.
The Slappa 360 Pro is loaded with 180 of their fabulous d2 pockets. For those
of you that may have missed my last Slappa review, allow me to quote myself, "Instead
of being heat glued together with the center cloth secured only on the bottom,
these pockets are sewn together with the cloth secured on all three sides. Right
there, Slappa has surpassed much of their competition. This is apparent even
before noticing the quality of the materials used. The translucent flexible
plastic fronting each sleeve is noticeably thicker than the plastic used in any
of my other cases. The textured cloth used to section the pockets is also much
thicker and nicer than that of the others I own.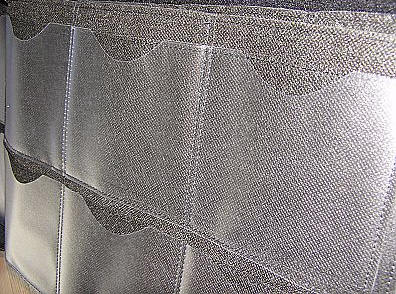 "The way Slappa has designed their pockets gives the user options regarding how
many CDs the case will actually store. One can place the disk's booklet in the
front portion of the pocket, displaying its art through the translucent plastic,
with the CD kept in the rear portion. If a maximum number of disks need to be
stored, then the user can forgo the booklet and safely place a CDs in each
pocket. Granted, only the front CD will be easily identifiable. But if a CD by
the same artist is stored behind the displayed version, there should not be too
much confusion."
I can't praise these pockets highly enough! They
are soft on your CDs, yet built to take daily abuse.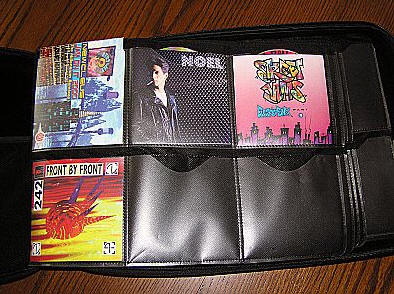 As with the other Slappa products, the body of
the 360 Pro is comprised of a molded "Hard Body Shell" that while rigid, still
allows some "give". What might otherwise have been a monotonous black shell is
broken with a splash of texture in the form of a black Z-suede insert. There is
a substantial handle on the spine, or top end, which has a plastic insert for
one of the two labels included with the case.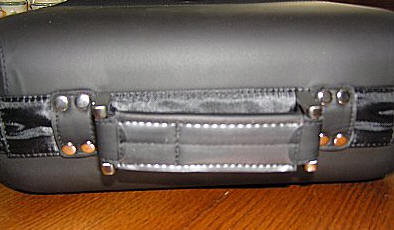 An industrial strength zipper surrounds the
majority of the 360, worked by two rubber injected zipper pulls.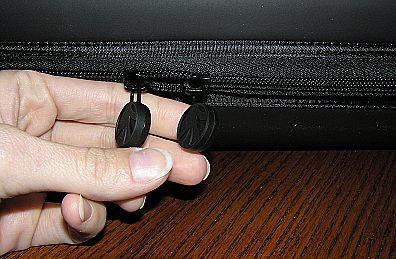 The position of the zipper allows the case to be
opened completely flat like a book.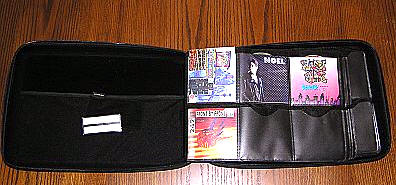 Inside, there is a mesh pocket against the inside wall – perfect for holding
small odds and ends, as well as the included soft 5.5" x 2.75" fleece dust
cloth. There are also two included 16.25" x 14.25" drawstring bags
(unlike the one that comes with their other products). These soft pouches
are handy as shoe bags when you are traveling, or for keeping "stuff" separated
in the trunk of your car.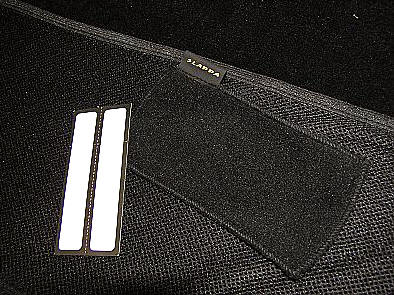 All of the 360 Pro's individual components come together to make what I
believe to be the best large-sized, yet still portable, CD case
available. The 360 Pro would be perfect for DJs, college students, people in the
military, or people like Steve and me that need safe storage for a large number
of CDs without tying up all of the space CDs in their jewel cases would
typically need. If you are in the market for a large portable quality CD
case, then you can't go wrong with a Slappa. They build them right!
Price: $59.99
Pros:
Inexpensive
Rugged Design
Quality materials and craftsmanship
Best CD Pockets on the market
Cons:
None
Product Information
Price:
59.99
Manufacturer:
SLAPPA
Pros:

Inexpensive
Rugged Design
Quality materials and craftsmanship
Best CD Pockets on the market

Cons: