We use affiliate links. If you buy something through the links on this page, we may earn a commission at no cost to you. Learn more.
As many of you know, I live in West Texas – where the sun shines brighter and
the summer days are hotter than flowing lava. I have been reminded by my mother
for about as long as I can remember, to put on a hat when I was going to be
outdoors for any length of time. Therefore, it should come as no surprise that I
have been wearing ball caps since I was a child. Through trial and error over
the years, I have learned which types of caps suit me and which styles make me
look like a total dork. I know what materials will make my head bake, and I know
which bands will leave me with irreparable "hat-head." I take pride in getting
just the right face-framing curl to my brim, and no matter what they are wearing
in Hollywood – I would never be caught dead in a trucker's hat.
With summer in full swing, I was quite interested when I saw that
SCOTTeVEST has added a
TEC Hat to their
clothing line. This low-slung ball cap features hidden pockets for stowing gear,
just like their marvelous line of jackets. SCOTTeVEST bills this as "The
Greatest Ball Cap Ever!" Is it?
Let's take a look…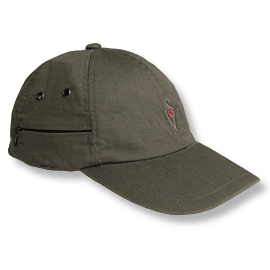 X-Ray photo courtesy of SCOTTeVEST website
The Tec Hat is available in gray, blue, hunter green, stone, gold and brick
red. I was sent two hats – the stone and hunter green.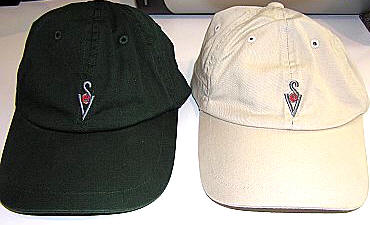 Composed of cotton and lined in
Coolmax, the TEC Hat has many features that I like to see in a cap. For
starters, the cushy inner band is plenty wide and covered in Coolmax – as is the
entire interior of the cap.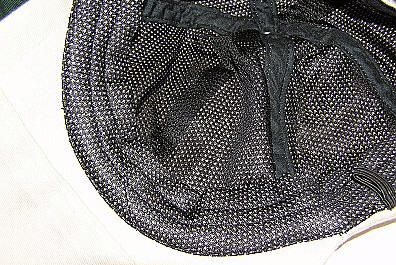 The soft cotton fabric comprising the body is the type that wears well and
looks vintage from the get-go, and it will get even softer as time goes by.
There is an embroidered SeV logo on the front and an embroidered TEC logo on the
rear. I know that many of you don't like logos on your SCOTTeVEST products, but
come on, what ball cap doesn't have a logo? By any standard, these are discrete
and I think they look appropriate.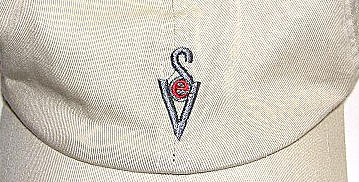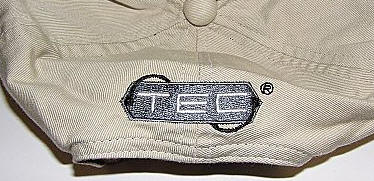 The size adjuster on the back is leather instead of plastic or cloth and it
fastens with an aged brass grabber with the excess sliding into a brass lined
keeper.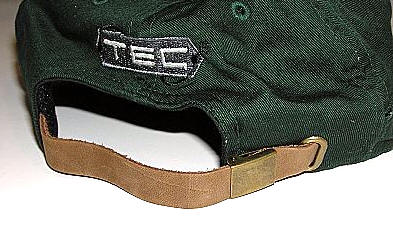 There are also strategically placed vents to help keep your head cool.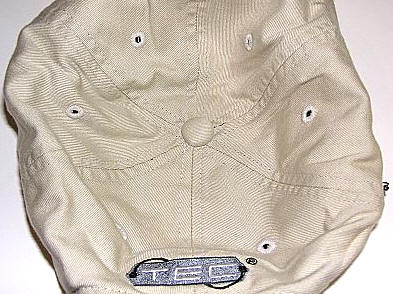 Of course, the TEC Hat has several secret pockets – otherwise it would not be
worthy of the SCOTTeVEST designation, much less a Gadgeteer review. Included are
a zippered pocket on the right side panel which can hold a couple of credit
cards…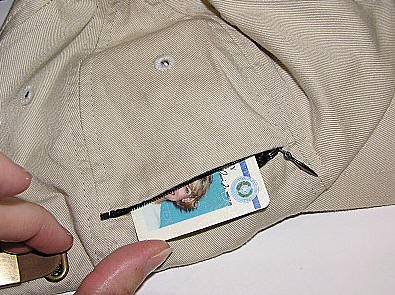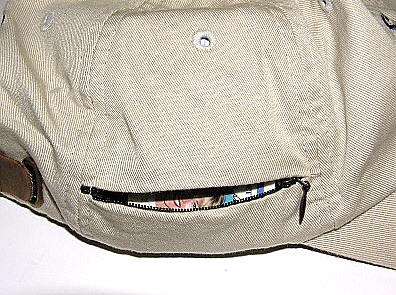 It's a slightly tight fit, but you can keep an ID or credit
card in the zippered pocket
…and a Velcro-secured slash pocket built into the brim which is good for a
couple of very small flat items, such as keys or bills. Actually – scratch the
keys because they cause the brim to flatten out and the Velcro doesn't want to
shut properly. Keys might best be kept in the zippered pocket.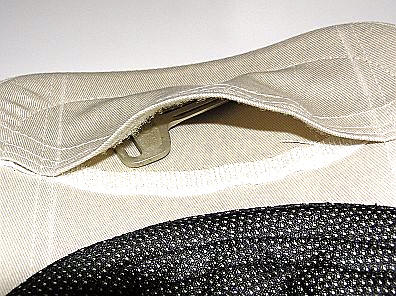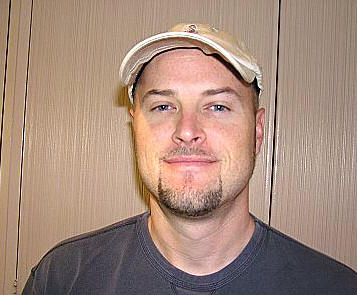 Note how the key lays across the brim's curl causing it to
flatten, and note the uneven Velcro when Steve wore the hat after the Velcro had
been disturbed.
In addition, there are stretchy elastic loops on either side of the cap which
are made to secure earbuds.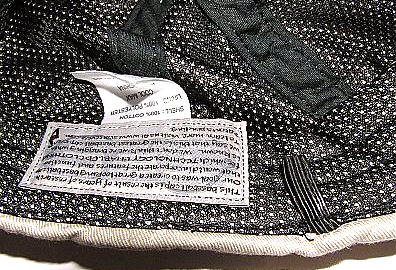 When you add up all of the components of the Tec Hat, it should be a
no-brainer that this hat could be far-superior to any other ball cap on the
market today…but it isn't, and here is why.
Right away, when I unpacked my caps I noticed that they were slightly
different than the X-Ray photo on the site, which I have posted above. Instead
of two metal grommet vents above the zippered pocket, my caps had stitched vents
placed one per six-panel. This would be a non-issue, except that when coupled
with the fact that my zippered pocket was nowhere near as spacious as the X-Ray
pocket that was pictured, I started to think that I was dealing with two very
similar yet very different hats.
Once I placed the green cap on my head, I was disappointed to realize that
its dome was way too small and way too tight – it fit me like a beanie,
literally a skull-cap. I was also surprised that the leather adjuster on the
back had to be let out more than usual. Now before you get it in your mind that
I have some Neanderthal sized cranium, I measured its circumference at 22.75".
Just for comparison's sake, Steve's is 23". As you can see I have hair, but
Steve wears his very closely cropped.
The crown of the hat literally lies on my head – fitting like a glove with no
space or slack whatsoever…which is not the look I generally aim for when
wearing a ball cap. It also feels like it is perched on my skull. It does not
feel secure – even though the strap is tightened to fit my head. A good gust of
wind would blow this hat right off my head, and I would never consider riding my
4-wheeler or being on a boat while wearing this cap. Can you imagine if my ID
was in the zippered pocket and the hat blew off while I was at the lake? No
thanks.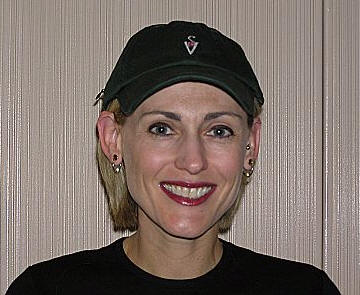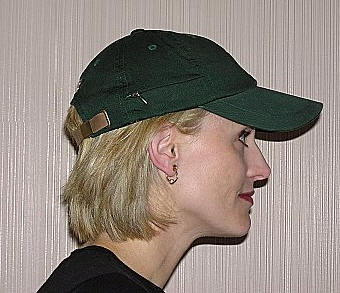 Note how the TEC Hat is perched on top of my head and looks
too small. You can't really see it, but maybe you can tell – it is laying on my
scalp like a skull-cap.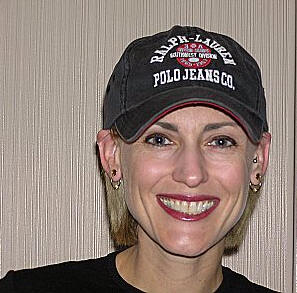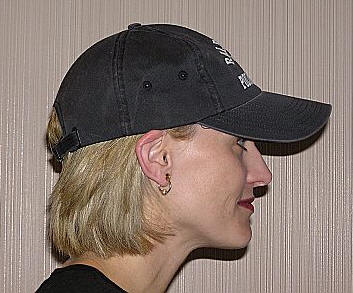 One of my typical ball caps – Note how the hat fits my head
and doesn't look like a "beanie."
Steve had to let the stone cap out even more – which not only caused the rear
sizing gap to look slightly freakish, but also caused the cap to lay even
flatter than it already did. Once again – the effect was that of a skull cap –
but in Steve's case, it was even worse as the hat barely covered the sides of
his skull.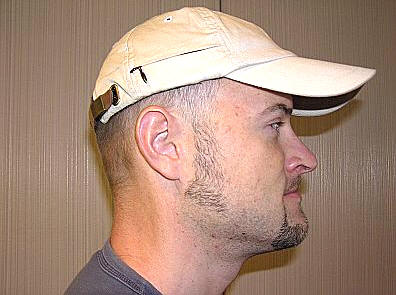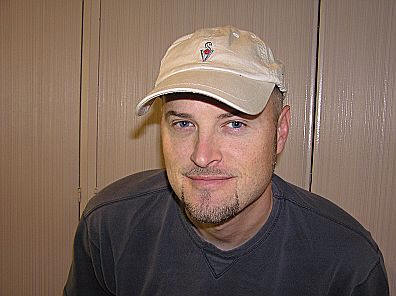 Note how much space is between the top of Steve's ear and the
TEC Hat – also note how there is nothing left to the strap to tuck in the
keeper. Note how the fabric is also buckling on the side of his head.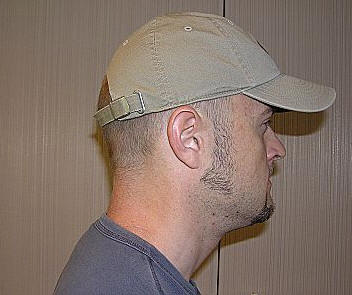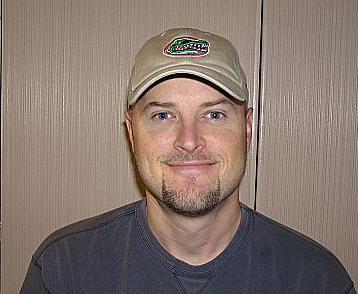 This is one of Steve's typical low-profile ball caps. 
Note how much closer it sits to his ear and how smoothly the side of the cap
lays against his head.
What happened here? If I had only received one hat or even two of the same
color, I might have believed that they were victims of a bad batch. However, I
have two and they are different colors, leading me to believe that all of the
TEC Hats must fit this way.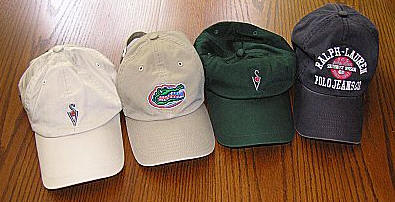 For comparison, here are all of the caps laid out
side-by-side. It's hard to capture, but there is definitely a size difference
between the TEC Hats and our ball caps.
I did find a member of my family that the hat fit correctly and actually
looked very good upon – my 14 year old daughter, Sarah. Her head measures 21.5",
and as you can see the hat looks great and fits her teen-sized head perfectly.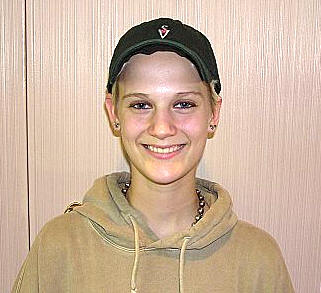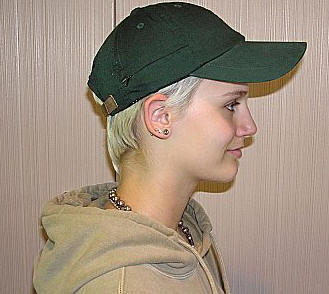 While the hat fits perfectly, do note the buckling from the
Velcro strip under the brim.
In any case, if you have a very small head or you are a teen, then this hat
should fit and you will be the proud owner of a truly innovative ball cap. If
you have a medium to large sized head, then you had better pass. Even though the
hat's features are many and the construction can't otherwise be faulted, you
will look like a total dweeb in the TEC Hat's current incarnation. Perhaps
SCOTTeVEST could offer this size for those under 22", and a different hat for
22" and up?
"The Greatest Ball Cap Ever!ô"?
Not quite. But if SCOTTeVEST would make it fit properly, then it could be.
Price: $29.99 (on special for $19.99)
Pros:
Hidden pockets
Quality materials
Innovative design
Cons:
Fits like a small, tight skull-cap
Sized more like a child's or teen's cap
Product Information
Price:
29.99
Manufacturer:
SCOTTeVEST
Pros:

Hidden pockets
Quality materials
Innovative design

Cons:

Fits like a small, tight skull-cap
Sized more like a child's or teen's cap