We use affiliate links. If you buy something through the links on this page, we may earn a commission at no cost to you. Learn more.
This is how my winter mornings usually seem to go, and I would be willing to bet
bet that yours are somewhat similar:  The alarm goes off way too early and
I have to climb out of my supremely warm and cozy bed. As my feet hit the cold
hardwood floor and the icy bedroom air assaults me, I shiver knowing what is
waiting as I enter the tile lined bathroom. Never mind that the central heat is
cranking out at a steady 68º, it might as well be
68 below. As I disrobe, I turn the hot water on full blast and hope that the
steam will help the room reach an acceptable temperature. After defrosting in
the shower and enjoying the attention of the massaging showerhead's blisteringly
hot water on the back of my neck and shoulders – I dread what is coming next:
the transition from hot shower to frigid bathroom. Even though I have
positioned my towel for easy access, it does little to warm me as I brave the
artic confines of my bathroom. The vent above the bathroom door might as well be
blowing refrigerated air, it is that ineffective. Shivering and chattering, I
hastily dry off and get dressed. It is only once I am fully clothed that I can
finally relax…more or less ready to face another day. This is how it goes from
late fall, through the winter and into early spring – yes, even here in West
Texas.
Other than the open flame gas heaters that some
older homes still have in their bathrooms, it seems like no one ever takes into
consideration the trauma of starting off your day with such a rude awakening,
but what are you gonna do? It is just part of the process of waking up.
When Julie and I traveled to
Scotland last year, we stayed at the
Grange Flats,
a modernized Victorian apartment. Bringing back fond childhood memories of my
grandparents home in Minersville, Pennsylvania, the Scottish flat was kept warm
primarily with

radiators. To be honest, until that trip I had almost completely forgotten
about them, having lived in a centrally heated and cooled home for the last
twenty years. I truly enjoyed getting a hasty refresher course on one of the
biggest benefits of having a radiator in the bathroom – a warmer room and a
heated towel after a hot shower.
There are almost no words to describe the delicious comfort of stepping out
of a hot shower and picking up a warmed towel on a cool morning. Unfortunately,
retrofitting my bathroom with a radiator is not a viable option, much as I like
the idea.
There is an alternative for people in my situation, however – heated towel
racks.
I have noticed various models in catalogs, and have seen that they can be
priced anywhere from the $100 level to thousands of dollars. While it
would appear that there is something available for every budget, sometimes going
with the least expensive isn't the smartest thing to do. With that in mind, I
wanted to try a model in the mid-range. I wanted to see how well it was
constructed, how easy it was to use, and how well it performed.
I asked Julie to contact the
Sussman Lifestyle Group to ask if I could review a sample from their
WarmaTowel
line. For those that are unfamiliar with
Sussman, they have been
offering steam and sauna products both commercially and residentially for over
50 years. According to their site, they are the only "American
company that designs, engineers, manufactures, and supplies UL/CSA/CE
Residential Steambath Generators, UL/CSA/ASME Commercial Steambath Generators,
UL/CSA Sauna Heaters and CUL Towel Warmers — technologically advanced,
innovative products that consistently set the industry standard."
Looking at their WarmaTowel
model list, I
was not surprised to see that the majority of their products are intended to be
built-in either during initial construction or during remodeling. Since I did
not want to fool with any hard wiring, I knew not to even look at these models.
Fortunately, there was a plug-in version available which would work for my
testing purposes. I asked to review the electric Floor Model (W556), which is
available in the following finishes: polished chrome, polished brass, polished
nickel, satin nickel, polished gold, oil rubbed bronze, brushed nickel and
pewter. I was sent the polished chrome version.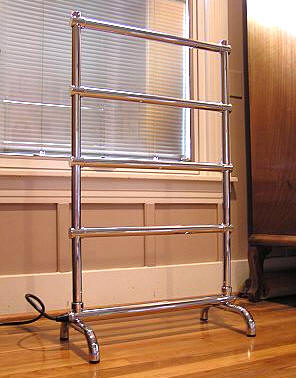 Isn't it lovely and elegant in its simplicity?
The entire kit came in a rather large flat package which weighed quite a bit
more than I had expected – over 20 pounds! All WarmaTowel racks use solid brass
construction and the electric models, such as the one I received, also include a
built-in stainless steel heater. All models, except for this free-standing
version, are meant to be hard-wired into the wall.
There are also a few Hydronic models available which are kept hot by the
house's water heating system. I am not sure how much boiling water has to be
moved through the house's pipes to make this model effective, but considering
that it can take a couple of minutes for the water in my shower to even get hot,
I don't know that this method would work for me. But I digress…
The Floor Model rack is delivered in three pieces: the ladder and two legs.
Each leg is screwed into its respective side on the bottom of the rack and an
allen wrench is used for tightening. Once assembled, the rack feels substantial
and stable. There is no wobbling and it actually somewhat resembles a radiator –
a twenty-first century version, that is! The complete rack measures 34" tall x
23′ wide and 10" deep at the base. The beams and cross-members measure right at
one inch wide.
When you are ready to begin using the rack, you just insert the three-pronged
tip into a grounded plug, and the rack will soon begin to warm. One complaint I
have is in regards to the electric cord included with the rack. It is only 51"
long (including the plug), which means that the rack must be placed right next
to the outlet. While I realize that this is probably a safety measure, I would
have liked it if there could have been at least a 10′ cord. That way I would
have been able to position the rack nearer the shower. I am all about easy
access!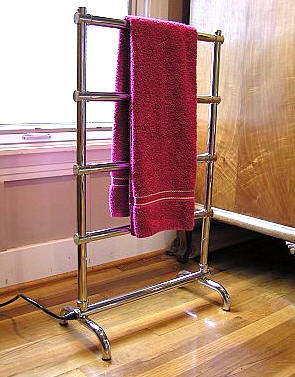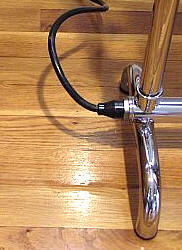 Note the nice heavy-duty cord connection. It looks like it
will last through many years of use.
Once plugged in, it takes about fifteen minutes for the WarmaTowel  to
emit a warm steady glow, not unlike that of a radiator turned to lower setting.
In a small space, such as the average bathroom, the rack will actually begin to
warm the entire area as well as the towels placed upon it. While on, the rack
never becomes so hot that touching it would burn you, though it is quite warm.
Just to be safe, I wouldn't recommend pressing it against any body parts for
extended periods of time.
There were no instructions regarding how long the rack could or should be
left continuously running, but I allowed it to do so for several 24 hours
periods with no ill effects. I would be more satisfied if this model had
included an on/off switch just as all the other models do. It seems
gauche to turn anything on or off by inserting or pulling its plug – especially
an item as pricy as this. However, I would imagine that in the winter I would be
tempted to just leave the rack running continuously, which I assume is
acceptable since there were no cautions included stating otherwise. In that
case, the lack of an on/off switch is not so shocking.
One of the hidden benefits that I found while using the WarmaTowel was that
if I laid a damp towel on the beams after showering, it would dry it thoroughly
before my next use, which cut down on the amount of "dirty" towels I had to
wash. Before a single one of you says "ewwww," kindly remember that after
bathing you are clean. So reusing a towel – especially when you live in a
drought-ridden region – just makes good ecological sense.
I am going to be sorry in a few days when I have to return this review item.
I have had it for almost a month, and I regret that I did not think to review it
during the colder portion of the year. Yes it is pricey, and since I have not
yet tested out a less expensive model I can't tell you if the cost is justified
or if there is even a comparison. I suspect that the difference in price will be
reflected in the quality of materials used, the durability of the rack and in
whether it can be trusted not to explode if left running. The WarmaTowel
Electric Towel Warmer excels in all of these areas. Towels warmed on the rack
are, in a word – decadent. There is nothing better than using a hot towel
on a cold morning after showering. As a matter of fact, there is nothing better
than using a hot towel on a warm morning after showering! I would love to
have one of the pivoting wall models mounted right next to my shower door. But
this Floor Model is quite fine, as long as you have the space for it and a
properly placed outlet.
Price: $779 as tested, all models and pricing shown
here.
WarmaTowel products include a five year limited
warranty.
Pros:
Warm towels ready as you step out of the shower
Less laundry as the rack will also dry towels after use
Radiated heat keeps bathroom warm
Cons:
Expensive
Short cord means that rack must be placed near outlet
The only way to turn freestanding model on or off is by plugging or unplugging
Product Information
Price:
779.0
Manufacturer:
Sussman Lifestyle Group
Pros:

Warm towels ready as you step out of the shower
Less laundry as the rack will also dry towels after use
Radiated heat keeps bathroom warm

Cons:

Expensive
Short cord means that rack must be placed near outlet
The only way to turn freestanding model on or off is by plugging or unplugging