We use affiliate links. If you buy something through the links on this page, we may earn a commission at no cost to you. Learn more.
Product Requirements:
Device:
iPaq 3100, 3600, or 3700
series Pocket PCs
 
If you're like me, you probably snatched up one of the iPaq PPCs when they
first came out. You probably also discovered that in order to do all the things
that an iPaq was famous for, you needed battery life. Unfortunately, the
3600 and 3700 series
PPCs only came with 950 mAh batteries. It wasn't until the 3800 series that
Compaq decided to increase battery capacity and memory size, but at a cost of an
additional arm and leg! I didn't have any to spare so I bought a H3635 and made
do. So what did one do if one had a 950mAh battery in one's iPaq? Well, you
probably operated at very low backlight levels if any at all or you may have
purchased an Expansion Pack Plus with an additional battery. Unfortunately the
external battery on the Expansion Pack Plus only trickle charges the internal
battery. If the internal battery is already dying, then you are left with two
choices: replace the battery or buy a new iPaq! Not all of us can afford a new
iPaq on a whim so Crayton
Electronics has come to our rescue! They have a very affordable($39.99)
replacement battery made by Zukz that has the added bonus of being higher
capacity at 1600mAh. I have priced a number of competitors and the lowest price
I have seen for the standard 1000mAh replacement battery is $49. Pocket PC
Techs, Inc. is a great company that offers a 2000 mAh battery that uses
Hyperdrive technology that claims to double battery life compared to the
950/1000 mAh batteries, but I'll leave it to you if you want to spend an
additional $60-$90 for that technology.
Hardware Specifications:
Battery Technology: Li-Ion, 3.7 Volts 1600 mAh Brand New
Zukz.com Brand.
12 month warranty from Zukz.
When I first received the battery, I was surprised at how tiny it was. Here
are some shots next to items for size comparison: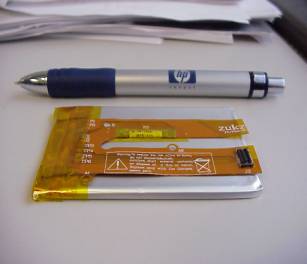 Here is a view from the top and on my H3635: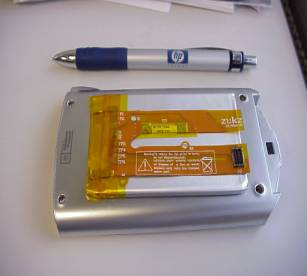 Installation:
So if you are intimidated by breaking into the seemingly
fragile case and installing the battery, don't be. If I can do it, so can you!
Before you do anything, I strongly recommend that you do a FULL backup of all
data on your iPaq.
HP has a great Whitepaper that explains how to Backup &
Restore on your iPaq and you can find it

here.
While you are buying the battery from Crayton Electronics,
I suggest you go ahead and get the T-6 Torx from them if you don't already have
it. You're definitely going to need it.
If you want a quick guide to replacing the battery, Crayton Electronics
offers it

here.
If you want a detailed procedure on battery replacement, go to

http://www.ipaqrepair.co.uk/ipaq_repair.php for a list of great repair
guides or click

here. You will need Adobe Acrobat to read the documents.
Results/Performance:
The battery charged to 100% after 3 hrs. I didn't have time
to perform a barrage of tests, but hopefully you will get a sense of how long
the battery will last from my functional tests.
If you want to compare times to original specs, HP has a
great iPaq Battery Explanation

here that has tables of expected battery life in hrs based on what backlight
and audio modes you are operating in.
For my test, I had a:
IPaq H3635 with a Whitney CF sleeve(no external battery)
SanDisk ConnectPlus 128MB CF memory/802.11b Wi-Fi Card
Here is what I did:
I changed my backlight setting to medium for the
duration of the test.
Using the Wi-Fi card, I copied 60MB of MP3s from my
desktop to my CF memory on the same card.
I started WMP and played the MP3s in the background for
the duration of the test.
I then used Activesync to synchronize wirelessly with my
desktop.
I composed some emails through Pocket Outlook.
I accessed my Hotmail account with Pocket IE and
composed some more emails.
I opened MSN Messenger and did some IM with
friends/family
After 1hr and 30 minutes of this continuous activity at
medium brightness, I still had ~70% battery left!
In my 2nd test, I set the brightness to
Super-Bright and left the iPaq idle. I had already been using the iPaq on and
off throughout the day at medium-bright and my battery meter was reading 80%. At
Super-bright, it took 16 minutes to drain another 10% of the battery. This
approximates to ~2hrs to drain down to 40% battery capacity from a full charge.
I think it reasonable to say that this meets if not exceeds the original specs
for this brightness level.
Conclusions:
This is definitely a great way to extend the life of your
iPaq workhorse that has already given you years of service and at a very
affordable price!
Price: $39.99
Pros: 
Very reasonable price
Easy to install
More battery life/capacity than stock 950mAh
Cons: 
Less battery life/capacity
than other more expensive competitors
Minimal documentation
Product Information
Price:
39.99
Manufacturer:
Crayton Electronics
Pros:

Very reasonable price
Easy to install
More battery life/capacity than stock 950mAh

Cons:

Less battery life/capacity
than other more expensive competitors
Minimal documentation