We use affiliate links. If you buy something through the links on this page, we may earn a commission at no cost to you. Learn more.
I have to apologize, but the Sony CLIÉ PEG-TH55 review will not be
ready tomorrow as I had previously promised. During my extensive use and
testing, I have discovered a serious digitizer problem. Needless to say,
I am going to have to send my PDA back to Sony for repair.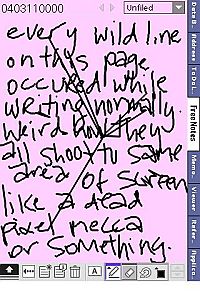 As you can see in this photo, when writing with my stylus the line will shoot
off to a common area, making an effect not unlike the spokes of a wagon wheel. I
had noticed problems when playing
Bubble Shooter2, when using Jot
and to a lesser degree when using Graffiti. The problem became unbearable when
trying to use the freehand note program included with the CLIÉ Organizer
software. As soon as possible, the review process will continue.
Otherwise, I have been extremely happy with the TH55. The battery life
is unreal, the form factor is one I have wanted for a long time, and the
addition of WiFi in such a compact PDA was something I had almost given up on.
Add to that the excellent customer service I received from Johnny, the
Sony Repair Representative I spoke with tonight, and at the moment I am one
happy Sony customer…the double layer box of
Ethel M purchase
incentive chocolates that arrived yesterday helped to sweeten the deal, of
course. ;0)